Korean Student-Interns at WSM Malaysia
Korean maritime students receive hands-on experience in onshore ship management.
Four students from Mokpo National Maritime University (MNMU) Korea will begin their enriching 6-week internship programme at the WSM's Global Head Office in Kuala Lumpur as part of their academic module in MNMU.
The interns coming from different academic divisions within the university had to undergo a selection process (including English language proficiency interview) in order to qualify for the program. They will train under our Technical Management, New Building & Technical Services and GHSEQ teams from 16 January – 27 February 2017.
Wilhelmsen Ship Management Internship Students 2017
| | |
| --- | --- |
| Intern | Academic Division |
| Juh-Yeong Kwon | International Maritime Transportation Science |
| Joo-Vi Park | Navigation Science |
| Dae-Hyuk Kwon | International Maritime Transportation Science |
| Yae-Lim You | Marine Mechatronics |
President of WSM, Carl Schou; Vice President for Region Asia – WSM, Paal Gunnulfsen; and Vice President for HROD – WSM, Kenny Lee, welcomed the interns.
Carl gave a few words of encouragement to the interns for their training in Kuala Lumpur. He is pleased to receive the confidence from MNMU for entrusting some of their students to undergo their internship overseas in WSM Malaysia.
Coincidently, one of our two Maritime Management Trainee is also an alumnae from MNMU. Jeong-Min Lee's last onshore position after graduating was third officer on a WSM-managed vessel before her successful application for the trainee programme.
At Wilhelmsen, we strongly believe in developing talents to maintain a sustainable maritime industry. We hope that the experience gained will help them develop good skills and work ethics.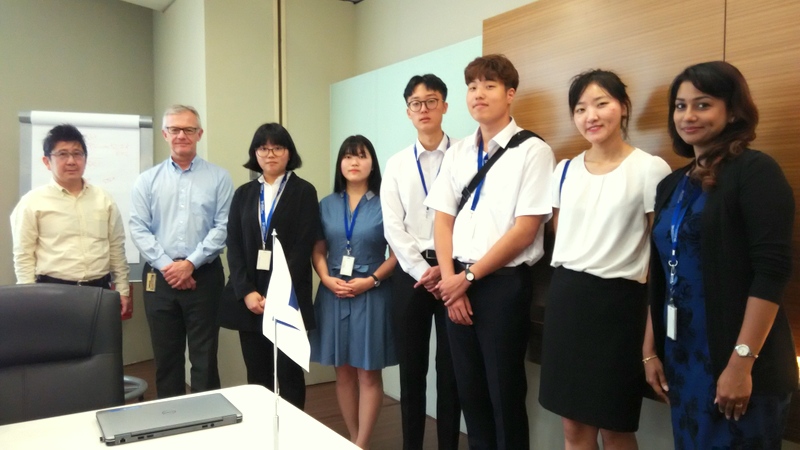 From left:
Kenny Lee – Vice President, Human Resources & Organizational Development (HROD), WSM

Carl Schou – President, WSM
Yae-Lim You – Intern, Marine Mechatronics Division, MNMU
Joo-Vi Park – Intern, Navigation Science Division, MNMU
Juh-Yeong Kwon – Intern, International Maritime Transportation Science, MNMU
Dae-Hyuk Kwon – Intern, International Maritime Transportation Science, MNMU
Jeong-Min Lee – Maritime Management Trainee, WSM
Julia Christy – Organizational Development Specialist, WSM