Dry Docking
Predictable and hassle-free solution for dry docking - we deliver agency and products as one dry docking solution. Our aim? To ensure your dry docking requirements and schedules are met, avoiding delays and minimising unexpected cost.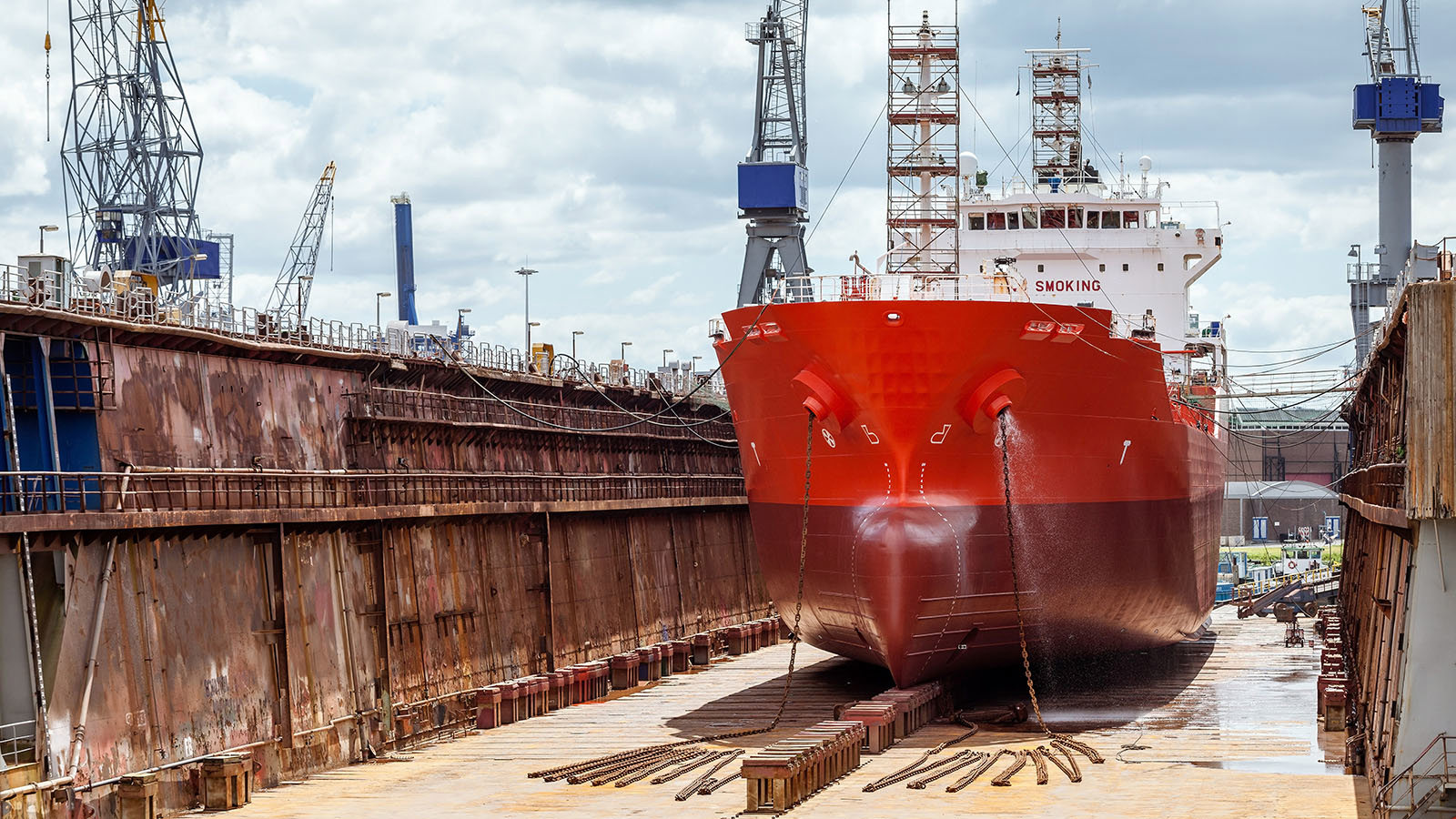 1. Setting the scene for an efficient dry docking
We provide plans and specifications that gives you predictability and limit unexpected costs through local yard knowledge and extensive information about local and international regulations. Our pre-dry dock inspections include:
Boiler inspection - including recommended water treatment dosage
Rope inspection
Water tests - inspection of dosing and test equipment and advice on special cleaning tasks
Inspection, training and stock for galley and accommodation
Welding inspection of gas and arc welding equipment
In addition, we can arrange arrival, accommodation and departure as well as to manage inventory planning and pre-stocking.
2. Getting the vessel into the dock
With our yard intelligence, we enable fast and cost-effective transition into the dock. There, you will be met by our dedicated project manager ready to fulfil the agreed scope. Through our online portal, you have easy to status on project deliveries, timeframes and costs.
We can also help with:
Handling crew and personnel on arrival
Negotiating with yards and port authorities with respect to tug, crane hire, barge charges
Safekeeping, storage, and delivery of your consumables and spares needed for the dry docking
3. On time delivery of products and services
With a dedicated project team we ensure that the correct supply of services and products are delivered when you need them, both planned and unexpected, avoiding delays. The products and services we provide are:
Fully compliant, high quality products
Welding and surface preparation
Tools and workshop equipment
Refrigerants and tools
Cleaning solutions
Water treatment solutions
Oil treatment solutions
Ropes
Wilhelmsen has always come through on all Dry Dock requirement of gases, no matter where in the world. All this while providing exceptional customer service. All gas requirements have always been met on time - they always go the extra mile to comply with all of our difficult requirements.
Royal Caribbean Cruise Lines LTD, Technical Buyer
4. Arranging services to ensure safe departure
We ensure that all documentation of products and services is handed to you in a timely and manageable fashion, in order to get your vessel back in operation. Services included are:
Reactivation of the safety systems
Close out documentation:

Total cost overview, i

nspection reports, c

ertifications

Arrangement of bunker services
Administration of the departure of site team and crew
Support for last-minute replenishment of vessels
Handling of agency requirements for post docking through our global network
5. Sustainable and long-term dry dock partner
Through an evaluation, we will demonstrate value-added savings as well as resolve any uncertainties – enabling both you and us to conduct efficient dry dockings in the future.
Need advice?
With offices in 75 countries supporting our non-stop operations in 2 200 port locations across the globe, you can be assured that we have the local knowledge and industry expertise to find the best solution to cater for your needs.
Contact us