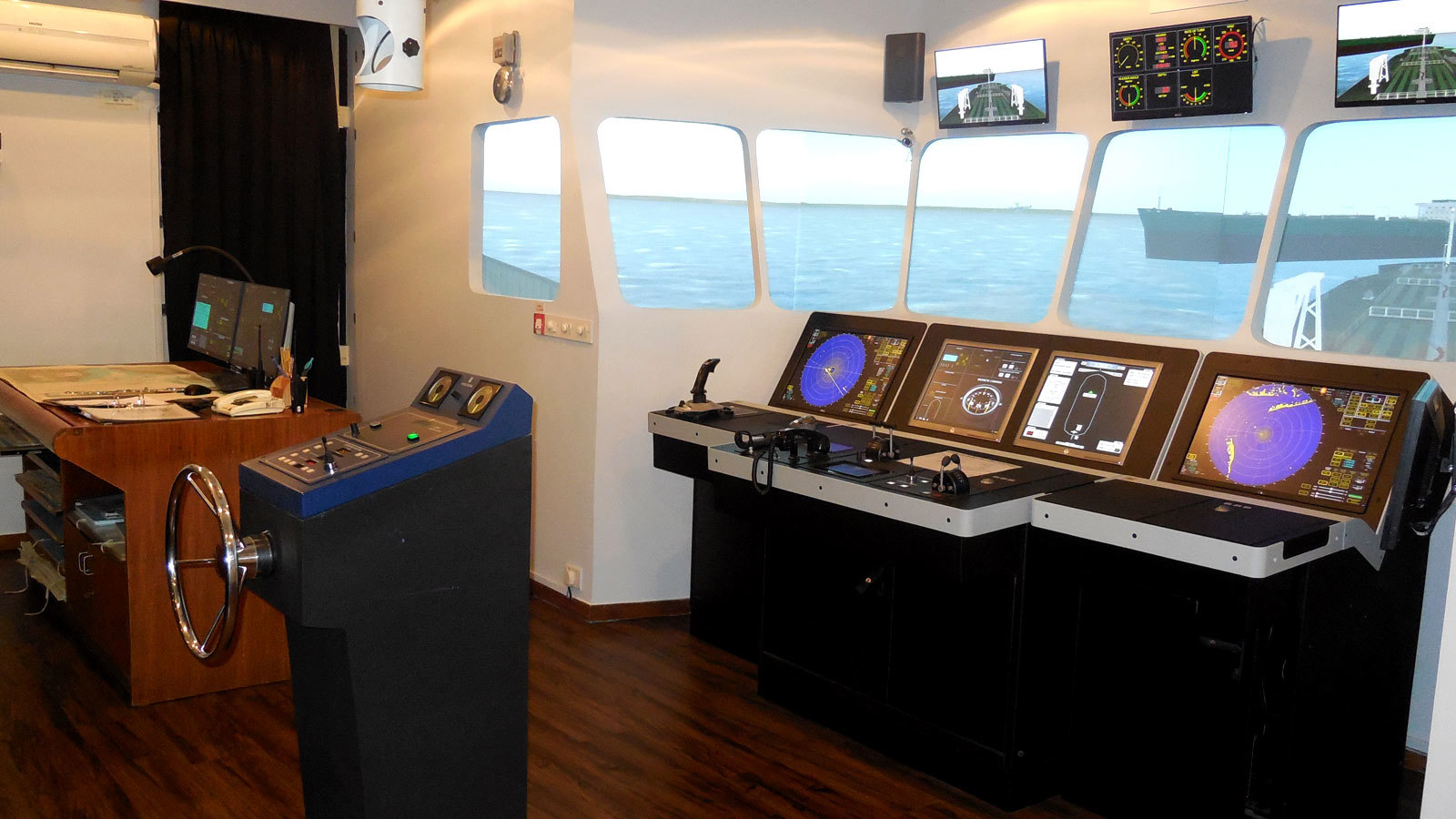 Our Facilities and Methodology
To achieve the objectives of each training programme, we provide the right environment and tools to  make learning a better experience.
Our infrastructure & facilities:
Kongsberg "Polaris" - Full mission Ship Handling Simulator with two "Own Ship Bridges".
Kongsberg "Neptune" - Propulsion Plant Simulator & Liquid Cargo Handling Simulator.
Kongsberg "AutoChief" AC4 M.E. Control System - Full mission simulator.
"NABCO" ME. Manoeuvring system with Bridge control - Full mission simulator.
Hydraulic and Automation Labs with trainer panels.
Well-equipped Electrical & Electronics Labs
3 class rooms
MARPOL Laboratory with functional OWS & ODME equipment.
Various shipboard equipment used as training aids.
Computer Lab with Ship & Shore IT Applications
Fully equipped Skills Development Centre:
- Welding School (UNITOR Collaboration)
- Paint shop with grit blasting and spray painting equipments


- E.R. Machinery items for Maintenance training including Auxiliary Engine

Conference room and a reference library - with books, publications, videos and CDs etc.
Cafeteria on both floors for meals and refreshments.
Modern teaching aids like computers, multimedia projectors, OHPs, Audio / Video equipment, etc. are available in all training rooms.
Bus Service from Borivli (E) Railway Station and from Kanjurmarg Railway Station to IMTC.
Preferred Hotels nearby IMTC.
IMTC Faculty conducting
Indian Maritime Administration

approved courses
| | | | |
| --- | --- | --- | --- |
| Name | Age | Qualification | Courses Conducted |
| Mr. Ramachandra Tendulkar | 56 | MEO Class I (UNL) | ERSO |
| Mr. Bijay Bahadur Yadav | 60 | MEO Class I (UNL) | ERSO |
Customised training programmes
Having a group of professionals with many years of experience at sea and in developing and conducting training programmes, we also offer training programmes customised to suit the client's requirements.
The process usually involves:
Interaction with the client to understand the objectives.
Collecting relevant materials required over and above that which is available at IMTC's knowledge base.

Visit to client's vessels to study the equipment/system and have discussions with the staff.

Preparation of the course material, vetting by the clients and conduct of the programme.
Methodology
Design and Development
Comprising a team of professionals, the course design groups work closely with the end users, incorporating practical solutions where needed. Training gaps are identified from discussions with target groups and guidelines from standard model courses all form the input necessary for designing the programmes.Practical sessions are integrated with theoretical discussion where possible to ensure a better understanding of concepts.
Conduct of Programmes
Learning requires an open mind, motivation, and a desire to participate and share. The highly experienced faculty members at IMTC openly share their knowledge and experience and can draw the best from the participants. The optimum number of participants and sufficient equipment/workstations allow each participant to work independently. An integral evaluation method or a test at the end of the programme helps in evaluating the knowledge/skill enhancement.
Feedback and Upgrading
In a dynamic world, change is the only constant and so it is with the courses offered at IMTC. New knowledge, changing regulations, feedback from the participants, challenging queries from highly experienced peers etc. keep the course designers working continuously to upgrade courses and make them more contemporary. Feedback from participants after a period of returning to actual workplace is valued for identifying gaps in transfer of knowledge.
Partners
The firm commitment to deliver quality training since its inception has rewarded IMTC with collaborations and associations with some of the top organisations in the maritime and education fields.
IIMA - Indian Institute of Management, Ahmedabad
The Indian Institute of Management, Ahmedabad (IIM-A) is India's top business school. In collaboration with IIM-A, IMTC conducts the Management Development Programme for the maritime sector. IMTC faculty works closely with the faculty from IIM-A for development and deliveries of this programme.
Mitsui OSK Lines, Japan
Mitsui OSK Lines, Japan, one of the largest ship operators has collaborated with IMTC in the area of "hands on" technical training. It has contributed with sophisticated M/E manoeuvring system simulators, trainer boards and other equipment. Under this collaboration training is offered to enhance the seafarer's practical skills.
Marlins, UK
IMTC is an approved English language test centre for Marlins. Ship owners as a rule like to employ staff that is competent in English. Without doubt English is the lingua-franca of the maritime world.
IMTC has joined hands with Marlins of UK to help employers determine the language competency of a seafarer quickly and at a reasonable cost.
BASS SDN Bhd, Malaysia
Barber Software Solutions - IMTC is the official training provider for IT Applications marketed by BASS, Kuala Lumpur.
UNITOR, Norway
A part of Wilhelmsen Ship Services, UNITOR is a leading supplier of Maritime Welding Equipments, Chemicals, Fire / Rescue & Refrigeration Equipments & Services. IMTC's welding facility is UNITOR-approved and has been setup in close cooperation with them.
MARIS, Norway
Maritime INFORMATION SYSTEMS AS - IMTC conducts equipment specific ECDIS training using the MARIS.