Break bulk, ro-ro & project logistics
We provide you specialist services in handling of high, wide and heavy cargoes as well as large break bulk shipments in complex environments on a door-to-door or port-to-port basis throughout the world.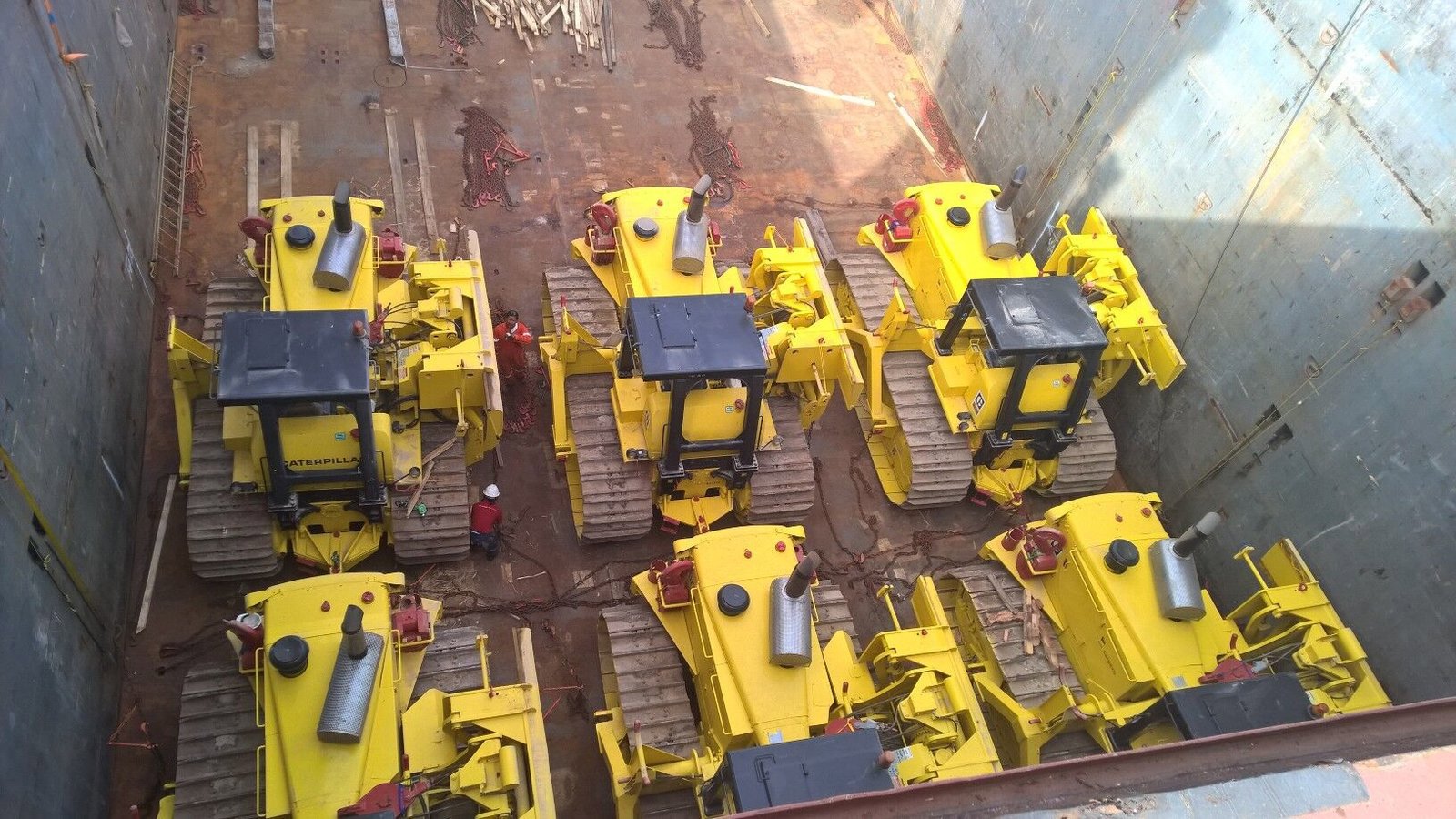 Our services cover turnkey project management including:
Port handling
Yard management
Route surveys
Multi-modal transportation
Provision of lifting equipment
Packing and crating
Within our wide range of project logistics capabilities, we have special focus and unique capabilities in defense, energy and oil & gas segments.
Oil & Energy: Sample Projects
Offshore Equipment, UAE

Receipt on SPMT, local transportation, export customs clearance, port handling, vessel agency and ocean transportation from Abu Dhabi to Hamburg, Germany of Vibro Hammer and equipment with unit weights up to 120 tons each

Power Generation Equipment, Portugal

Ex works handling in Portugal, export clearance, ocean transportation, import clearance and door delivery of 2,400 freight tons of transformers and equipment with unit weight up to 100 tons each for the Shuaiba Power Plant project in Kuwait.

Export of Reactors, UAE

Ocean transportation of reactors and oil and gas equipment from Hamriyah port, Sharjah to Jubail, KSA. Three consecutive shipments of 1,500 freights tons each for the Al Wasit Gas project in Kingdom of Saudi Arabia.

Structural Steel Export, UAE

Ocean transportation of 3,262 freight tons of structural steel from Jebel Ali port, UAE to Adabiya port, Egypt for the $3.6 billion ERC Refinery project in Egypt

Power Generation Equipment, Kuwait

Port Handling, Import Customs Clearance and Overland transportation of 2,000 freight tons of power generation equipment using step deck trailers for the Doha East Power Plant Project

Power Plant, Mew-Kuwait

Handling of Gas Turbines and Generators ranging from 234 tons to 279 tons as well as cross loading onto receivers trailers.

Transporting Generators, Norway

Moving generator "made to fit" a tunnel 500 meters inside a mountain. Total of 40 parcels with the heaviest weighing 80 tons.

Door to Door Move of Drilling Rig, Canada

Loading, Overland transportation from Canada to USA, port handling, crating, Export paperwork and Ocean transportation of 1,500 HP dismantled land drilling rig until delivery at door in Kuwait

Delivery of Steel Coils, Kuwait

Vessel agency, port handling, storage, import clearance and inland transportation of 100,000 tons of steel coils for a Kuwait Oil Company (KOC) pipeline project.

MP Slug Catchers, South Korea

Ocean transportation of 3,080 freight tons of MP Slug Catchers and accessories from Ulsan, South Korea to Musaffah Port, UAE for the strategic Upper Zakum (UZ 750) project in Abu Dhabi

Oil & Gas Equipment, China

Ocean transportation of 4,956 freight tons of oilfield equipment from ChangShu port in China to Alexandria port in Egypt.

Transport of Pressure Vessel, Kuwait

Route Survey, Escort Vehicles, Road Furniture Removal, Overland transportation of a 50 meter long pressure vessel weighing 250 tons in unit weight from fabrication yard to site.

Oil & Gas, Qatar

Plant expansion - 147,000 tons of cargo transported in gas-debottle necking project.

Transformers & Accessories, Turkey

Ocean transportation of 36 units transformers and accessories with unit weights up to 48 tons each from Haydarpasa port, Turkey to Mina Zayed port, UAE.

Well Drilling, Iraq

Mobilization of rigs with camp from Kuwait to Iraq with over 130 trucks dispatched.
Defense: Sample projects
Defense Goods, Europe

Vessel charter for ocean transportation of 12,430 freight tons of military equipment from Northern Europe to Middle East

Military Goods, Middle East

Ocean transportation of 3,180 freight tons of military equipment from Middle East to North Africa.

Retrograde Operations, Kuwait

Inland transportation, deep cleaning of equipment to Austraian AG inspection standards, port storage, export clearance and ocean transportation from Kuwait to Australia
Industrial Goods & Construction: Sample Projects
Handling of Cable Drums, UAE

Port Handling and Temporary Import & Export Customs Clearance of four cable drums, each weighing 150 tons each for the EPC 1 project at Upper Zakum field.

Export of Mining Equipment, UAE

Port Handling, Export Documentation and Ocean Transportation of 3,000 freight tons of tipper trailers and mining equipment from Jebel Ali, UAE to Conakry port, Guinea in West Africa.

Discharge of Accommodation Units, Saudi Arabia

Onboard handling of out of gauge accommodation units and discharge from RORO vessel using SPMT trailers.
Marine: Sample Projects
Passenger Ferry Boats, UAE

Import Clearance, Port Handling, Load Out from yard using SPMTs, discharging into water using tandem lift 2 x 300 ton cranes. Four Units in total weighing 65 tons each and measuring 32 m x 6 m x 6..90m each

Power Boats, China

Ocean transportation of 3,800 freight tons of time critical formula 1 power boats from China to Turkey moving on custom built lift trucks.

Shipment of Patrol Boats, Middle East

Ocean transportation of four x 42mt patrol boats measuring 23.56m x 5.1m x 8.2m each from Middle East to Indian Sub-Continent

Modular Pontoons, UAE

Overland transportation from factory to port, export permits and customs clearance, port handling and ocean transportation of 1,497 freight tons of modular float systems from Hamriyah, UAE to Santiago port, Chile.
Our Full Suite of Services
Need advice?
With offices in 75 countries supporting our non-stop operations in 2,100 port locations across the globe, you can be assured that we have the local knowledge and industry expertise to find the best solution to cater for your needs.
Get advice from our local experts