Ship Inspection Services
Independent and accurate ship inspection services at reach
Quality service delivery is the hallmark of success in our business. We are commited to deliver bespoke inspection services with purpose-built reports through a web access portal within a short turnaround time.
Our ship inspections are made to access the conditions for all vessel-types appointed by owners, buyers, sellers, managers, banks, brokers financial insitutions, fund houses, and investors.
O

ur global network of qualified and experienced inspectors have an eye for detecting technical, condition and operational anomalies as they determine an asset's true value based on actual condition.

Our key services includes the following :
Pre-purchase, Pre-sale and Asset Condition Inspections

Internal Audits and HSEQ Visits

EEXI and CII Compliance requirement and calculation

Navigation Audits with BCA & V

Vetting Support as per VIQ (select ports)

USCG, PSC/AMSA/Rightship prep

Drydocking and Pre-docking attendance

Major Repaid attendance and coordination

Adhoc Superintendent support and visits

Vessel takeover inspections and support
Download our Ship Inspection info sheet

Download our Pre-sale Inspection info sheet
Comply with EEXI and CII today. Download our info sheet to ease this transition
We are ready to be deployed to any location to undertake the ship inspections on board.
Professional assessment
A full operational assessment of the vessel's systems and machinery will be carried out if permitted including a review of key events, dry dock history, planning and details of the preventative maintenance system if made available.
Our teams work under strict HSEQ Group policies and while on board will adapt to the vessel SMS requirements. Intrinsically safe cameras will be used as permitted and possible.
Robust reporting tool
All data and reports are transparent and easily disseminated on our web-based platform 24/7 through your own private access. Results are always delivered with clarity and supported by pictures in respect of your need to timely and accurate inspection reports.
Our intuitive web-based platform delivers projects securely to be viewed with password access on any device, with about 1000 plus pictures, categorized and arranged like a walkthrough of the ship.
The reports are designed to be narrative and of professional grade with easy navigation and empowering you with decision making intelligence.
Quality and accuracy at your fingertips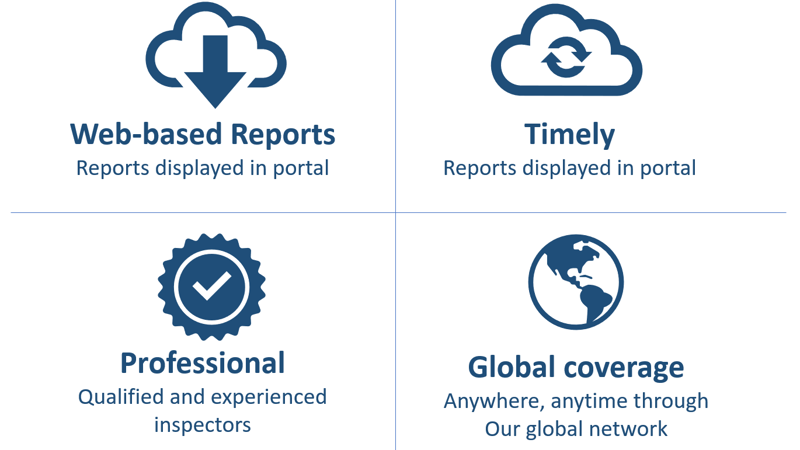 Ship inspection services is a division of Wilhelmsen Ship Management, a Wilhelmsen group company. Wilhelmsen is a global maritime group and a leader within the industry. With the world's largest maritime network on call 24/7, we can deliver products and services where your ship at. The pulse of the maritime industry is at our fingertips.
Whitepaper
Discover how a pre-purchase ship inspection can reveal potential pitfalls that may impact your ship's lifecycle costs
Send me a copy