Key aspects to consider when converting from steel wire to Acera ropes
Most rope suppliers now deliver HMPE (high modulus polyethylene) solutions. Because the market has become harder to navigate for customers, we asked our resident mooring ropes expert, Dag-Erik Delgado, to outline what customers should think about when transitioning from steel wires to our Timm Acera SBA™ HMPE ropes, as well as the value of retrofitting in the first place.
The mooring ropes industry is constantly evolving in tandem with the maritime industry. Modern vessels demand more technologically advanced mooring solutions, and HMPE ropes is one of the innovations that has gathered enormous interest the last 10 years.
HMPE ropes have taken significant market shares from conventional mooring ropes and steel wires in today's market. Most rope manufacturers are now offering their variant of HMPE mooring solutions, where the difference in quality and safety between the many solutions can be magnificent. Extensive testing shows that the different HMPE solutions will last anywhere from far less than two years to well over eight years. Further studies show that as the difference is so significant, the cost savings and reduction of environmental impact are tremendous, depending on what solution you are selecting.
The HMPE mooring ropes market has been increasingly challenging to navigate over the past years, and there are several pitfalls to consider. Therefore, we have asked our resident mooring ropes expert, Dag-Erik Delgado, to outline what to keep in mind when transitioning from steel wires to HMPE ropes and the value of retrofitting in the first place.
Dag-Erik joined Timm Ropes back in the 1980s and, over his 35-plus years in the business, has built up incredible domain knowledge. He started in production, then moved into supervising installations, conducting onboard inspections and repairs, and working as an advisor and Technical Sales Manager. Today, he is the Commercial Product Manager for Ropes, and he supports both our product management and sales teams with his encyclopedic expertise. Here are his key insights in Q&A format.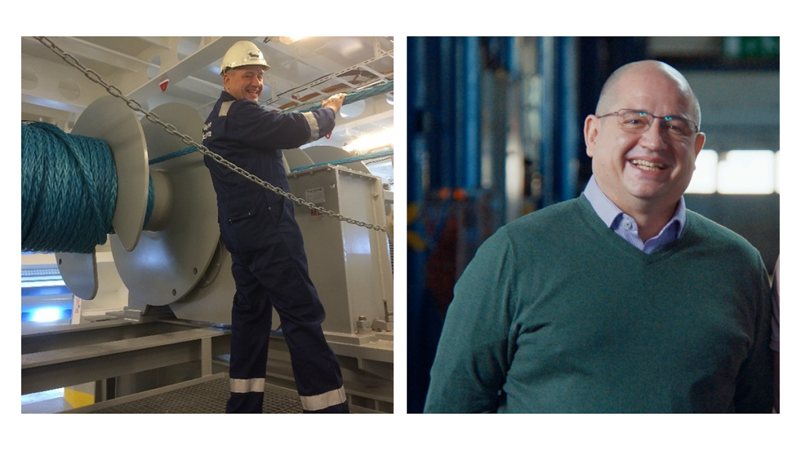 Meet our resident mooring ropes expert, Dag-Erik Delgado
Q: Why should a shipowner consider changing from steel-wire ropes to Acera HMPE ropes?
Dag-Erik: "Being just one-seventh of the weight of steel wire, the biggest benefit of HMPE ropes is ease of handling. In addition, the fact that HMPE doesn't need a metal shackle to connect the tail makes the mooring arrangement float. Being of the same diameter as steel wires also helps deck-crew rope handling."
Q: What should be taken into account before retrofitting with Acera ropes?
Dag-Erik: "It's very important to ensure you have the following three key elements in place. The first is making the ship ready for installation.
"You have to prepare the vessel appropriately before installing new ropes. Everything from winches to rollers should be refurbished to create smooth contact surfaces. We've seen countless cases where this equipment wasn't in good enough condition. Several involved brand-new ships, where the yard used steel wires during construction. Removing rust and sharp edges, and adding a new layer of coating that is properly dried before installation is crucial. Not doing this adequately heightens the risk of sharp edges damaging the ropes. We have a detailed manual for surface preparation and our experts are always on hand to assist. Please reach out to us if you need to.
"The second element is proper installation, which is hugely important.
"Very often we see how incorrect installation affects ropes negatively, in many cases causing damage. Close attention should be paid to supplier guidelines and manuals, and if necessary, have the installation supervised by an experienced port service engineer.
"Please also bear in mind that crew members may not used to working with fiber ropes. Steel wires are not exposed to damage in the same way as HMPE ropes. Giving the crew the right tools to succeed through proper training is key. When we deliver ropes, we provide installation guidelines, working manuals and retirement guidelines which provide all the necessary information you need for a successful switch to HMPE.
"The third element involves preparing to inspect, protect and care for your new ropes following installation.
"This is again clearly linked to training, as deck crew may be unfamiliar with wear zone management. Every contact point has the potential to damage an HMPE rope. A highly effective solution to protect them and secure optimal service life is to use Timm Chafe Guard.
"Logging inspections and mooring hours, and learning from the data, is another good way to ensure ropes are kept in a safe and healthy condition. Our Line Management Plan (LMP) application was specifically developed for this purpose, and we see prolonged lifetime of ropes among users."
Q: In the jungle of HMPE ropes on the market, what are the benefits of choosing Acera?
Dag-Erik: ""Integrating our SBA into the entire Acera range lifts safety to a new level, where steel wires and other HMPE solutions simply can't compete. Testing shows that we have superior breaking strength and abrasion resistance, which leads to more cost-efficient ropes and reduces the environmental impact, both in less material used and with microplastic released in the ocean. In addition, our coating process results in a 100% coated rope right down to yarn level." Extensive testing has showed that Acera ropes have superior abrasion resistance, which is a further factor in prolonging lifespan."
Q: Do you have any other useful tips for making HMPE ropes last longer?
Dag-Erik: "Focus on hardware maintenance and follow manufacturer and industry guidelines. Cooperating with the manufacturer is key. In addition, make every effort to stay within the given boundaries on rope tension, which should be equally distributed across all lines. Finally, ropes will definitely last longer if you care for them!"
Click here for more information on our total mooring solutions, including products and service offerings.