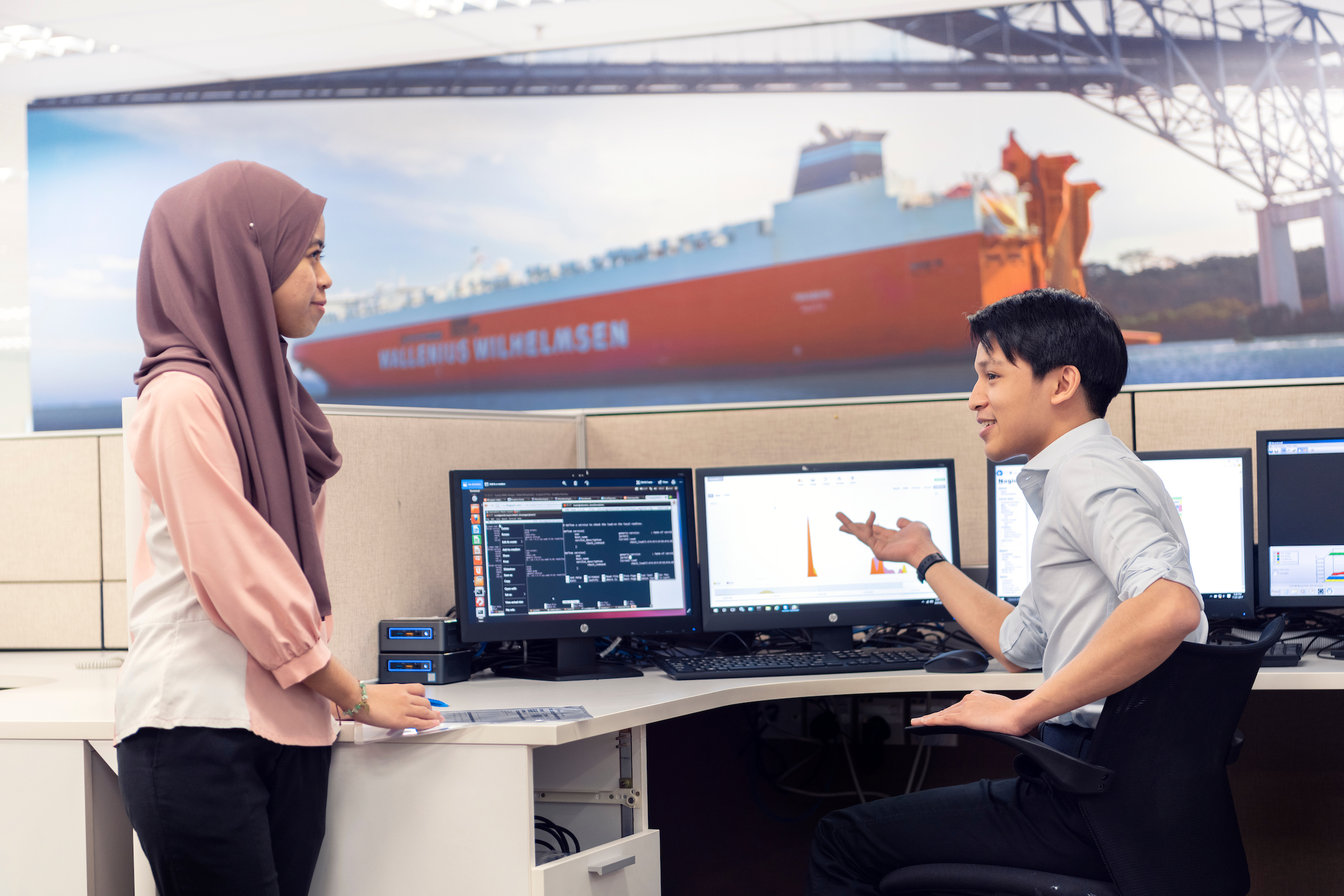 Demographics
We strive to create a culture where our employees around the world deliver the right results in the right way.
The group consists of a diverse portfolio of maritime related companies operating on six continents. We have the world's largest maritime network with 229 offices in 62 countries on call 24/7 and deliver products and services to more than 50% of the merchant fleet.
The governing elements are the foundation for our culture. The company conducts its business with respect for human rights and labour standards, including conventions and guidelines related to the prevention of child or forced labour, minimum wage and salary, working conditions and freedom of association. Employees and external stakeholders are encouraged to report on non-compliant behaviour through the group's global whistleblowing system. Employee performance is measured through performance appraisals and annual activity plans, and employee engagement is measured and addressed in the employee engagement survey.
Demographics
Wilhelmsen has a clear policy stating that employees have the right to equal opportunities. Harassment and discrimination based on race, gender or similar grounds, or other behaviour that may be perceived as threatening or degrading, is not acceptable. Wilhelmsen aim to enrich the group with diversity and we will continue to include diversity criteria in our talent programmes.
At the end of 2020, in the entities included in the scope of this report, there were 15 452 employees, 4813 onshore and 10 639 seafarers. 84 nationalities are represented in Wilhelmsen's global onshore operations, with Norway, Malaysia, and India representing the top three populations in size. Females represent 35% of the onshore population, and 1% of the seafarer population.
71% of the senior management team members at the main office locations in Norway, Singapore and Kuala Lumpur were from the local communities. 25% of these senior management team positions were held by females. Senior management teams are defined as the top two levels in each company included in the scope of this report. One of the four members of the company's group management is female and two of the five directors on the board of directors of Wilhelmsen are female.
In 2021, we will conduct a study to identify new opportunities for improving our diversity approach.
The annual turnover rate for employees in the group was 11.25% in 2020, in line with previous years. The turnover rate varies from segment to segment. As an example, the turnover rate was slightly higher in Ship Management compared to Ships Service.
Key figures
Demographics

2020

2019

Offices

229

241

Countries

62

62

Total employees

15 452

15 065

Land based employees

4 813

4 835

Seafarers

10 639

10 230

Turnover rate onshore

11.25%

12.71%

Diversity

Number of nationalities onshore - number in group

84

89

Nationalities onshore - % of senior management from local communities

71%

61%

Females - % onshore

35%

35%

Females - % seafarers

1%

1%

Females - % senior management 1

25%

25%

Females - % in group leadership program 2

27%

28%

Employee engagement

Performance appraisal completion rate

92%

95%

Engagement survey score

76

73

Engagement survey completion rate

88%

88%

Average training hours recorded onshore

8

8

Footnotes:

1. Senior management defined as the top two levels in each company included in the scope of this report.

2. A new leadership development approach was launched in 2020, initially including the top 160 leaders in the group.
Employee engagement survey
In the third quarter of 2020, we conducted an employee engagement survey to measure our ability to provide an engaging and safe work environment where employees are motivated to work and achieve their full potential. The survey results were positive with an overall engagement score of 76 points, up 3 points from the previous year. There was also high survey completion rate of 88%. The results point to consistent and positive high engagement, and employees felt positively taken care of during the Covid-19 pandemic.
There is always room for improvement. Senior management and individual managers in all locations were required to conduct follow up discussions with their teams. Where results were less than the expected benchmark, managers were required to implement specific actions to improve results.
Capability development
"Learning and innovation" is one of the group's core values, and Wilhelmsen places particular emphasis on continuous learning through on-the-job experiences, tasks and problem solving (70%); feedback, coaching (formal and informal) and networks (20%); and formal classroom courses, e-learning, seminars, videos etc. (10%). A learning organisation with motivated employees contributes to efficient operations and has a positive impact on revenue and earnings.
Personal development plans for all employees are integrated in the performance appraisal and review process. In 2020, the average hours of formal training recorded per employee was 8 hours.
Seafarers have extensive training throughout the year to comply with rules and regulation and best practice. Our systems are built to ensure proper certificates and competencies for the seafarers, and not for collecting quantitative statistics such as number of training hours/days. We are therefore not able to report on the average number of training hours per year for seafarers.
Leadership competence
Securing a safe and engaging work environment where our employees can do their best and live up to the standards in our governing elements, requires a lot from our leaders. In 2020, we implemented a new leadership development approach to support our leaders and increase our leadership bench strength. The leadership development journey consists of 2-3 learning modules per year for all leaders (approximately 850) in the group. 160 top leaders completed the first module in 2020 which focused on our leadership expectations.
In 2021, the remaining 700 leaders will be onboarded into this continuous learning journey.
Employee "Do good locally" program
Each year, employees are invited to make a difference in their community by doing an activity with a local not for profit organisation. Whilst most activities needed to be rescheduled or reshaped due to COVID-19, all 10 initiatives were completed.
Employees have conducted their chosen initiatives in China, USA, India, Philippines, Pakistan, Brazil, South Africa, United Arab Emirates and Malaysia. This year's initiatives varied from bringing water bottles and school supplies to school children, donating food baskets to needy families, donating food, clothes, and toiletries to a children's shelter, supporting families living with HIV and AIDS as well as financially supporting local charitable organisations.