Strengthening ties with the maritime community
Timm by Wilhelmsen has been producing ropes exclusively for the maritime industry since 1772. Our Timm™ ropes are trusted globally and used in some of the world's largest and most advanced vessels. Our Ropes Team regularly engages with the maritime community and relevant shipping associations to provide our customers with the right rope quality for their vessels. Here are some highlights from their engagement activities.
Tackling marine litter at the 2022 UN Ocean Conference
Did you know? An estimated 8 million metric tons (MMT) of plastic waste enters the world's ocean each year.1 This is the equivalent of dumping one garbage truck of plastic waste into the ocean every minute! Given what we're up against, there's a need for an "all hands on deck" approach to stop this influx of marine litter together.
Wilhelmsen is piloting a circular solution for retired ropes through our Circular Rope Project. "Rope is just one stream of marine litter. If we can show how retired ropes can be used for new applications, then we can show the path for reusing other types of marine litter," said Tore Strand, our Ropes Subject Matter Expert (SME). "If we succeed with this pilot project, we can bring 10,000 tons of retired ropes into circular solutions."
This initiative is part of the larger GloLitter Partnerships, a joint project between the Government of Norway, International Maritime Organization (IMO), and Food and Agriculture Organization (FAO) that aims to reduce marine litter.2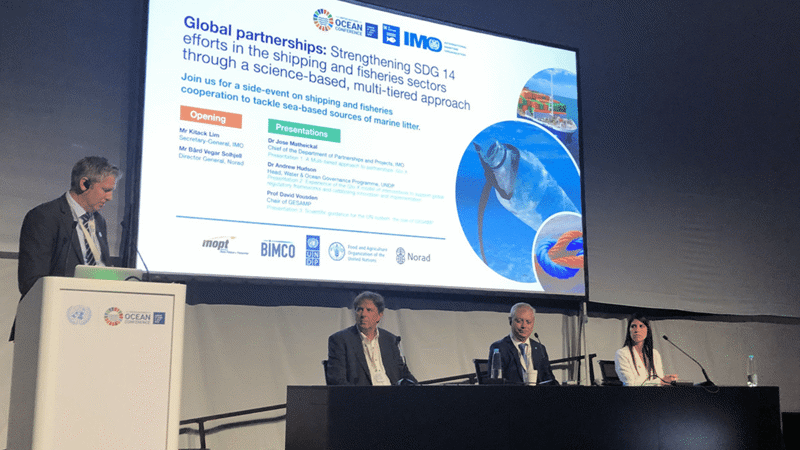 Tore Strand, our Subject Matter Expert for Ropes, served as a mentor for the Youth and Innovation Forum of the 2022 UN Ocean Conference in Lisbon, Portugal.
We were proud to present this project at the 2022 United Nations Ocean Conference in Lisbon, Portugal. The conference aimed to inspire, amplify and accelerate action for Sustainable Development Goal 14 (Life below water). The event engaged the shipping and fisheries sectors to come up with science-based, multi-tiered approaches to conserve and sustainably use marine resources.
Strand also served as a mentor for the Youth and Innovation Forum of the UN Ocean Conference. The forum is a platform to implement youth-led solutions at scale to address SDG 14 targets and bolster ocean action.
Strengthening ties between the ropes and nets industry
Our team participated in a joint convention with the nets industry and other ropes and fiber manufacturers on June 12 to 15, 2022. After two years of the pandemic, the ropes and nets industry finally got together at the Eurocord and Cordage Institute Joint Convention. This event gave our Ropes Team the opportunity to present our latest innovations and sustainable solutions to our key industry partners and discuss common topics.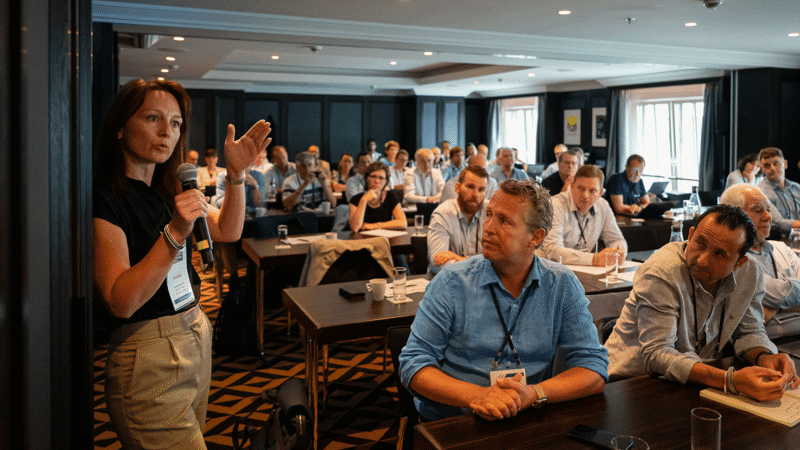 Veronika Aspelund, Ropes Business Director for the Wilhelmsen Ships Service, at the joint convention held at the Eurocord and Cordage Institute in Vienna, Austria.
Veronika Aspelund, our Ropes Business Director, introduced Wilhelmsen Ships Service and presented our products and services to the audience. Thomas Caradec, our Ropes Technical Product Manager, discussed in detail our safety development of the Timm Snap Back Arrestor (SBA) technology. Safety is a shared concern between the ropes and nets industry. Snap-back accounts for 53% of mooring accidents, with one in seven accidents resulting in fatalities.
Reaching out to our key customers
Our Timm™ ropes have been tied with the legacy of the Oslo Sjømannsforening (Oslo Seamen's Association) for 175 years.3 Recently, we paid a visit to the organization, which is still active today. The association was established in December 1846 in the loft of Timms Reperbane, a popular meeting place for shipowners and captains back in the day. German ropemaker and sailmaker Wilhelm Timm, from whom Wilhelmsen's Timm ropes were named after, was its first treasurer.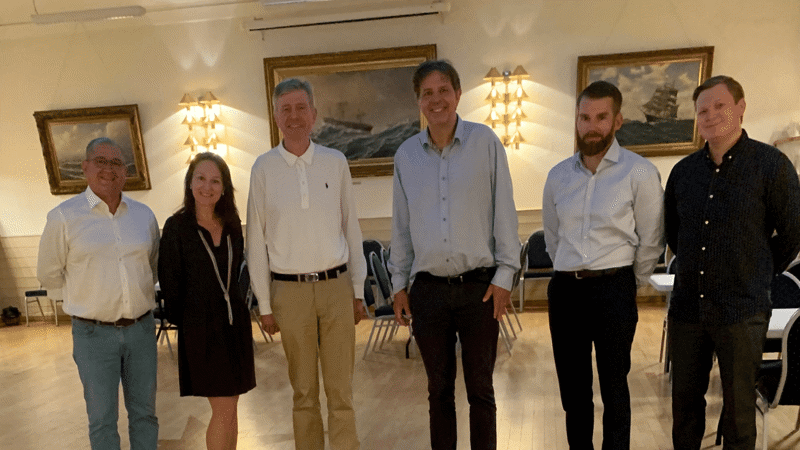 Timm™ ropes by Wilhelmsen have been tied with the legacy of the Oslo Sjømannsforening (Oslo Seamen's Union) for 175 years. We have been producing ropes exclusively for the maritime industry since 1772.
Today, Per Morten Alvenes, also Executive Advisor at KPMG Norway, leads the organization in preserving and spreading its knowledge about maritime culture and history.
Meanwhile, Dag-Erik Delgado, our Ropes Commercial Product Manager, paid a visit to Furetank, one of our key customers in tanker shipping and maritime services.4 Furetank expressed their concerns about the floating ability of our Timm Master 12 SBA mooring rope. Delgado went to visit their vessel, Fure Viten, at the terminal in Gothenburg.
" I observed the vessel's entire mooring operation when docking at the terminal. I found that all ropes were floating well, even during difficult and windy conditions," said Delgado. "One line was still buoyant even after eight to ten minutes in the water. I discussed my findings with the captain. Later, I learned it was the onshore boatmen who complained about the rope's buoyancy."
Delgado took this as an opportunity to educate the onshore boatmen about different rope constructions and floating abilities. "It wasn't really a big issue after they learned more about our SBA solution," shared Delgado. "It was just completely new to them, different from the usual eight-strand."
References