3D Printing: Offering A Stronger and More Resilient Supply Chain for Spare Parts
The Wilhelmsen and thyssenkrupp 3D printing partnership has the vision to disrupt the supply chain for marine and offshore parts – replacing existing inefficient and rigid supply chain process with a customised, on-demand, and more efficient process of 3D printing.
Utilising thyssenkrupp's deep expertise in additive manufacturing (AM), alongside Wilhelmsen's long-standing maritime service and supply know-how, this partnership is offering a better way to source spare parts through an AM fulfilment platform.
Through a unique digitalisation and certification process, parts are produced on-demand, without having to go through the time-consuming and costly storage, shipping, customs, and receiving processes. Additive manufacturing, or 3D Printing, disrupts the costly and time-consuming spare parts status quo, allowing suitable components to be fabricated near the vessel location with a short lead time.
"The savings from reduced cost, time and environmental footprint provided by 3D printing, digital inventory and on-demand localized manufacturing of maritime spare parts is a tremendous opportunity for our valued subscribers to be ahead of their rivals.", says Hakon Ellekjaer, Head of Venture, 3D Printing, Wilhelmsen.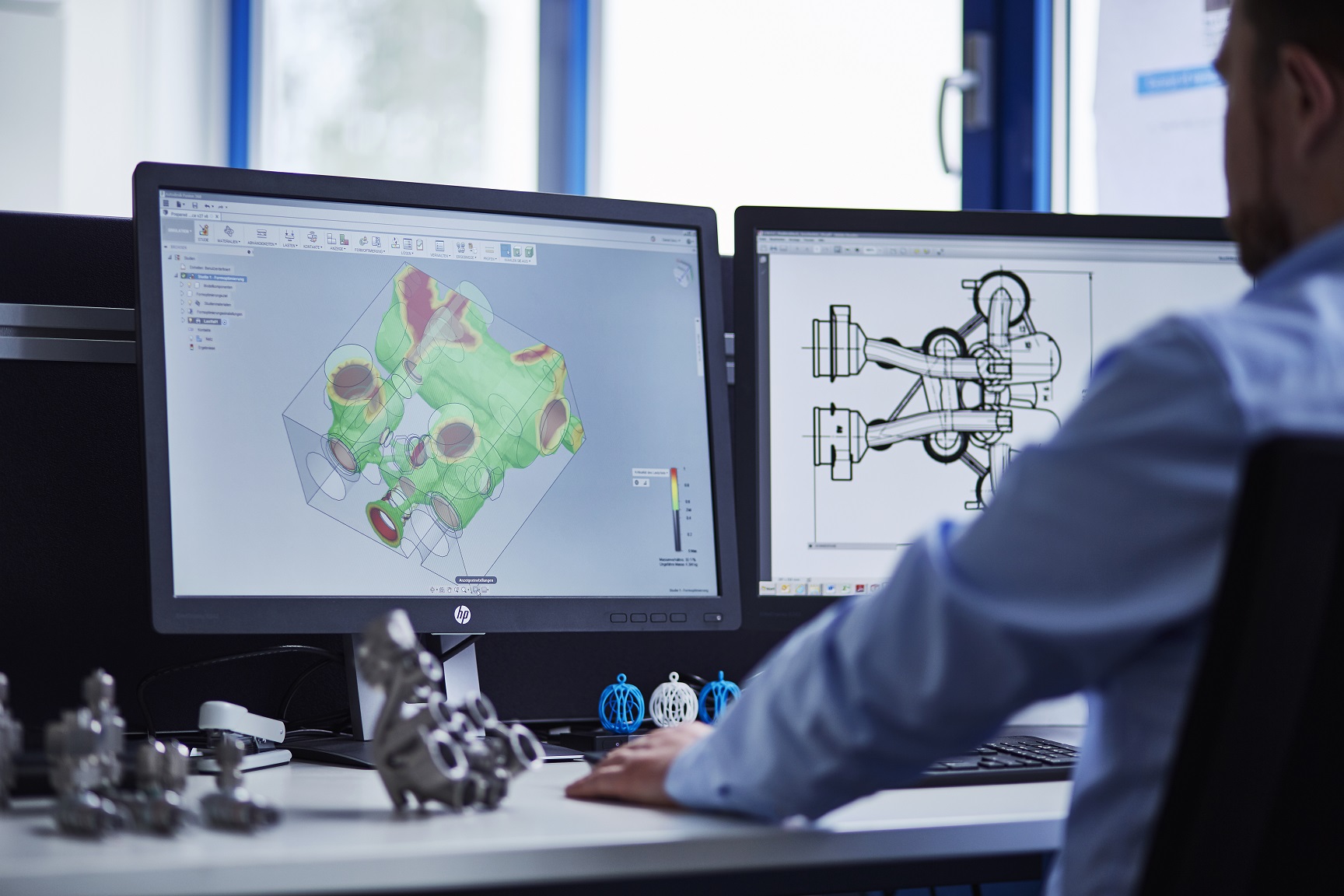 The Wilhelmsen and Thyssenkrupp Partnership
Wilhelmsen and thyssenkrupp is offering a decentralised production, with a workflow that is held together by a Quality Assurance Framework. It is established according to international standards and endorsed by DNV. This ensures that quality and fitness-for-purpose are considered at every step of the fabrication process. In addition, the partnership takes advantage of DNV's Print Passport Service which facilitates traceability of produced parts and guides all potential production partners through a vetting process before they are welcomed into the venture's manufacturing network.
With over 3000 vessels or units on-board customer programmes, multiple engagements with Original Equipment Manufacturing (OEMs) companies, and a large network of 3D printing manufacturing partners, Wilhelmsen and thyssenkrupp is bringing together a global footprint of partners in the maritime and offshore industry. With this one-stop digital manufacturing platform, the partnership is the go-to partner and distributor for on-demand manufacturing.
"This past year has been tumultuous in terms of global manufacturing logistics, as borders are closed, and the flow of goods disrupted. Supply chain resilience has become, and will remain, a hot topic for years to come. Additive manufacturing is a key piece to solving this puzzle," said Kenlip Ong, Head of Additive Manufacturing Tech Centre, thyssenkrupp
Original Equipment Manufacturers
"Additive manufacturing offers clear benefits in performance, lead time and enables a more resilient and greener supply chain. We are proud to be working with the Wilhelmsen thyssenkrupp venture, the AM market leader for the marine industry.
The successful production and delivery of our Cooling water pipe connector has established a solid foundation for a future collaboration between Kawasaki Heavy Industries and the Wilhelmsen thyssenkrupp partnership." – Ogura, Kawasaki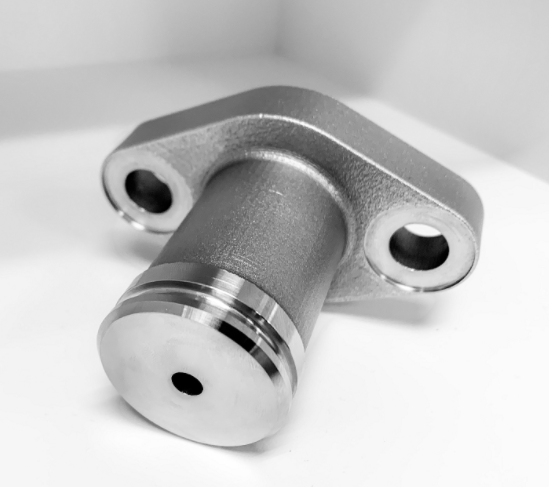 3D Printed Cooling Water Pipe Connector
This one-stop manufacturing platform offers an innovative solution that brings OEMs closer to their customers while meeting the highest quality and safety standards endorsed by classification societies. This service will provide the OEMs with increased serviceability, shorter delivery times in key locations around the globe, as well as reduce the working capital required for spare parts manufacturing and storage.
End Users
"Additive and on-demand manufacturing is a unique opportunity for MMA Offshore and solves many of the supply chain challenges we encounter as marine operators. The ability to print and deliver spare parts on demand results in a far more effective and efficient supply chain.
MMA Offshore is a proud customer of the 3D printing programme by Wilhelmsen and thyssenkrupp, and we are looking forward to increasing the adoption of AM parts through this partnership across our fleet," said Greg Reece, General Manager – Strategy & Innovation, MMA Offshore.
"Yinson recently received a 3D printed spider coupling for the Hydroclone Process Skid LP Pump. I would like to appreciate the quality of the material and accuracy of the workmanship provided by Wilhelmsen and thyssenkrupp. The item was also fabricated and delivered in a relatively short time" said Yinson – Maintenance Supervisor FPSO Helang
On-demand manufacturing provides an alternative solution that can offer a more effective part performance, shorter lead time, and environmentally friendly alternative to the conventional spare parts supply chain.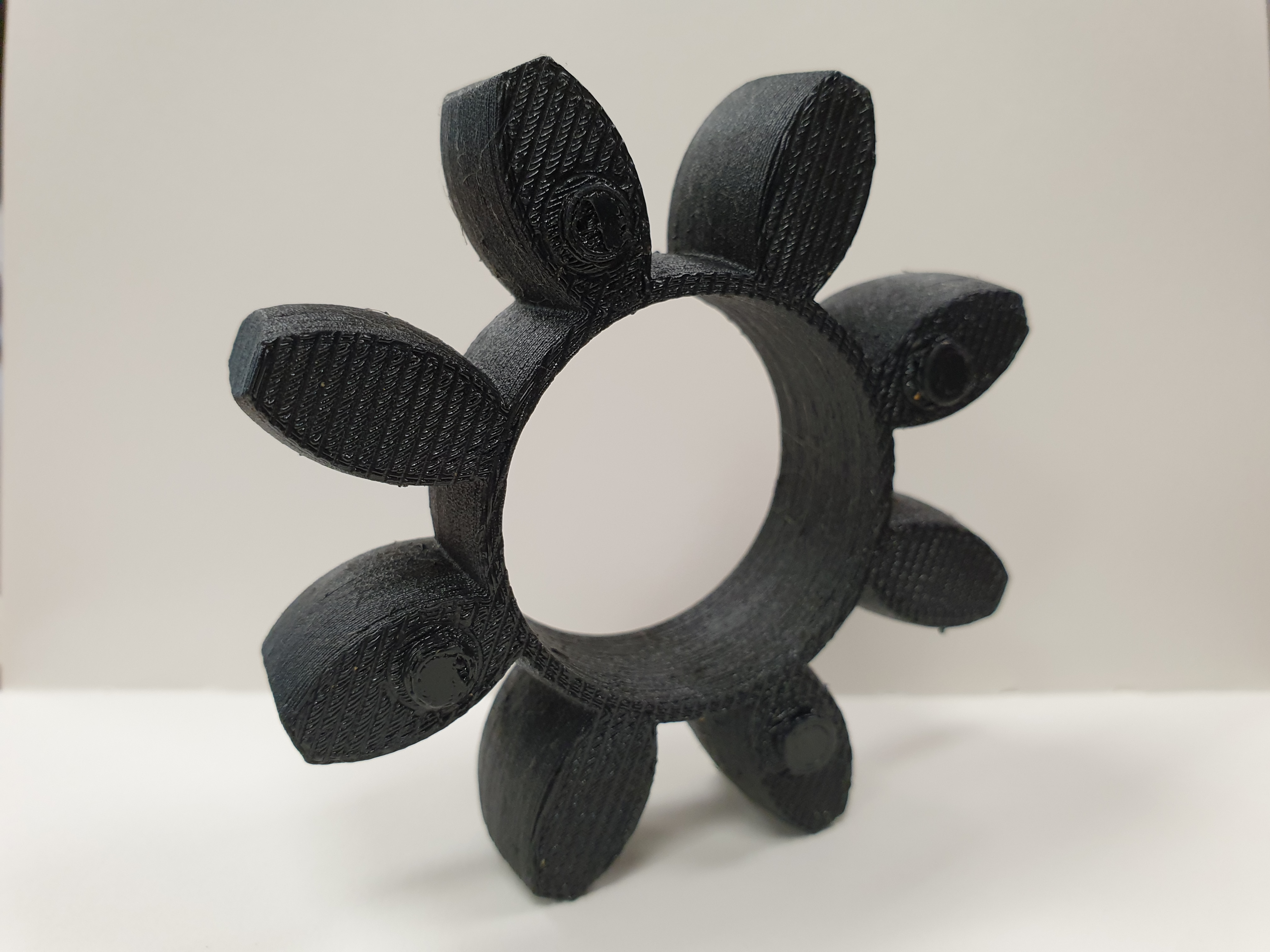 3D Printed Spider Coupling Designed for Yinson
Manufacturing Partners
"As Guaranteed, we are convinced that having the entire maritime eco-system committed and connected is key to a successful implementation of additive manufacturing in this thriving industry. Producing spare parts close to the place of use rather than having to order them from faraway places not only saves time but also transport and warehousing costs, custom fees, and taxes. Guaranteed is therefore excited to have been onboarded on the industry-leading digital AM platform of the Wilhelmsen and thyssenkrupp partnership, as a fabrication partner," said Joachim Antonissen – CEO of Guaranteed
"All potential production partners undergo a vetting process with DNV before they are welcomed into the Wilhelmsen and thyssenkrupp partnership manufacturing partner network. The DNV vetting process ensures that only serious suppliers are chosen to deliver to the maritime customers. Together with Wilhelmsen and thyssenkrupp, we will revolutionise the maritime industry with our service" – Bionic Production GmbH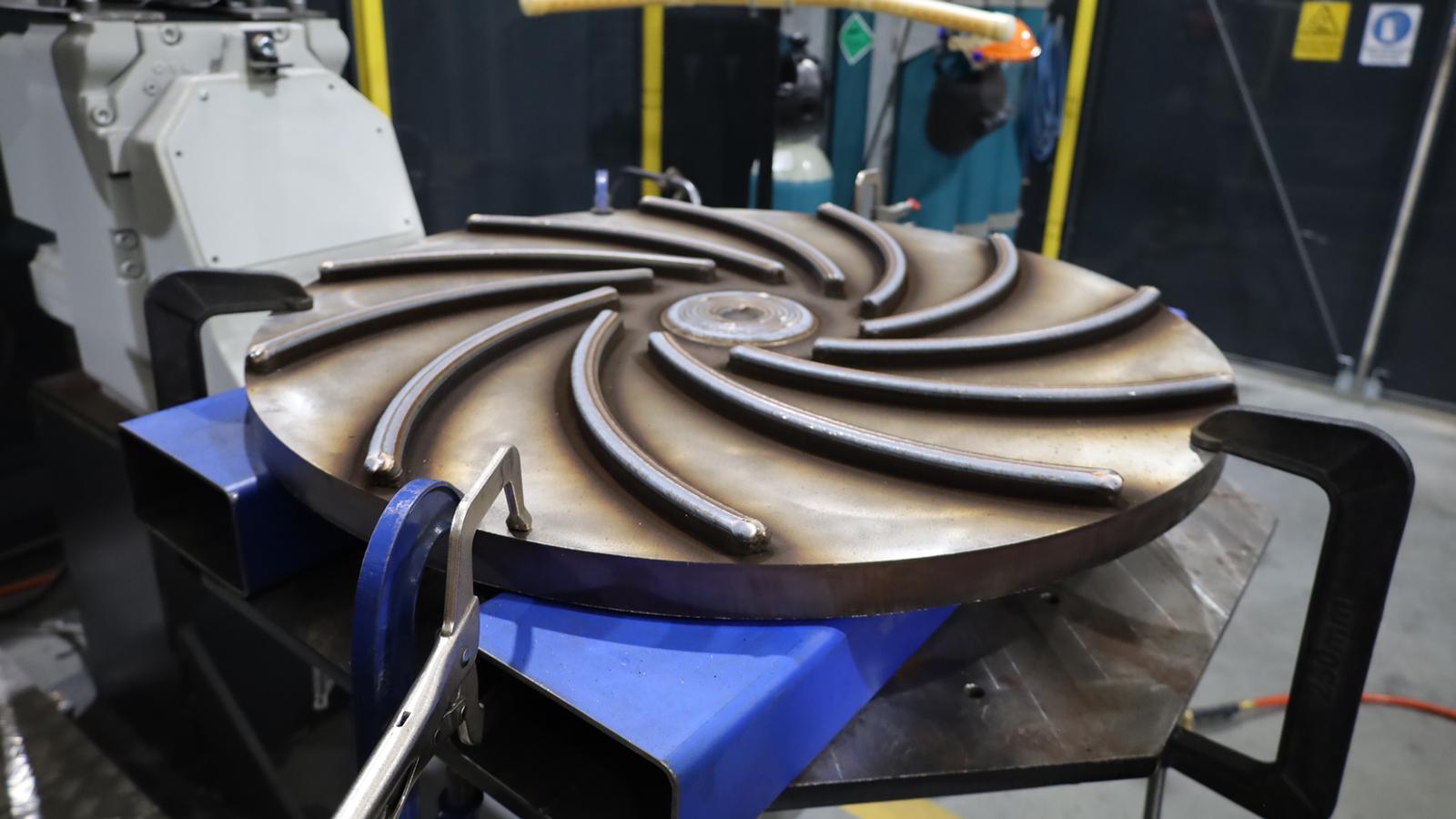 Inert Gas Fan Impeller Manufactured by AML3D
Technology Partners
In addition to our customers, OEMs, and 3D printing manufacturing partners, the partnership is working with several technology partners, such as Ivaldi on automated screening of spare parts for the feasibility of additive manufacturing, F3nice on upcycling metal waste to create valuable raw materials for 3D printing, F-Drones for the future of last-mile delivery solutions and several digital companies for the securitisation of our 3D data amongst others. It positions Wilhelmsen and thyssenkrupp at the leading edge of the AM fulfilment platform for maritime and offshore, building on the already established service to create the future of an on-demand, efficient, and sustainable process of obtaining a maritime spare.
Wilhelmsen and thyssenkrupp are confident that on-demand AM will reshape the maritime and offshore spare parts supply chain for OEMs and end users.
About 3D Printing for Maritime and Offshore Parts
3D Printing for Marine and Offshore Parts reduce the supply chain costs, delivery times, improves part performance, and minimises the impact on the environment. Through on-demand manufacturing and the AM fulfilment platform, Wilhelmsen and thyssenkrupp is empowering OEMs and shipping companies to effectively manage their supply chain for spare parts.
Press releases on 3D printing