Environment
Our focus is simple: to manage and reduce our environmental footprint. Our ambition to reduce carbon emissions and addressing wider industry and societal issues linked to climate action, marine litter and pollution.
​GHG Emissions
Our ambition is to shape the maritime industry's transition towards net zero emissions and capitalise on green growth. In practice, we focus on greenhouse gas (GHG) emissions; biodiversity and ecosystems; circular economy; and green growth and decarbonisation.
Climate change and Greenhouse Gas (GHG) Emissions
In 2021, we took part in the group's long term GHG emissions ambition in the long-term strategy to reach:
Net zero emissions in own operations before 2030
Net zero emissions in the value chain before 2040
Net zero emissions in portfolio (equity investments) before 2050
The comprehensive management of climate risk and GHG emissions based on the Task Force on Climate-related Financial Disclosures (TCFD) framework can be found in Wilhelmsen's Sustainability Report 2021
Green growth and decarbonisation
Wilhelmsen group pursue investments and new business models aimed at decarbonising the maritime industry, enabling energy transition and the growth of renewable energy, and sustainable product and service offerings.
Energy Efficiency Design Index
We support our customer's adapting to stricter emissions regulations, such as the Energy Efficiency Design Index for existing ships (EEXI) and Carbon Intensity indicator (CII) which come into effect on 1 January 2023.
Owners will need to take technical and operation measures to adjust their vessel's emissions to a required level. We provide professional support by helping them address the challenges of energy transition and decarbonisation of shipping in vessel operations.
Newbuilding supervision for eco-conscious vessels
We will be increasing our competence in newbuilding supervision alternative fuel vessels. Ship design for these alternative fuel ships would differ from conventional ships in many aspects. This is especially so in the storage space needed for alternative fuel versus conventional bunker fuel.
Biodiversity, ecosystems and circular economy
Overuse or mismanaged use of ecosystem services can lead to contamination, ecological devastation, economic disruption and impacts on human health. In addition, full asset and product lifecycle accountability, as well as growing regulatory requirements require new product and service offerings for the maritime industry. We aim to minimise resource use and the impact of our activities and products on air, soil, and water.
Wilhelmsen Ship Management provides full technical management, crewing and related services for all major vessel types, and as such is in a good position to influence compliant, sensible, safe and environmentally sound operations for vessel owners.
To provide value to customers and reduce environmental impact, we work with customers to optimize vessel and voyage operations to reduce operational costs and emissions, offering our in-house purpose-built data performance tool to enable this.
Our environmental management practices onboard are in compliance to Convention for Prevention of Marine Pollution (MARPOL), Ballast Water Management Convention (BWMC) and The International Convention on Oil Pollution Preparedness (OPRC).
Downward dependency on single-use plastic water bottles
We promote responsible consumption and recycling programs onboard and onshore. We are proactive in reducing plastics in vessel operations by introducing requirements towards suppliers and facilitating industry initiatives to reduce single use plastics in the maritime industry.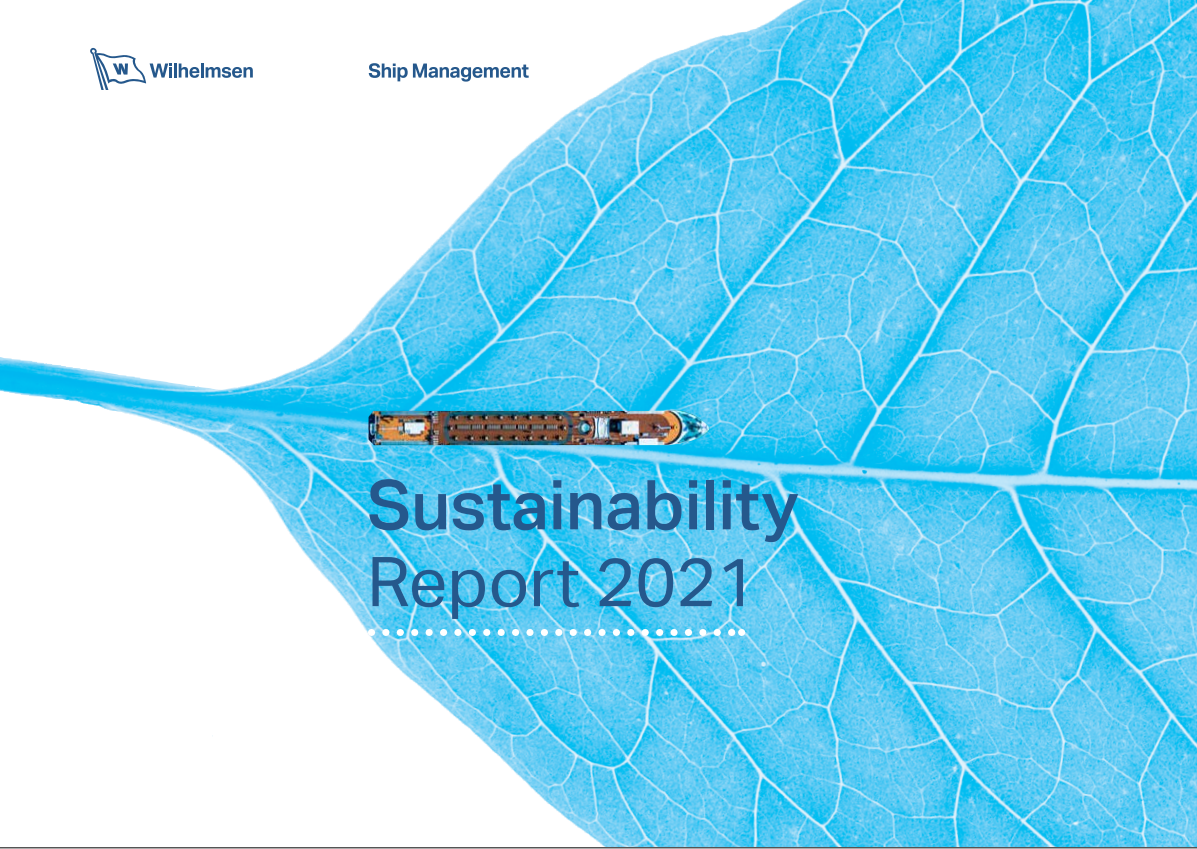 Download our 2021 Sustainability Report