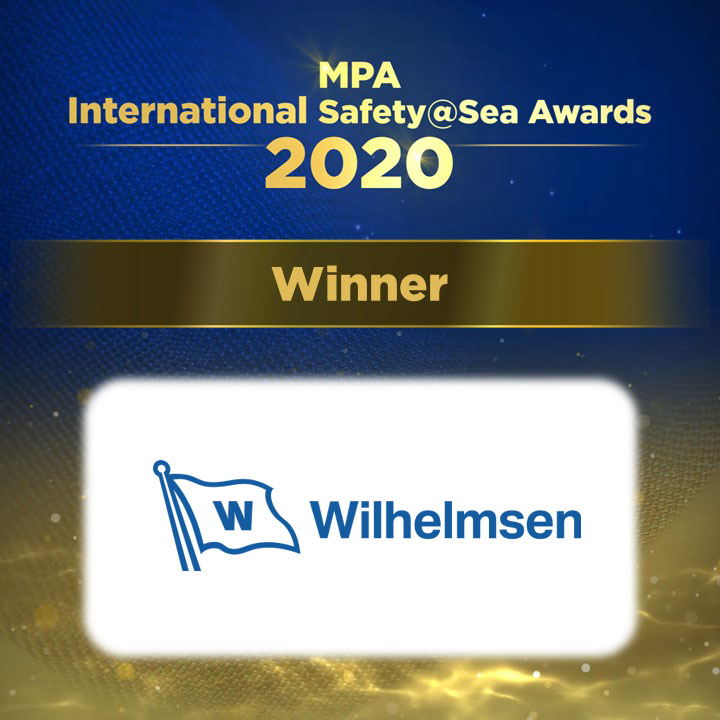 Wilhelmsen scores International Safety@Sea Award with total mooring solutions
Wilhelmsen Marine Products has won an award for their safer mooring solution in the open category at the International Safety@Sea Awards 2020 in Singapore.
This award is one of many recognitions for Wilhelmsen for their efforts on product development and innovation to create a safer mooring environment. Their winning nomination is a consolidated approach to safer mooring consisting of their Snap Back Arrestor (SBA), Smart Ropes, and Line Management Plan (LMP).
Nakul Malhotra, VP of Open Innovation, says, "It's an honour to receive this award. Our product development philosophy is about embedding safe-by-design principles into our mooring solutions. With our SBA, LMP and Smart Ropes, we're driving the industry forward."
The International Safety@Sea award is organized by the Maritime and Port Authority of Singapore to increase awareness of safe practices and inculcate a safety-first culture at sea. This Open Category award is given to organizations that demonstrate innovation in technology/ systems and design/ training for safety at sea within the maritime industry and demonstrating substantive safety-related contributions recognised by the maritime industry.
Veronika Aspelund, Business Manager for Ropes, says, "Safer mooring operation cannot be achieved with only one small change - we have to develop it step by step: Smart Ropes with instant tension monitoring, LMP with collection and usage of data and SBA with the added safety feature; this way of thinking of a total solution makes us unique. Our work is recognized not only by our customers, like Maersk, but also by terminals, ports and industry organizations with these developments. This award is a recognition of our focused work for improved safety in the industry and I'm proud to be a part of this journey."
Magnus Dickens, Venture Lead for Smart Ropes, says, "Our innovations and new developments come from different starting points, but they all bring us closer to our vision of reducing mooring-related accidents. This award recognizes the important steps we have taken and the journey we are on, where new innovation will result in unique products that continues to shape the industry and we will stay ahead of the competition."
As a leader in the maritime industry, Wilhelmsen collaborates with a wide range of stakeholders, including terminals, organisations, unions, and class. This allows us to put Safety First in our product development and help create a more holistic view of mooring in the industry. For more information, please go to: https://www.wilhelmsen.com/marine-products/ropes/the-new-era-of-safer-mooring/