Wilhelmsen insights
Getting your vessel out from the cold
Reactivating your LNG vessel to seaworthy conditions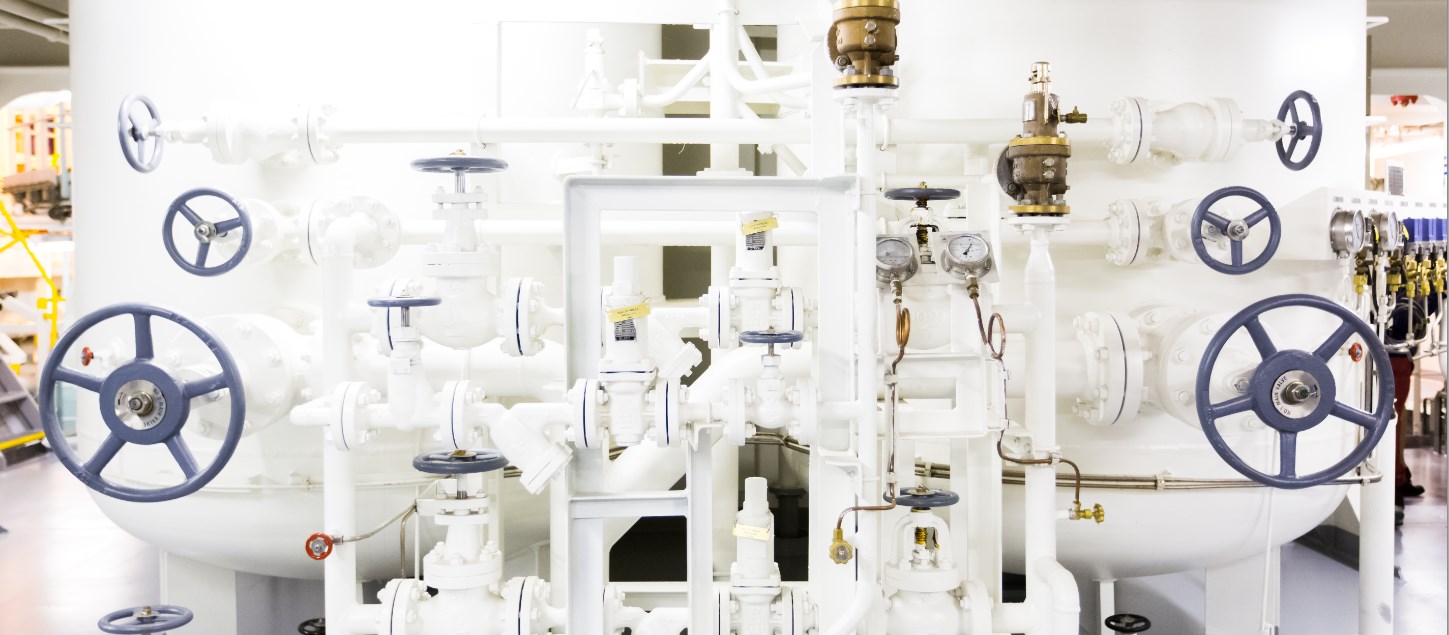 Wilhelmsen insights |
Don Jenkins , Vessel Manager, Wilhelmsen Ship Management
Globally, environmental policymakers are playing a part in driving demand for natural gas as it is a proven clean fuel.
Prime time for reactivation
If you are an LNG player and ready to reactivate your vessels at the lay-up facility, here are some key points to consider.
Before that, you should understand that the reactivation process, while thorough, can be achievable between 2-3 weeks on one caveat: your vessel was laid-up in excellent conditions and consistently monitored by dedicated on-site supervisors.
A typical reactivation of any vessel in good condition should not take over two months – including extensive dry docking.
Deciding the reactivation scope
A visit to the vessel is required to determine its state. During the inspection, the inspector will need to examine as many vessel areas as possible, determine if the vessel can be brought straight into service, or require dry docking.
Key considerations during vessel inspection:
Overall hull condition
Deck equipment – especially the conditions of mooring and fire-fighting installations
Communication with lay-up manager – identify defects seen in vessel during lay-up and its non-operational equipment
Status of engine room and devices – if drips can be heard on the lower flat this could indicate a large amount of marine growth on the hull
Accommodation and galley condition
Bridge equipment
Any upgrades needed according to changes in regulations
With the documentation received from the vessel inspector, owners can prepare for the reactivation and dry docking specifications (if any). Owners shall decide if the vessel can sail under her own power or needs to be towed to a dry docking facility.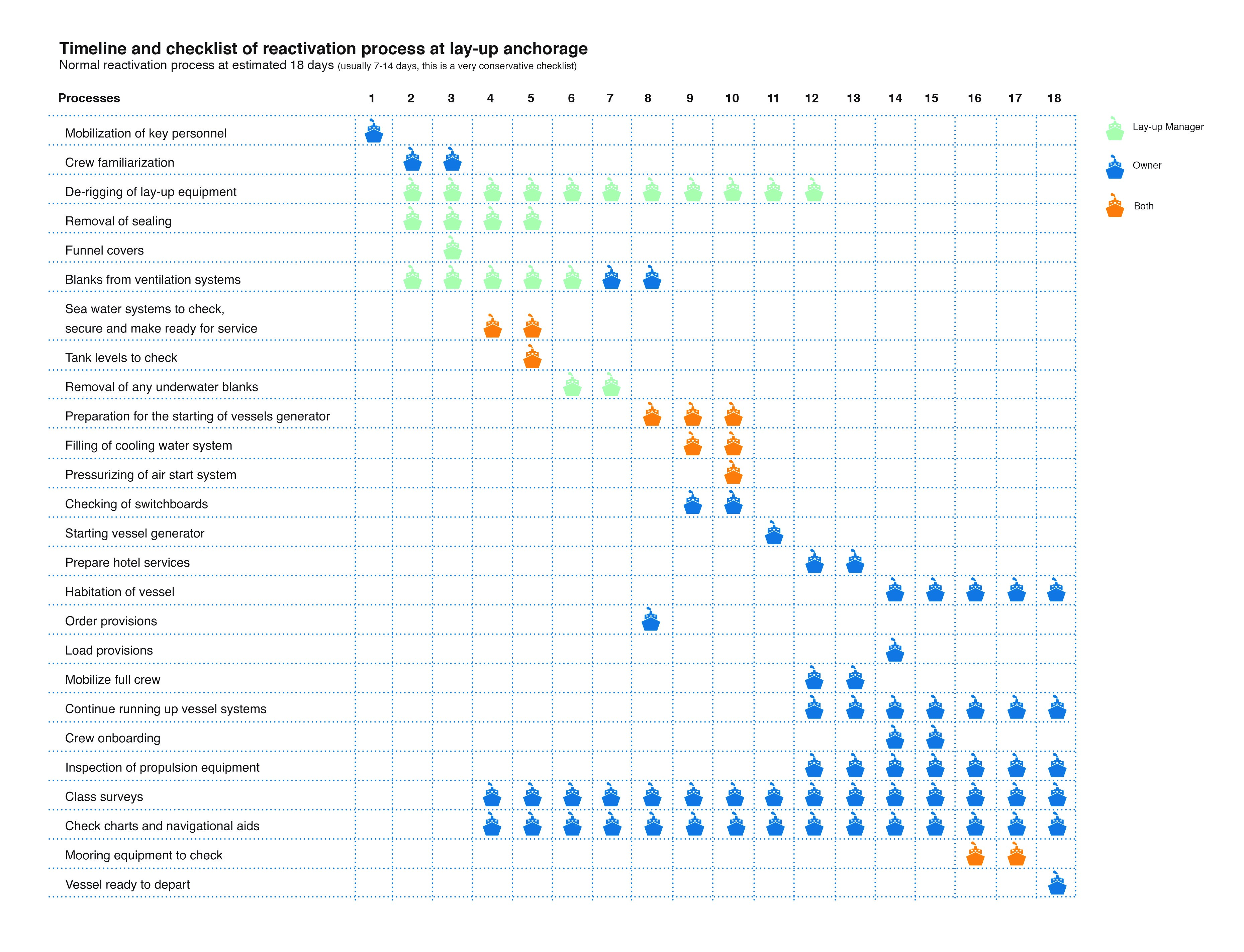 What's next after reactivation?
After departing the lay-up facility, your vessel may be bound for dry docking depending on its condition.
With over 10 years working in the maritime industry specializing in LNG segment, WSM's vessel manager, Don Jenkins, shares some points that owners may overlook and potentially stretch the timeframe.
| | |
| --- | --- |
| Tips | Why? |
| #1 Ensure you have electrical equipment insulation readings | It shows how effective the lay-up has been, determines what electrical equipment needs to be overhauled, and if any cables need to be replaced. |
| #2 Ensure the freedom of rotating equipment | If equipment is not free to rotate it indicates that it has ceased internally. If it feels jumpy, bearings may be damaged. |
| #3 Obtain Class requirements | When a vessel is laid-up its Class status is suspended. Bringing a vessel back into Class will vary by lay-up duration, fixtures at dry dock and other requirements imposed by Class. |
While there are differences in reactivating both types of LNG vessels, owners should include these in their checklist before they bring their vessels in service: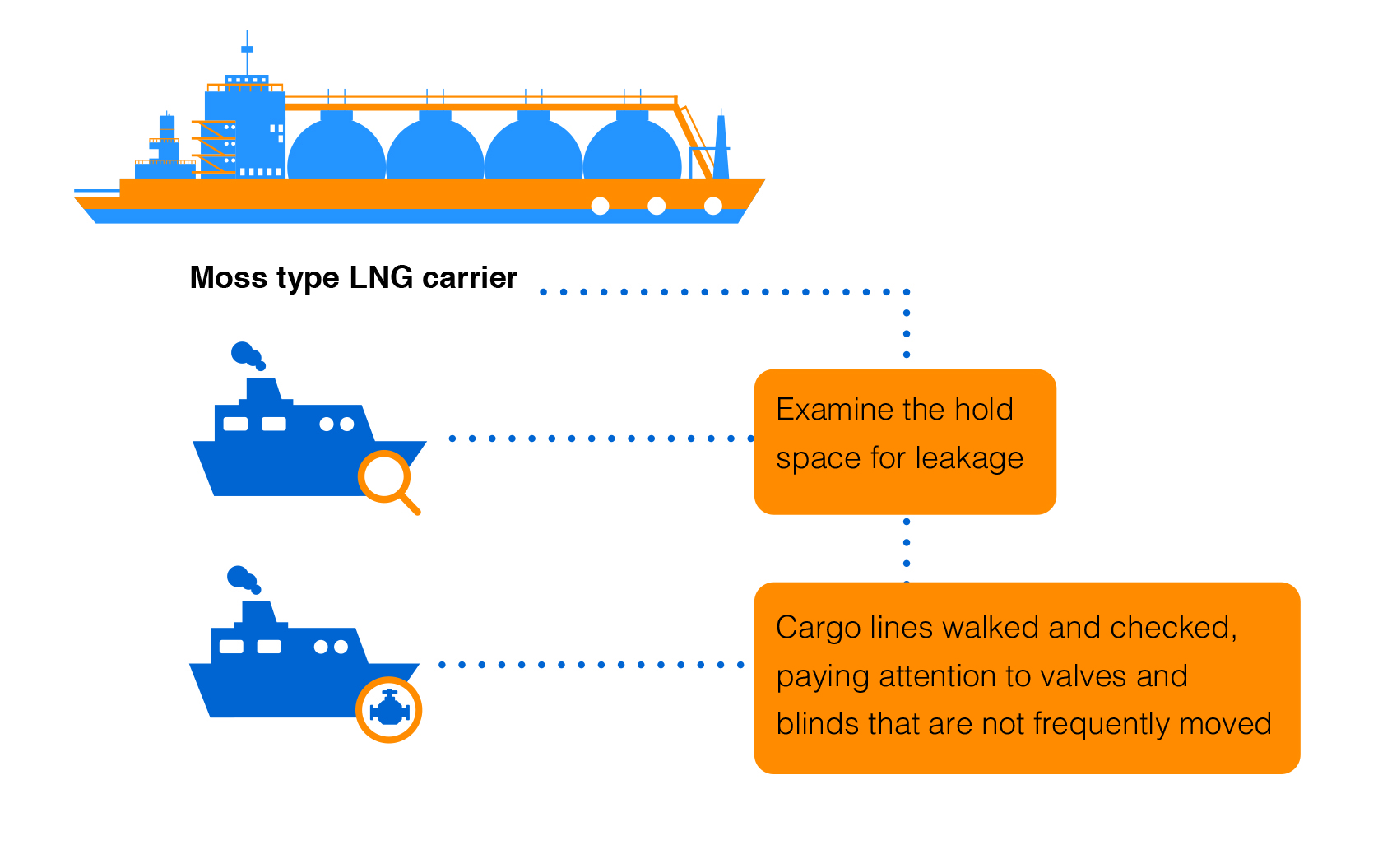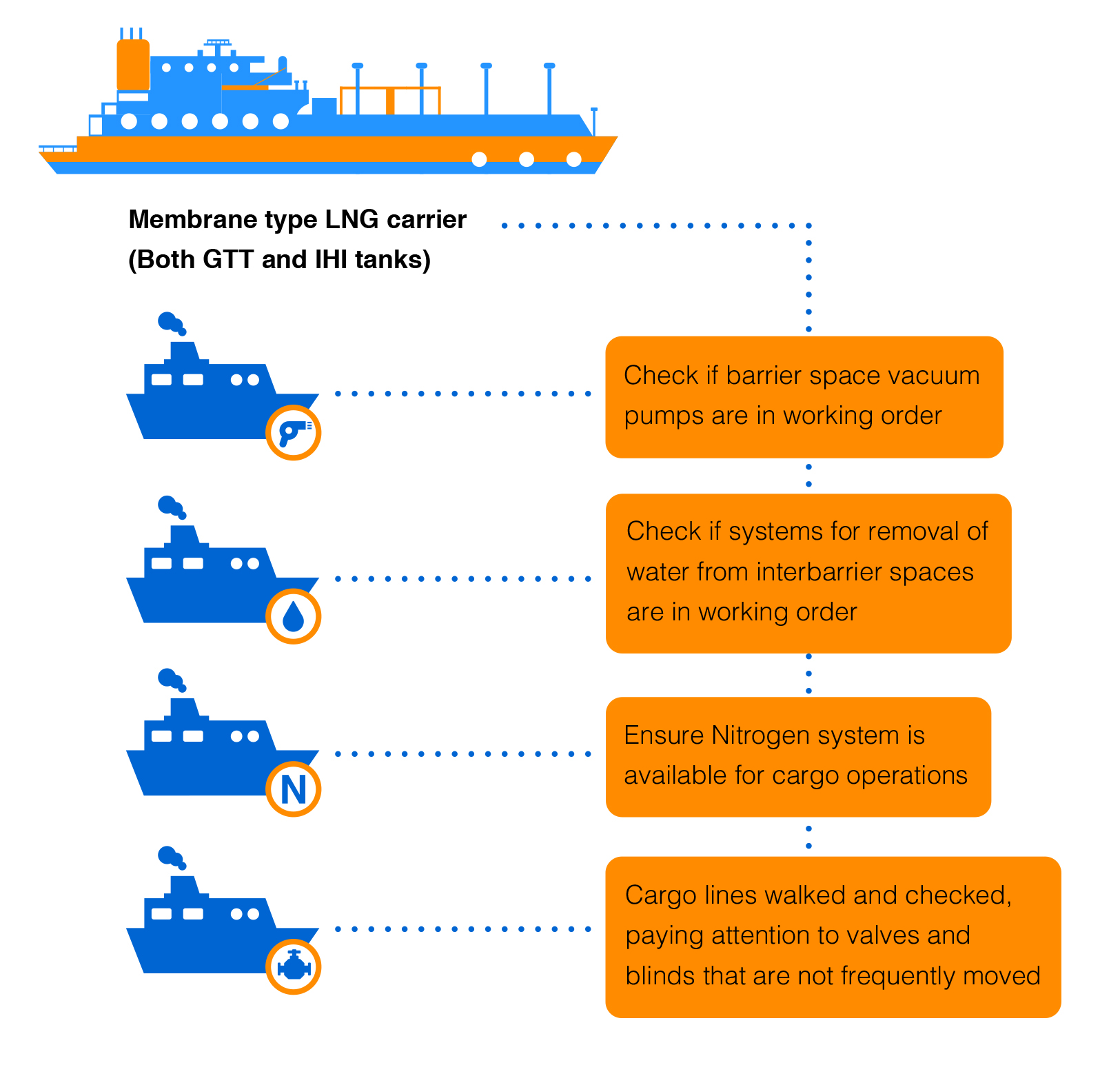 Gas trial
For vessels laid-up for an extensive period, we strongly encourage a gas trial to ensure there are no defects in the cargo system.
A gas trial will highlight any insulation breakdown from water impregnation. During this time, the containment system is checked for leakages. The cargo handling equipment will be brought down to operating temperature to reveal any defects
Don Jenkins, Vessel Manager, Wilhelmsen Ship Management
Leaving it to the experts
WSM strongly believes that a successful reactivation lies in the hands of experts. Without experience and professional consultation, you may fall through your objective of bringing your LNG vessel to service within time and cost.
Contact us for LNG technical management solutions.