Inventory of Hazardous Materials (IHM) data now available on online product catalogue
Customers can now retrieve essential information and documents on IHM classifications at their fingertips for improved safety and simplified compliance.
An Inventory of Hazardous Materials (IHM) is an important document containing information regarding potentially hazardous materials on board a vessel. Improper handling and disposal of hazardous materials can cause environmental pollution and threaten the safety of crew members.
Apart from minimizing risks to protect crew members, IHM also ensures compliance with regulations such as the Hong Kong Convention and EU Ship Recycling Regulation (1257/2013).
IHM for new and existing vessels
The IHM for new and existing ships are vastly different. For new vessels, the shipyard is primarily responsible for establishing the IHM based on material declarations and information from suppliers to identify the location and quantity of Hazardous Materials on-board.
As for existing vessels, the shipowner will have to prepare the IHM based on several processes like samplings, analyses and interpretations of results. Changes on board the vessel while it is still in operation would require a mandatory update to the IHM. When a ship reaches the end of its lifespan, a final investigation for Hazardous Materials is conducted and are transported to a waste facility to be scrapped safely.
Our products have been IHM-classified for your convenience
In accordance with existing regulations, certified personnel at WSS have carefully reviewed and classified our portfolio of more than 2,700 standard products with potentially hazardous materials. This helps to ease regulatory compliance, as well as to simplify the shipowners' preparation of an IHM report, be it for new or existing vessels, or vessels ready for recycling.
Accessing IHM data from Product Catalogue
For WSS products, the IHM data can be accessed easily via the online product catalogue.
On each page of every product containing potentially hazardous materials, the Inventory of Hazardous Materials (IMO/EU) classification can be found under the General Specification section.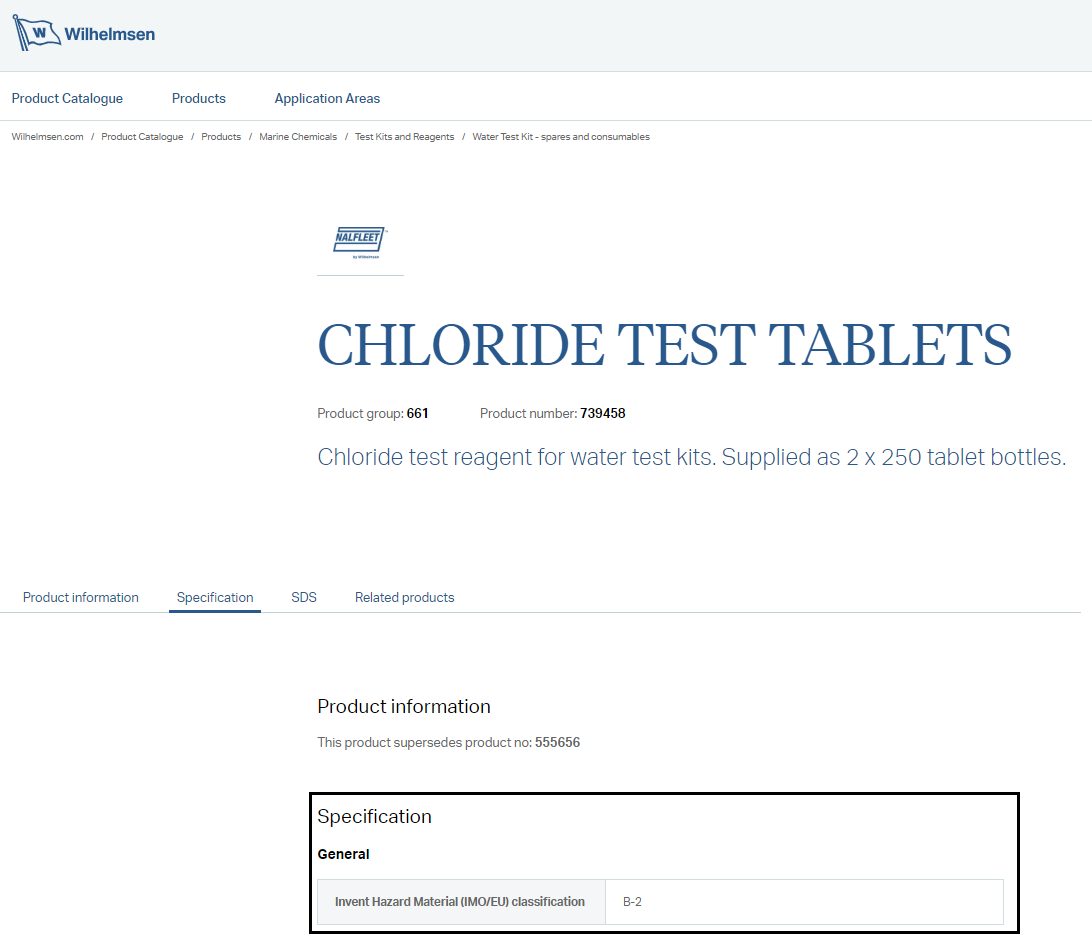 For products classified under Tables A, B, C and D, the Supplier Declaration of Conformity (SDoC) and Material Declaration (MD) as defined by the Hong Kong Convention and the EU regulations is published in the Product Catalogue and made available for download as a single pdf file.
Supplier Declaration of Conformity (SDoC)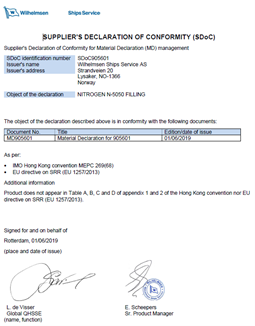 Material Declaration (MD)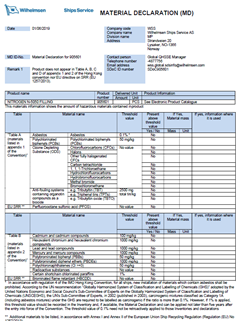 Products not classified under the above mentioned tables will have NA as classification, and the SDoC and MD will be made available on request only. The SDoC and MD can be downloaded from the tab "Documents".

A total of approximately 800 documents have been uploaded and linked to the respective products.