Using Less to Clean More
Using only half the usual volume required, our new Unitor™ CargoClean HD easily removes even the toughest stains from petcoke and coal.
Stubborn Stains from the Dirtiest Cargoes
Dirty cargoes tend to create stubborn stains that require strong chemicals to remove. For tough jobs like these, you need tough chemicals.
But if the chemicals you choose are too harsh, the cargo hold wall coatings will get eroded very quickly. Discharging into the ocean will harm the marine environment as well, landing you in a state of non-compliance.
Yet the current solutions of regular detergents are not strong enough for the clean job and massive quantities are required to achieve the desirable result, incurring higher operational costs over time.
New Unitor™ CargoClean HD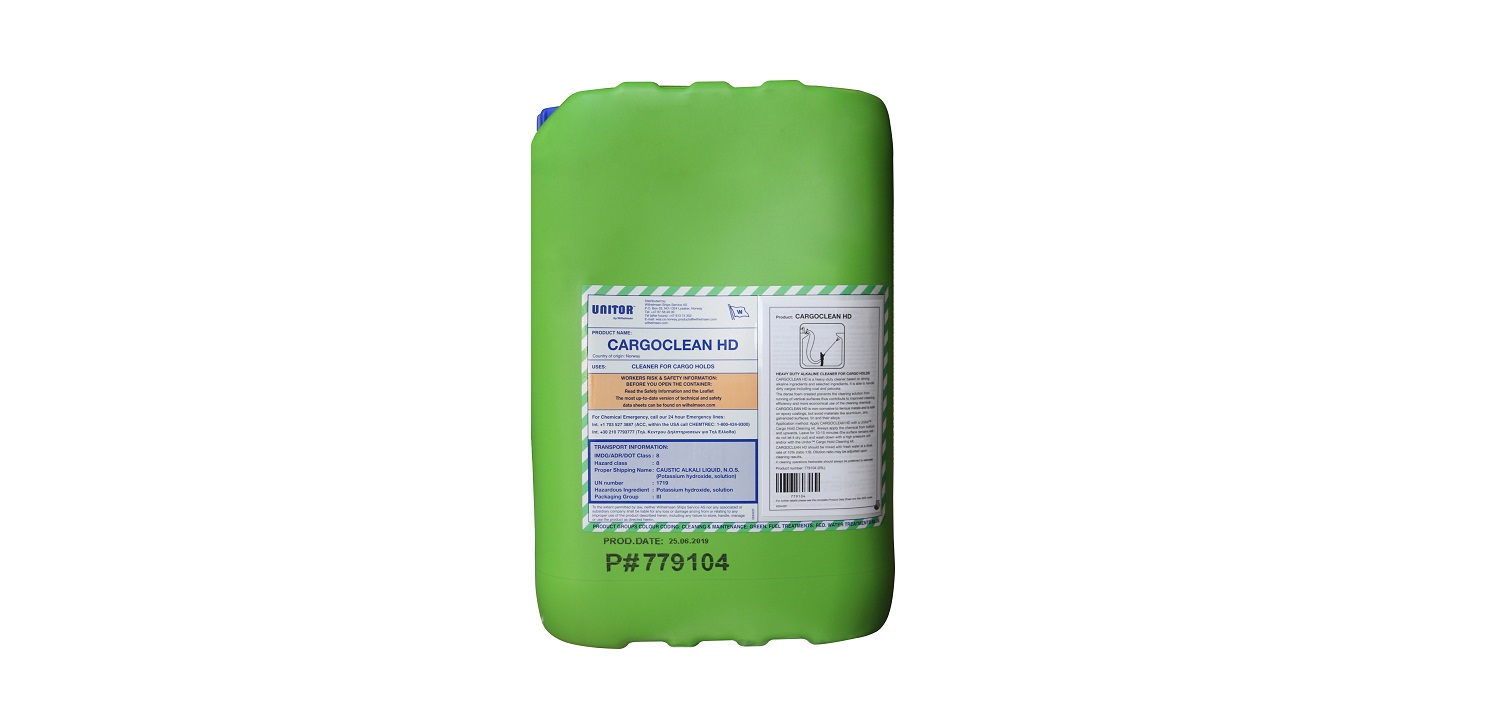 To solve this dilemma, we have created Unitor™ CargoClean HD (Heavy Duty), a unique alkaline cleaner that removes even the toughest stains made by cargoes such as petcoke or coal, ensuring the cleanest result time after time while keeping the cargo hold coating completely safe.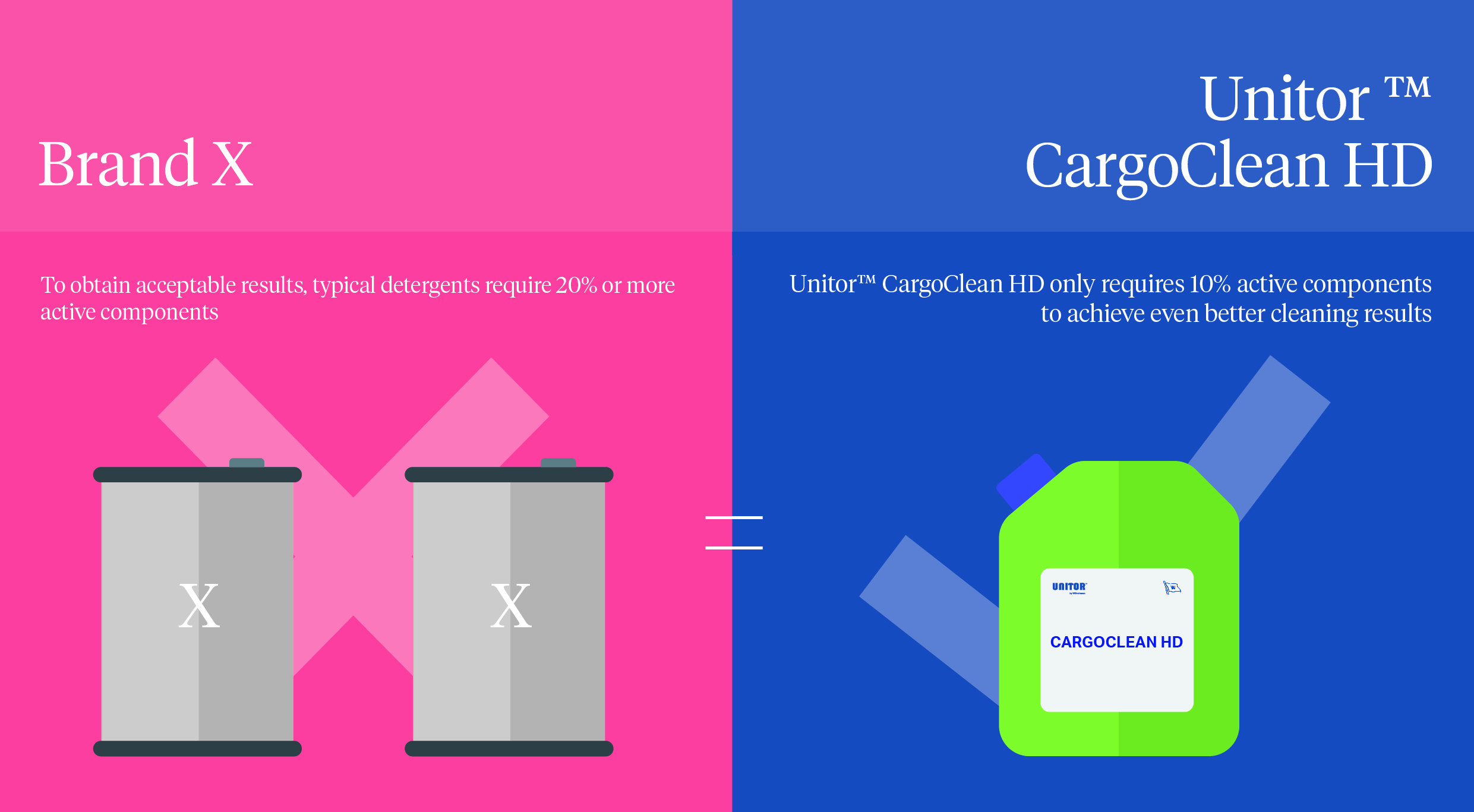 Not harmful to the marine environment
Unlike many products on the market containing HME (Harmful to the Marine Environment) chemicals such as Sodium Hypochlorite, better known as bleach, Unitor™ CargoClean HD can be discharged at sea along with wash water, being fully compliant with the EU Detergent Regulation and Marpol Annex V.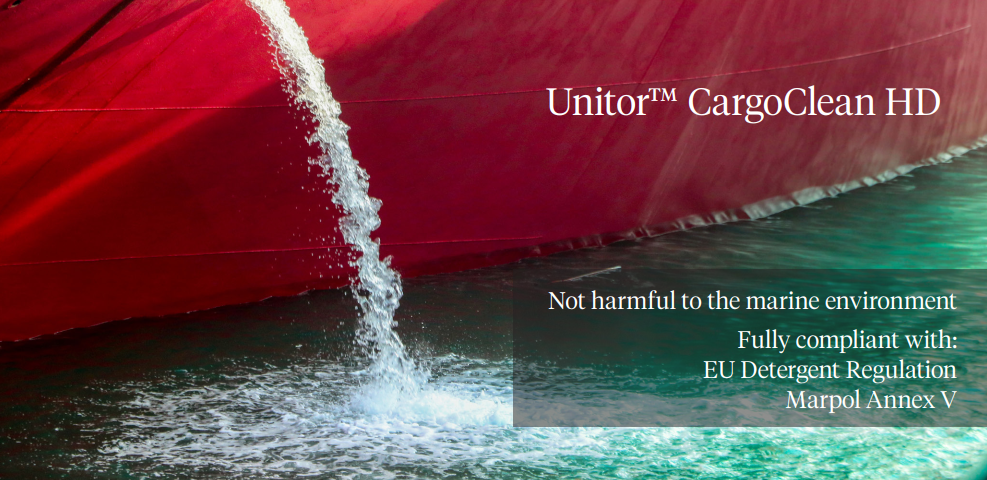 Best in Test
Tested extensively both in the lab and in the hold, Unitor™ CargoClean HD consistently produced the best cleaning results. Specifically designed for the dirtiest cargoes such as heavy coal and petcoke residues, it removes often difficult stains at the first attempt without pre-wash.

For even better results, our Unitor™ Cargo Hold Cleaning Kits create a dense foam which prolongs the chemical's contact time with the stain, so you can have the best cleaning results while reducing the cleaning time even further.
Achieve visibly clean cargo holds today with less time and chemicals, with the new Unitor™ CargoClean HD.
AN UNRIVALLED GLOBAL NETWORK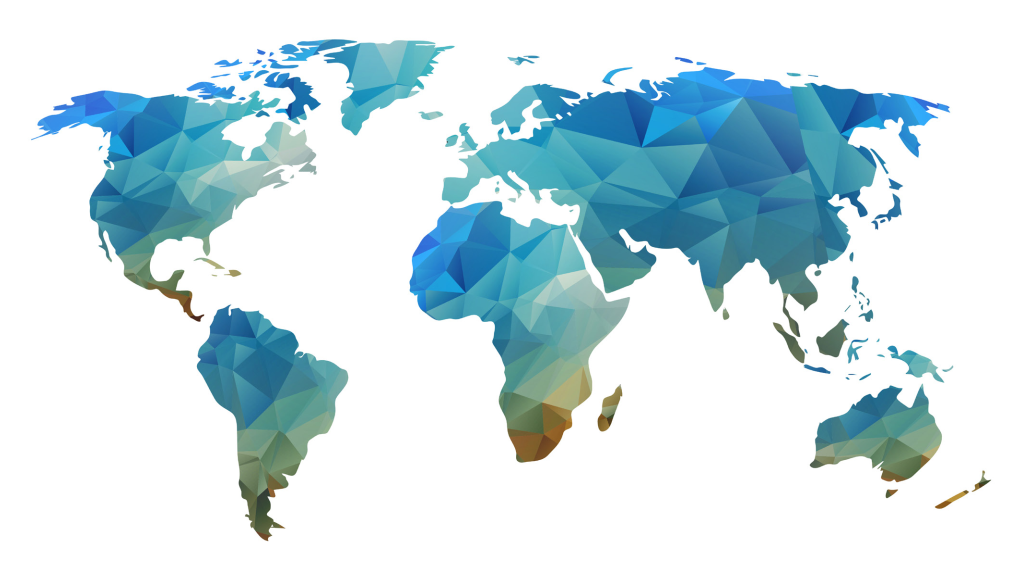 Register your interest for the Unitor™ CargoClean HD by filling in the registration form on this page. A WSS representative will be in touch shortly.