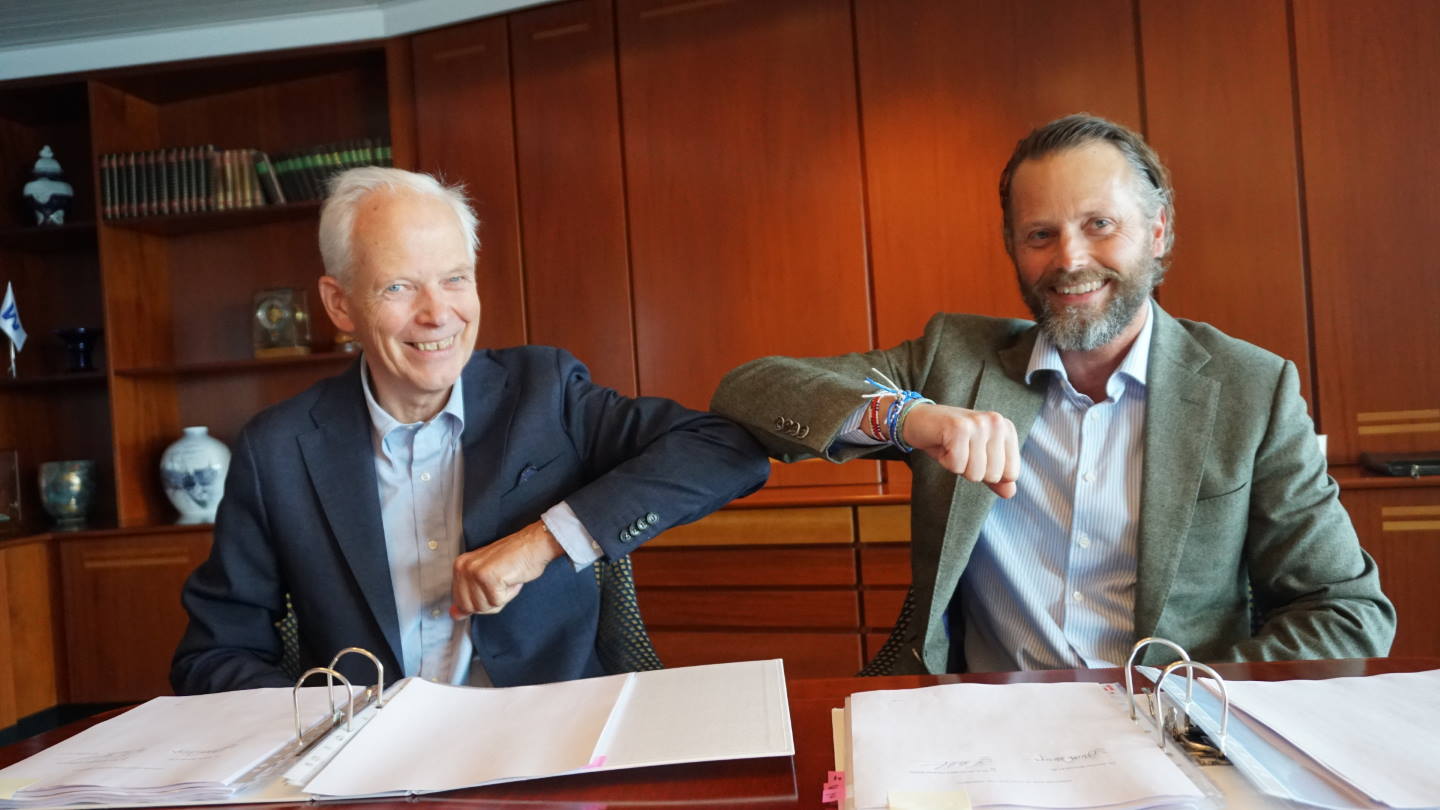 Wilhelmsen and Østensjø join forces to fast track growth of renewable energy company Edda Wind
The agreement will see Wilhelmsen initially acquire 25% of Østensjø Group's expanding offshore wind company. Wilhelmsen has also secured an option to buy another 25% before June 2021.
Launched in 2018, Edda Wind owns and operates service vessels supporting the maintenance work conducted during the commissioning and operation of offshore wind parks.
"The Wilhelmsen group's strategy is very clear, to further expand into renewables, by working together with partners, and leveraging our expertise and assets. So, finding an opportunity like this to work with Østensjø and invest in Edda Wind, a growing company, rapidly expanding its fleet with future-focused emission free vessel technologies is ideal," says Thomas Wilhelmsen, CEO of the Wilhelmsen group.
Commenting on potential synergies, he adds, "With our unrivalled global network, decades of in-depth logistical and operational expertise, and experience in the renewable space, through our NorSea and Elevon interests, Wilhelmsen is uniquely equipped to help unlock Edda Wind's enormous potential. We also know a thing or two about hydrogen as a marine fuel, which might come in handy for the future vessels."
"We are very pleased with having Wilhelmsen as our partner in Edda Wind. During Østensjø's 50-year long history of advanced offshore operations, we have gained experience and knowledge that has enabled us to become a significant supplier of service operation vessels within offshore wind. Wilhelmsen's strong brand, competence, and global position, combined with both companies' ambition to develop new green solutions, will further strengthen Edda Wind's position to become a world-leading provider of offshore wind services. We have learned to know Wilhelmsen as a solid and knowledgeable company that stands for many of the same values as Østensjø Rederi, which makes me confident that this partnership will be both long-lasting and successful," says Johannes Østensjø, owner of the Østensjø Group.
Reflecting the rapid development of the offshore wind market, Edda Wind currently has two vessels in service, and four cutting edge, low-emission service vessels on order with yards. Long-term charter agreements are in place for two of the newbuilds ahead of their expected delivery in 2022. Østensjø Rederi will continue to manage the Edda Wind fleet.
With clear ambitions to target growth regions such as the US East Coast and Asia, the time was right for Norwegian towage and offshore service vessel owner Østensjø to join forces with a forward looking, experienced global maritime partner like Wilhelmsen, willing and able to play an active role in taking Edda Wind to the next level.
"Having two strong owners like Østensjø and Wilhelmsen will be a huge advantage for Edda Wind, taking into account the growth that is expected in the offshore renewable market over the next years. We look forward to take advantage of the synergies between the two owners and are excited about further expanding our business with Wilhelmsen onboard," says Kenneth Walland, CEO of Edda Wind and Østensjø Rederi.
The parties have agreed not to disclose any details related to the financial transaction. As part of the shareholder agreement, it has been decided that Håvard Framnes, Johannes Østensjø, Jan-Eyvin Wang and Geir Flæsenwill head up the board with two directors from each owner. Kenneth Walland will be Chief Executive Officer and Ervin Horn will be Chief Financial Officer.
Edda Wind's new vessels
Designed by Salt Ship Design, Norway, Edda Wind's four newbuilds are purpose built for the unique demands of the offshore wind industry.
Part floating accommodation block, part supply ship, high standard cabins and common areas will comfortably accommodate up to 97 technicians at a time, and 23 marine crew. Anti-heeling and roll reduction systems will provide a stable working platform, and a motion compensated gangway system with adjustable pedestal will ensure safe and efficient connection to the turbines even in poor weather.
In addition to the unique accommodation and gangway elements, the vessels will be delivered with emission reduction technology, cutting emissions by a minimum of thirty percent. The four newbuilds have also been specifically designed to be able to be accept zero emission hydrogen technology. These future-fuel ready design elements include tank systems for hydrogen storage, dedicated machinery space for fuel cells, a hybrid battery system, novel type propulsors and a range of energy saving measures for the HVAC and pump systems.
The first two vessels are expected to be delivered in the first quarter of 2020 with both on long-term time charters with MHI Vestas, and Ocean Breeze Energy, for fifteen and eleven years, respectively.