Wilhelmsen Ship Management shapes the regulatory framework in autonomous shipping
Wilhelmsen Ship Management enters into strategic partnerships with DNV GL, Norwegian Maritime Authority (NMA) and University of South-Eastern Norway (USN) for the development of autonomous shipping operation.
Singapore, 6 November 2018: Wilhelmsen Ship Management (WSM) has entered into two agreements that will set the tone for operational and regulatory framework in autonomous shipping. The first agreement focuses on the development of a safety management system ("safety management system agreement") while the second agreement is for the development of future competence ("competence agreement").
The safety management system agreement was entered into with DNV GL and NMA whereby the parties will collaborate to support WSM's ambition to develop an efficient safety management system (SMS) for operating autonomous, remotely controlled and remotely supported vessels.
The competence agreement with DNV GL and USN was entered to develop competence solutions required in a shore control center to manage and operate autonomous, remotely controlled and remotely supported vessels.
"This is an exciting chapter for WSM as regulations governing autonomous shipping are still in their infancy and WSM will play a key role in shaping the future role of ship managers and the regulatory framework. From a ship manager's perspective, this will be a game changer in the way WSM operates today. As a pioneer in this field, our strategic alliance with DNV GL, NMA and USN is crucial to ensure a holistic development of the new, one of a kind document of compliance." says Carl Schou, President & CEO of WSM.
The development will be spearheaded from the management center based in Lysaker, Norway. "There will be an unprecedented reliance on machineries and systems working seamlessly together with utmost reliability. Decision making will be data driven and calculated with upmost precision. Having the right competencies skill sets, operational processes, vessel maintenance philosophy and culture in place will be critical to embracing this shift." says Haakon Lenz, Vice President for WSM Region Europe & Americas.
"Efficiency in management and operation of shipping companies and vessels is high on the agenda in the industry and we in DNV GL will support our customers in making use of opportunities. Digital solutions and developments on autonomy will enable the maritime industry to develop and implement measures for improved efficiency ashore and on board. The ability to utilize these opportunities with an effective management system, ensuring safety at the same or a higher level will be a game changer and we in DNV GL are aiming to be at the forefront of this work. The partnerships with important companies such as WSM, government agencies and universities as we have in this work, will enable us to further develop standards, services, solutions and relations which are important for us and our customers", says Marianne Valderhaug, Director of Operations in DNV GL.
"We have a strong belief that autonomous systems are the future and USN wish to take part in the journey towards realizing that future. Through this agreement of cooperation with the maritime sector [Wilhelmsen/DNV GL], we increase our commitment to another level in research on how such technology can be use in an efficient and safe manner." says Assistant Professor Tor Erik Jensen from USN.
WSM expects to implement the SMS and obtain a certified document of compliance by the end of 2019.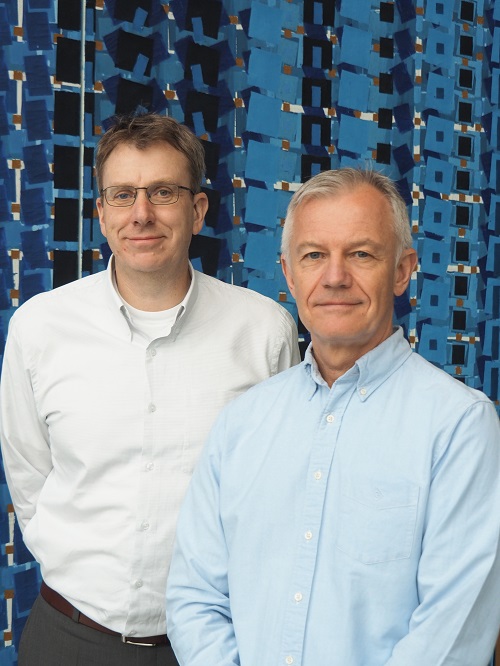 Haakon Lenz (left), Vice President for WSM Region Europe & Americas, and Carl Schou, President & CEO of WSM
About Wilhelmsen Ship Management
Wilhelmsen Ship Management, a Wilhelmsen group company, is one of the world's largest third-party ship manager with a portfolio of more than 450 vessels and 9 200 active seafarers. Wilhelmsen Ship Management provides technical and crew management services for various vessel segments; LNG, LPG, Ro-Ro and PCC/PCTC, Container, Cruise, Bulk, and Offshore. Wilhelmsen Ship Management manages from six offices worldwide and has a crewing network of 16 manning offices in 12 countries. Other key services include dry docking services, lay-up services, new building supervision, and Inventory of Hazardous Materials (IHM).
About DNV GL
DNV GL is the world's leading classification society and a recognized advisor for the maritime industry. We enhance safety, quality, energy efficiency and environmental performance of the global shipping industry – across all vessel types and offshore structures. We invest heavily in research and development to find solutions, together with the industry, that address strategic, operational or regulatory challenges. For more information visit www.dnvgl.com/maritime
About Norwegian Maritime Authority
The Maritime administrations are important and central actors for maintaining and facilitating the development of the maritime industry. The Norwegian Maritime Authority (NMA) seek to be the preferred maritime administration and the goal is to be the world leading with regard to new technology and sustainable innovation. This means that the NMA will offer a competitive service for those how chose the Norwegian flag. We prefer to be recognized for our in-house competence and know-how in the maritime cluster, and the Norwegian voice shall be heard in international forums!
About University of South-Eastern Norway
The University of South-Eastern Norway (USN) is the newest university in Norway, and with 18.000 students, USN has become the fourth largest university in Norway. It is a central research institution in the field of autonomous systems and cooperate closely with regional industry in the development of autonomous solutions for usage in the maritime, land and air transportation sectors as well as for the process industry.
Contact:
Esther Gan, Head of Marketing and Communications of Wilhelmsen Ship Management
+603 2084 5911/ esther.gan@wilhelmsen.com