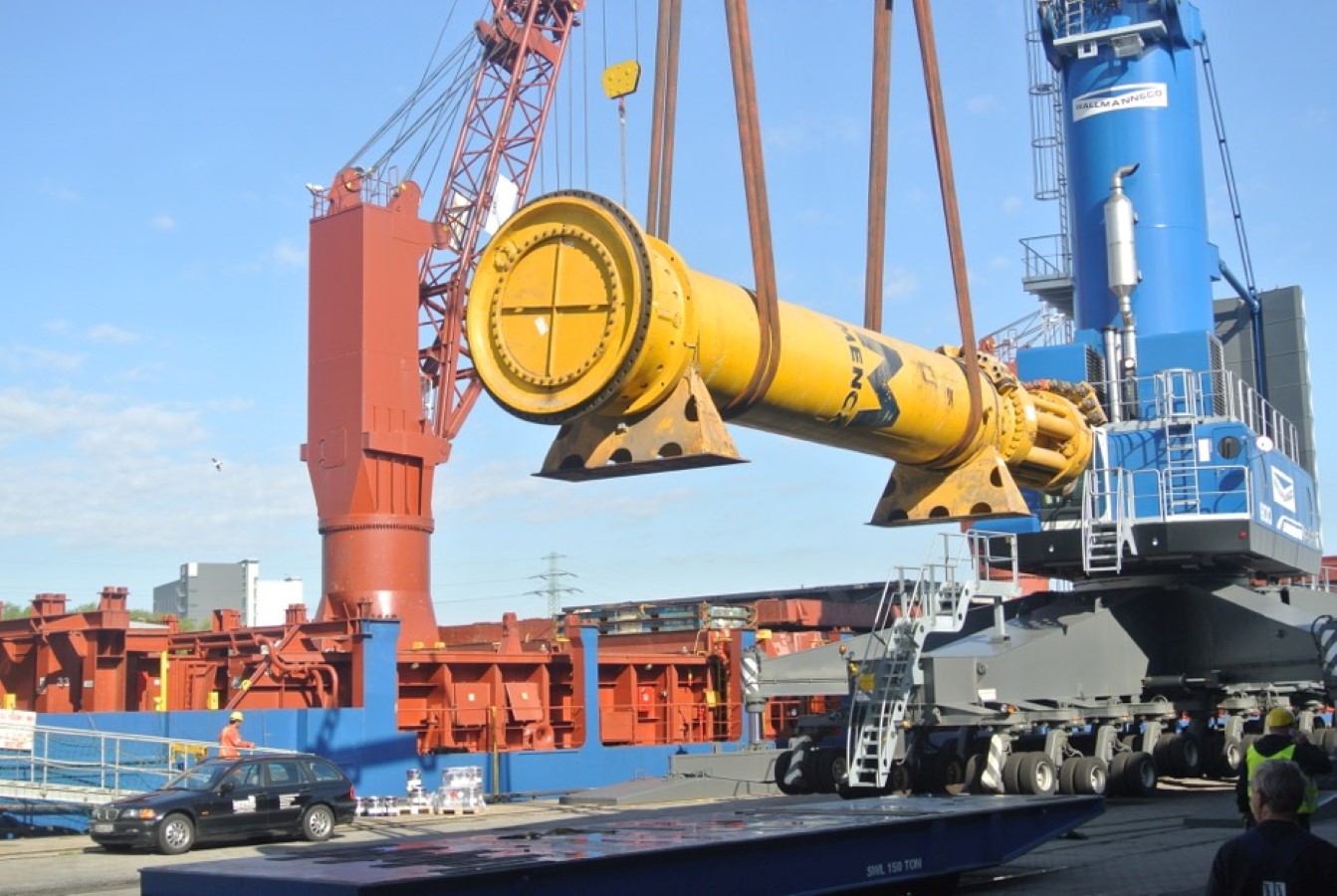 Wilhelmsen Ships Service: Mastering complex logistics
From racing boats to steel pipelines, windmill blades to massive hydraulic hammers, Wilhelmsen Ships Service personnel in the Middle East can move just about anything, anywhere.
Press release
|
(Updated )
Last summer, Wilhelmsen Ships Service (WSS) was contracted to source ocean transportation options for the return of offshore marine equipment from the United Arab Emirates to Germany. The cargo consisted of 10 packages of pile driving accessories for onshore and offshore installation, including 13 metres long, 123 tonne hydraulic hammer.
According to Niju Joseph John, Sales Development Manager for WSS in Abu Dhabi, the project represented a genuine challenge. "The massive weight and huge dimensions of these components required a very specialised set of skills that few of our competitors can manage," he says. "Our ability to combine both our ship's agency and maritime logistics competence is a significant advantage for complex logistics projects like this."
John notes that most logistics providers tend to specialise in different segments, such as agricultural equipment, automobiles, military hardware or rolling stock, but WSS' long history in the region has given the company the experience moving a broad range of equipment and goods -- no matter how large or complex.
"Moving specialised equipment requires detailed planning and coordination between the loading site, transporters, customs officials, port officials and the cargo owner," he says. "It also requires engineering competence. Anyone can offload a bulldozer from a trailer, but moving a 123 tonne hydraulic hammer safely from a man-made island in the Gulf to a workshop in Hamburg takes a different set of skills."
John notes that for specialised equipment, no two jobs are the same. "On this project, a mechanical failure on a crane forced our team to change the offloading sequence and due to some performance issues, we had to replace the initial ocean carrier hired for the job," he says. "We noticed that some of the gears arranged by the carrier for lifting certain heavy pieces from trailer to vessel did not match the lifting points, but we worked it out and the process went smoothly."
Another challenge familiar to all cargo owners in the region is navigating overlapping regulatory and documentation issues. "In some ways, the most difficult part of a job like this is managing documentation," John says. "In this case, the equipment arrived in Abu Dhabi on temporary basis, leaving us to manage the documentation process for export. Fortunately, our experienced operations team was able to anticipate and complete documentation requirements to get the job done, with time to spare." John adds that since the client was based in Europe, WSS teamed up with colleagues in Germany to support the effort and secure a part-charter for the ocean leg back to Hamburg.
Christer Bonde, Regional Maritime Logistics Director for WSS in the region, says that Wilhelmsen has been in Dubai for almost forty years, so knows the specific logistical and regulatory challenges of operating successfully in the Middle East. "The pace of economic development in the region has allowed us to get involved in some interesting projects," he says. "We've moved everything from Formula One powerboats to mega yachts, massive steel pipelines to windmill towers and blades."
Bonde says that the company is also recognised as a preferred logistics provider to the oil and gas industry, especially offshore. "We are teaming up with ship owners and operators that can provide articulated tugs and modular barges suitable for the ocean transportation of oilfield equipment," he says. "That allows owners to transport large modules from supply locations in the Far East and Europe directly to the installation, thus avoiding trans-shipping via local ports."
While WSS may be best known for managing complex jobs, most of the company's business is providing affordable and comprehensive logistics and warehousing services for more manageable goods, such as timber, steel, aluminium and all kinds of bagged cargo. "Being recognised as quality logistics provider doesn't mean we only move specialised equipment," he says. "It means we offer all our customers seamless logistic services that are more flexible and cost-effective than the competition – no matter what the cargo."
FACT BOX: WSS Scope of Services
Moving cargo including 13 metre long, 123 tonne hydraulic hammer and 10 packages of pile driving accessories for onshore and offshore installation requires coordination between multiple stakeholders. For this job, WSS managed the following tasks :
• Receiving packages on trailers from supplier vessel
• Inland transportation to Musaffah port, Abu Dhabi
• Export customs clearance and inspection of material
• Shifting cargo under hook
• Vessel inward and outward clearance
• Stevedoring operations
• Ocean freight to Hamburg