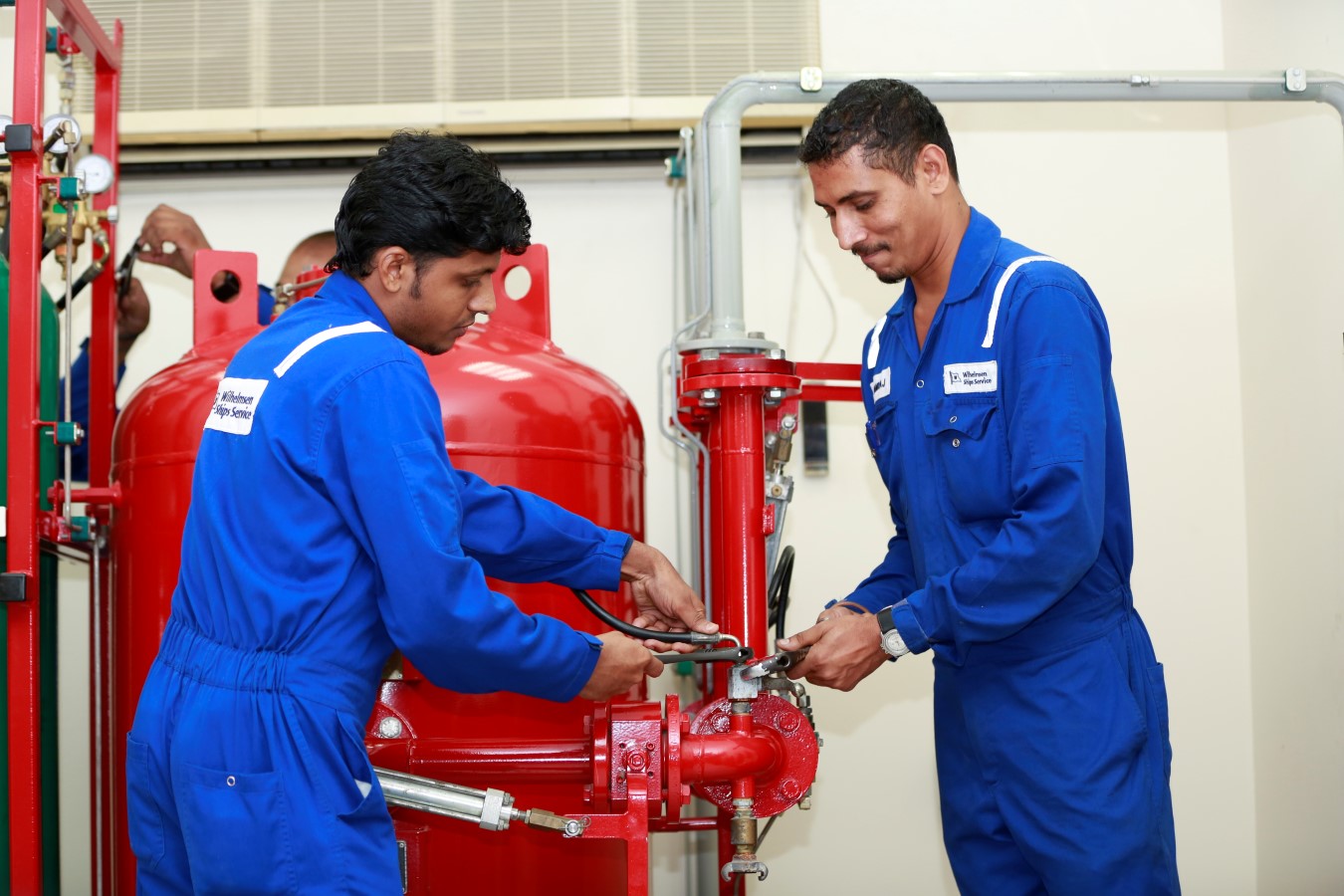 Mapping competence – the key to global excellence in safety service
Wilhelmsen Ships Service (WSS) is on a mission to map the competence of its global network of safety service technicians. By doing so, Dag Rune Rensmoen says the firm can ensure customers receive standards of excellence they can count on - every time, everywhere, on every job.
Press release
|
(Updated )
Dag Rune Rensmoen knows his safety service technicians better than they know themselves. Despite their number, some 250 men and women, geographical spread (scattered across 60 service stations in 39 different countries) and range of individual skillsets, Rensmoen has them 'mapped'.
This, he says, is key to building a stronger, safer, service organisation – one where qualified expertise comes as standard.
"The footprint of WSS is a huge competitive advantage for us within this global industry, but it's also a challenge," states the company's Global Service Operations Director, Technical Services. "We want our customers to receive the same high standards of service every time our technicians pay them a visit. If everyone was based in one location that would be easy to enforce, but when they're spread from Santos to Shanghai, and from Miami to Barcelona… well, it becomes a little harder.
"That's why," he says with a smile, "we began mapping."
The world looks to WSS
WSS has been providing inspection, reporting, maintenance and repair services for fire and safety systems and equipment for over 40 years. In that time it's established both a market leading position and a network of bases - all of which are certified to ISO9001: 2008, and operate in accordance with IACS UR Z17 approvals - enabling it to carry out 21,000 vessel services a year.
To put that into context, a WSS technician boards a new vessel every 20 minutes, 24/7, 365 days a year.
It's an awesome operation, and an equally enormous responsibility.
"We're here to make sure our customers' equipment is operating exactly as intended, and fully compliant with all relevant rules and regulations," Rensmoen says. "This is equipment that we hope will never be used, but if it is then it has to work to its optimal ability.
"If you're unable to ensure that, or aren't aware of the latest regulations, then the ramifications could be fatal. We're here to lift that burden from the shoulders of shipowners and operators, allowing them to get on with doing what they do best.
"It's a position of trust and one we work hard to deliver on."
The map man
Over the past six months this 'hard work' has been focused on assessing individual technician competence to ensure this single global team operates with single global standards. In other words, mapping.
Rensmoen and his colleagues at WSS HQ in Oslo first created four levels of ability – apprentices, assistant technicians, technicians and senior technicians – setting out clear requirements for each level. Individual experience, both with WSS and elsewhere, training, qualifications and certificates were then assessed and gaps in skills identified, with training packages planned to allow technicians to fulfil their on-the-job potential.
Customer requirements were also considered to ensure that individual service centres could meet their specialist service needs, with gaps again identified and filled through training.
"We have to have the competence in place to satisfy those needs," Rensmoen explains. "It's no use having competence in station A if it's needed in station B, so that was a crucial part of the process."
He continues: "By knowing both our people and our customers we can ensure the best possible 'fit', worldwide."
Excellence as standard
Although Rensmoen is clearly concerned with individuals, his main focus is on the 'whole'.
He believes a standardization of service is central to exploiting WSS' global presence. He wants, he says, "a customer with a dry powder fire fighting system in Fujairah to get identical service to one in New York.
"Uniform high standards across the globe give us a real advantage and the customer greater reliability, predictability and peace of mind. It's something the 'mom and pop' businesses of the world, with individual bases in individual ports, can't possibly compete with."
And the key to this standardization, Rensmoen stresses, is training.
Less is more
In tandem with the mapping initiative, WSS has revamped the training centres that will plug any competence gaps. Counter-intuitively, it has actually reduced the number of centres from five (based in Antwerp, Belgium; Fujairah, UAE; Houston, USA; Shanghai, China; and Singapore) to just two (Antwerp and Shanghai).
Rensmoen explains why: "The centres were all quite new, established between 2010 and 2013, and individually effective. However, we wanted to streamline and optimize the training we offer to our own employees, sub-contractors and customer service representatives.
"We came to the conclusion that it would be easier to provide continuous, consistent standards at fewer facilities. By centralising the training at two regional 'super centres', covering larger student catchment areas, we could enhance the professionalism, delivery and content of our 43 individual training packages. The training is the foundation that our competence is built on, so it's vital that everyone can develop their skills from the same platform."
The twin bases in Belgium and China now share identical courses and learning formats, with trainees enhancing their understanding of fire fighting systems and lifesaving appliances through a mixture of theoretical classes and hands-on experience.
"Both centres have training skids," says Rensmoen in relation to the latter point. "These feature live versions of the multi-brand systems our technicians service. We can tailor specific faults on these systems and then test our students' abilities to isolate, address and fix them. It's an excellent learning environment."
Evolving needs
According to the WSS Director, no one in the industry comes close when it comes to providing this depth, quality and spread of mandatory training courses.
"The industry is changing and so are the demands placed on technical competence and regulatory compliance," Rensmoen concludes. "By investing in understanding the skills of our people, the requirements of our customers, and the infrastructure we need to deliver uniform high quality, we can ensure we not only keep pace, but set the standard for global safety service."
A sentiment that will have some 250 technicians, spread across 39 countries, nodding as one in agreement.
WSS: Safety in numbers
21,000 : The numbers of services completed annually by WSS technicians
60 : WSS Service Centres globally
5 : The number of international class societies (DNV GL, Lloyds, Korean Register of Shipping, RINA, and ABS) that have given WSS Z-17 approvals for servicing (in addition to numerous local class approvals)
43 : Training packages offered by WSS training centres in Antwerp and Shanghai
250 : Highly trained technicians
1 : Uniform standard of service, regardless of location, technician and task