Wilhelmsen insights
Competency Assurance in Wilhelmsen Ship Management
Is your crew truly competent ? Our team shares why one should look beyond qualification or certification.
In Wilhelmsen, we manage a pool of 10,000 strong crew as the backbone of our operation. While having the right culture and safe working environment are important prerequisite for safe and efficient operation performance, the element of crew competence is equally important. A dedicated team based in Wilhelmsen Ship Management Kuala Lumpur and Mumbai has been assigned to focus on this important topic, our crew competence team shares their insights in this topic.
Some of our team members in Wilhelmsen that focuses on crew recruitment, competence, and retention. Left to right: Chinna Ruparaju - General Manager of International Maritime Training Center (IMTC), Anette Bjerke Hoey - Vice President Marine Personnel, Linus Ng and Sabrina Lai - Business Controller, Sinisa Andelic – General Manager of Wilhelmsen Marine Personnel Croatia, Kunal Katyal – General Manager of Wilhelmsen Marine Personnel India, Paul Van Empel, Head of Competence Development and Training.
Competence vs qualified crew
Our goal is to maintain and deploy a pool of competent seafarers.
The Competence Development and Training (CD&T) team's goal is to establish a robust training framework that provides continuous buffer of qualified/certified seafarers that possessed demonstrated knowledge, skills, abilities, and behavioral attributes to undertake their assigned tasks onboard.
Paul further adds "We are looking beyond seafarer's certification or qualification; our focus is centered into developing a pool of seafarers that have a set of competencies that meet or exceed the defined expectations of the specific role or position." To achieve our desired outcome of safe and good vessel performance, it is vital that our seafarer has these competencies in addition to their qualifications.
Achieving the desired outcomes
A competent crew must demonstrate acquired knowledge, skills and behaviors when executing tasks and skills to ensure the right outcome. In this regard, competence must be demonstrated in: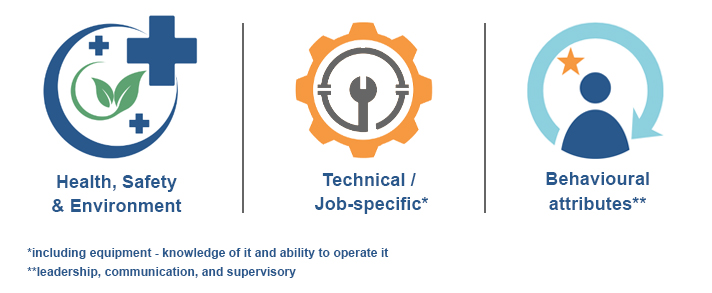 When a crew is working in a supportive and thriving environment where motivation level is high, crew develops a healthy sense of responsibilities thereby distinguishing superior performers from average performers. This is a highly sought attribute that we are seeking to achieve.
Learning is key to continued competence towards net zero future.
Learning is a lifelong journey. This attitude of learning is crucial in embracing continued competencies. It is an important attribute where all Wilhelmsen seafarers embraces as they progress their career with us.
With the ever-changing regulations and technology onboard, learning is part of the job. While our crew is receptive towards learning, we are making changes in our learning platform to ensure that our training modules are interactive and effective in translating theoretical concept into applied knowledge and skills.
Another factor to encourage learning as continuous journey is to lower the barriers to training. Besides onsite training, we have developed modules that are accessible online to ensure that our seafarers have access to quality training modules online.
Even the most competent crew cannot operate in an unhealthy company culture. As the saying goes, culture eats strategy for breakfast. Having the right competency strategy will not guarantee a successful implementation without having the right culture. We have implemented Just Culture on shore and on board to encourage a healthy work environment where our competent seafarers and employees can thrive.