Wilhelmsen insights
Chasing their Dreams and Working Hard for It
If you're out at sea and can hear someone belting out power ballads like, "If I Sing You a Love Song by Bonnie Taylor" or "I Can't Fight this Feeling Anymore by REO Speedwagon" then you know Sabrina McCoy Villaruz or Raquel Marilag is onboard. These two female officers are paving the way and breaking ceilings in the seafaring industry.
You must be wondering how are they doing it? Well, beyond spreading feel good vibes with their mics, these two spunky female officers are using a mix of positive attitude, willingness to learn and a touch of hardheadedness to achieve their career goals.
"I didn't know much to be honest. I mean beyond sailing and transporting goods or people from one place to another," Sabrina, a newly promoted third officer recalls with a chuckle. "But I am an adventurous person and decided to take a leap of faith by pursuing this as a career."
While Raquel works as a fourth engineer on the vessel and a complete opposite from her shipmate, she seems more grounded. "I really enjoy learning and understanding the inner workings of machines, especially ships," Raquel shares. So, it's not surprising that she holds a degree in marine engineering.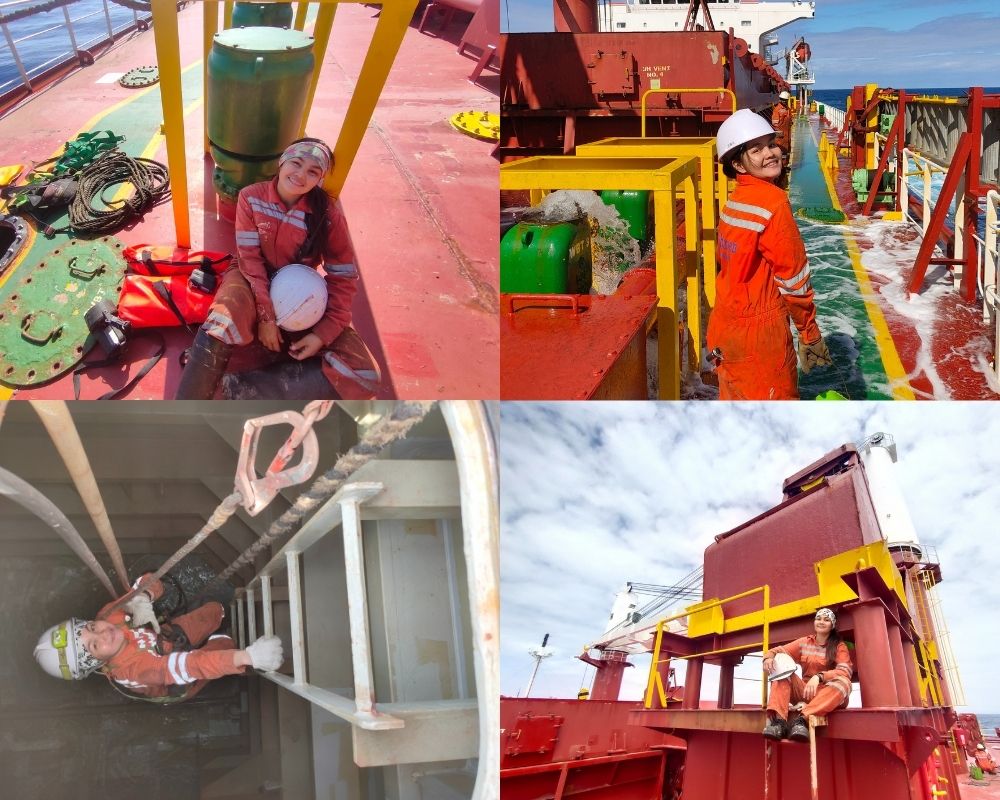 There's always a smile on Sabrina's face as she goes through her day-to-day task
Both are aware of the challenges that come with the territory of working as a female officer. However, through the course of this interview it's clear that they are not fazed by this and will continue to work hard for their dream.
"Of course, our parents were concerned. The job is dangerous, as we are on a metal container, out at sea for months on end," Sabrina says. "So, it's understandable, and we try our best to reassure our parents and keep in contact with them as often as possible."
"Onboard, we have people who are just worried about whether we can perform," Raquel quips. "But we want to show that we can do the job. We want them to see us as fellow colleagues and can hold our own weight. At the end of the day, we are just as qualified."
When we quizzed them about people that they considered mentors, both Sabrina and Raquel started naming people that they are grateful to. It's safe to say that they are well taken care of in the Wilhelmsen working environment and a supportive principal owner like Eastern Bulk Carriers who are invested in their career. The female cadet programme was initiated back in 2019 with the objective of promoting diversity and equality in the workplace. As a forward thinking company, Eastern Bulk Carriers believes that given the right opportunity, anyone can succeed.
"I wouldn't trade this for the world. I see myself getting better and more experienced as I continue to work alongside my colleagues," Raquel adds. "It is demanding, no doubt, but I believe that if you are prepared physically and mentally you can easily overcome any challenges that come your way."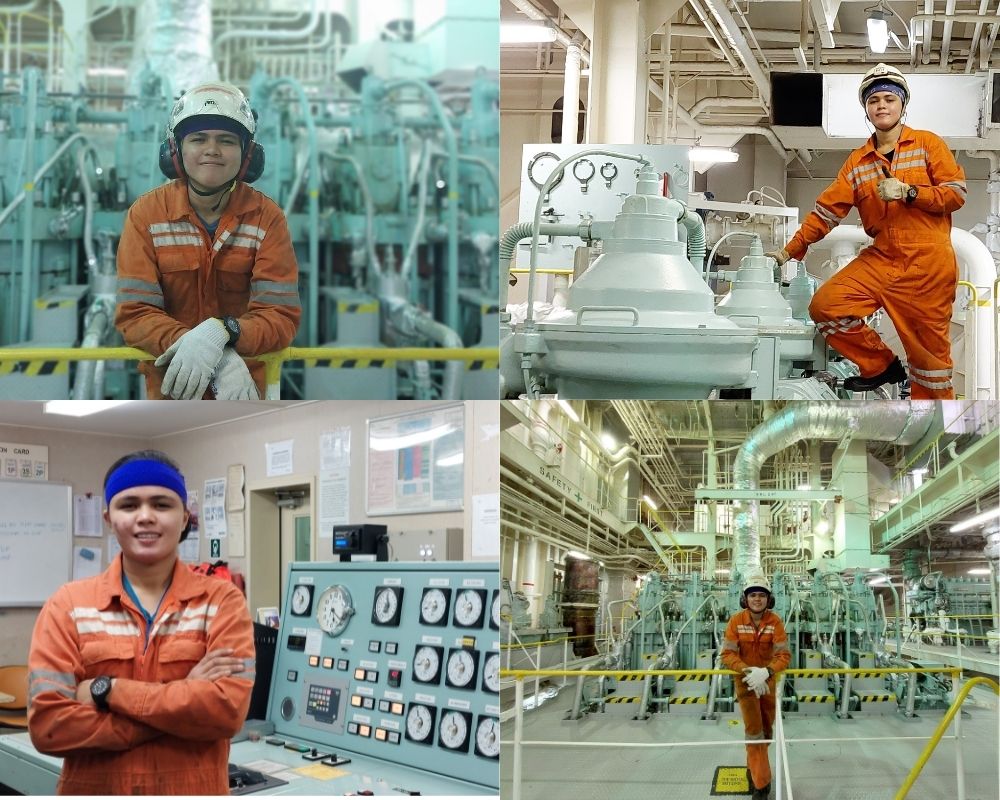 Raquel has already sailed three times and can't wait for more adventures!
Both Sabrina and Raquel were all smiles, even as they shared some difficult situations. What is clear here is that the are both equipped to handle anything that comes their way, and they won't allow anything to bring them down.
"Not everyone can be a seafarer, regardless of your gender. It's a tough job for both man and woman. But if you know what you want, then go ahead and do it!" Sabrina shares. "This line of work requires people with a strong will and a lot of patience!"
We are certainly excited to see where this journey takes them. And though cliched, the sky is certainly the limit for Sabrina and Raquel. We wish them the best of luck in their respective careers.