Wilhelmsen insights
(Probably) The Only Seafaring Triplets in the World
It's a bold claim but we certainly think they hold the title!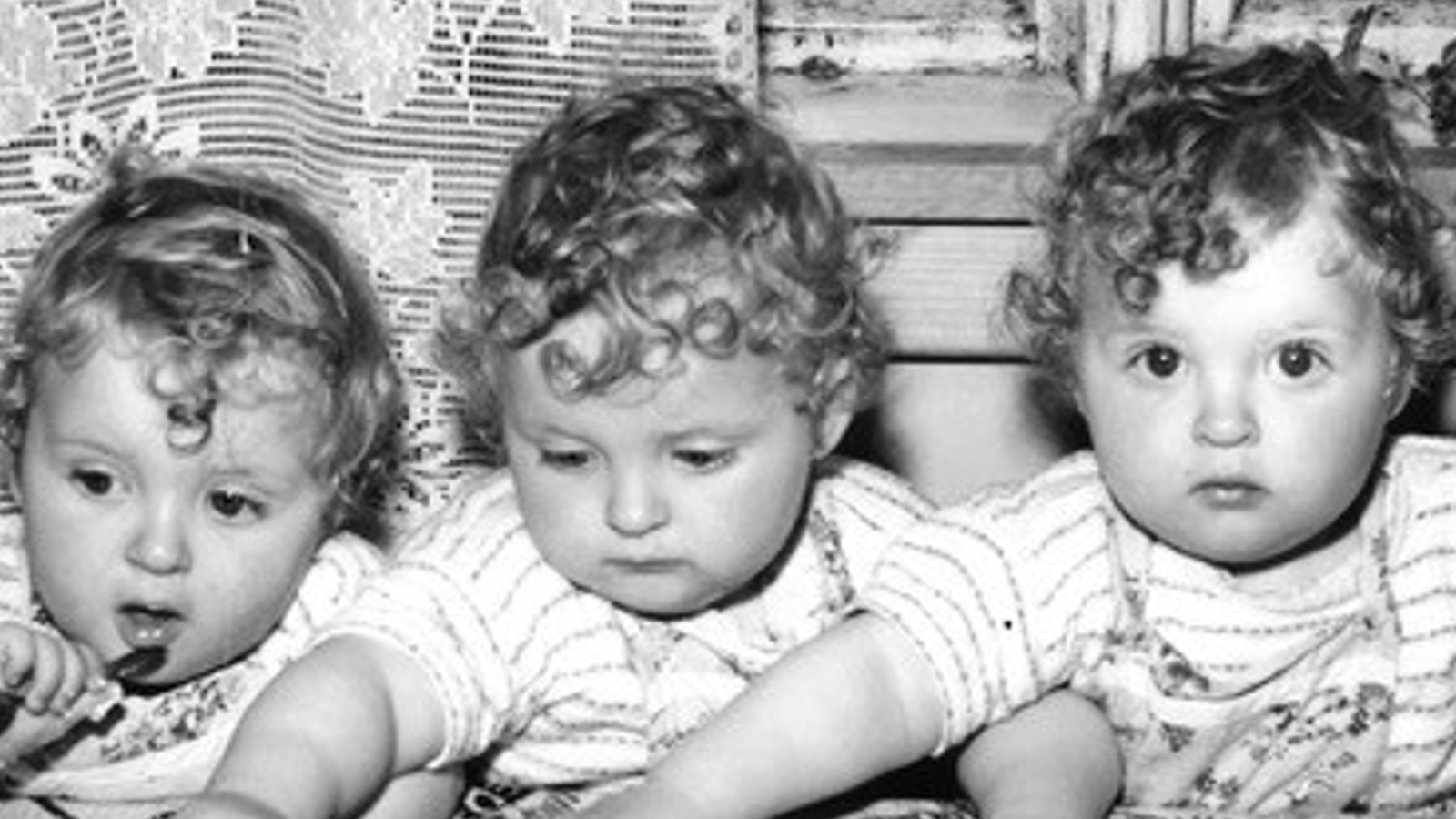 Wilhelmsen insights |
Wilhelmsen Ship Management
So back in December of 2020, we introduced two captains to the world in one of our social media posts.
The two identical brothers (so we thought!) managing sister cruise vessels were cycling about as their respective ships were docked side-by-side. In the many years they've been seafaring, this is the second time this has happened. The first time they met during work was way back in 2009, in San Diego during the swine flu.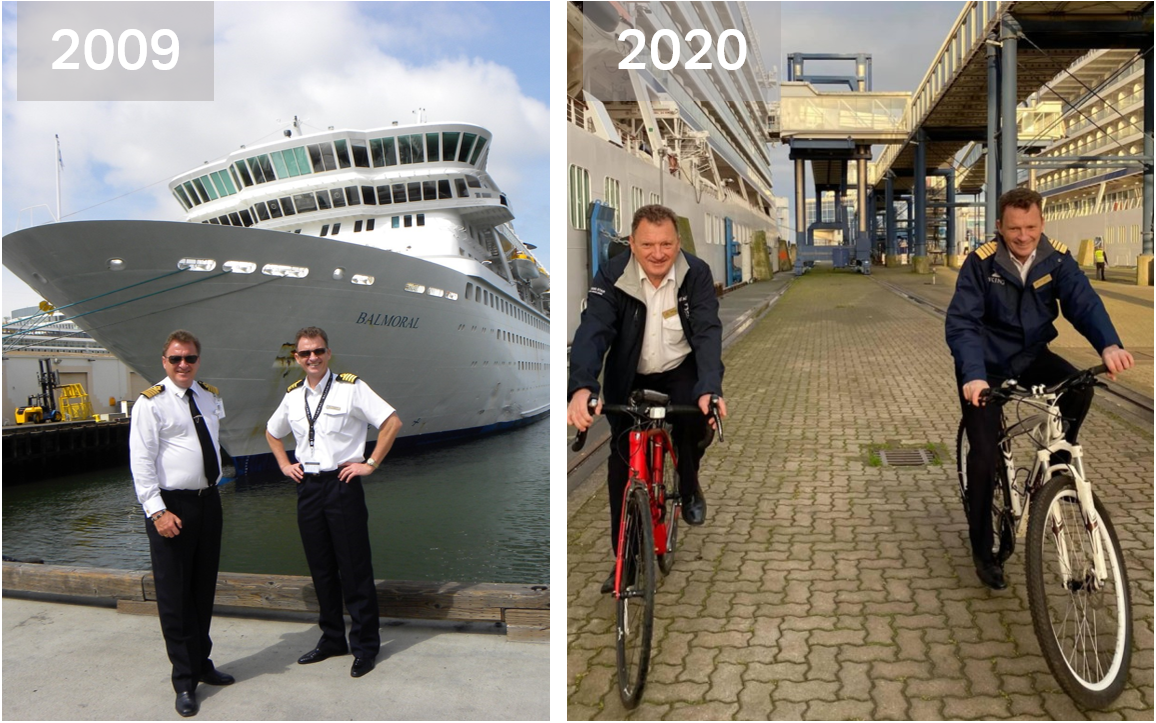 Sverre (left) and Olav 'bumped' into each other back in 2009 during the Swine Flu pandemic and again after almost a decade.
Two unexpected things happened, first, the social media post blew up with much fanfare for the captains. And we were not just seeing double, but there was another brother who was in the seafaring business too. So, our twin captains were in fact, triplets!
We decided to catch-up with all three of the Sövdsnes brothers to see how they were doing.
Currently the brothers are spread out across the world but with the help of technology, we managed to speak to them separately.
The Beginning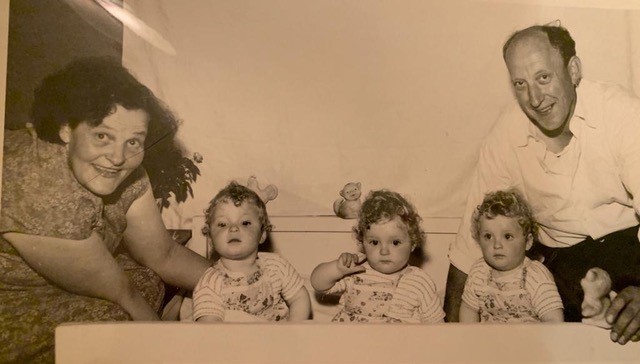 The brothers celebrating their first birthday with mama, Aasz´ta and papa, Peder.
The brothers were born in the west coast of Norway, on a bright Sunday morning. Harald was the first to join the family, followed closely by Olav and, Sverre joining his two elder brothers 45 minutes later. They make up a family of seven, a number that we do not see too often in modern times but certainly a norm back then.
The brothers got into the seafaring business as their chosen career to quench their burning desire to explore the world. One-by-one, each of the brothers set off into the world working their way up the ranks of their respective ships.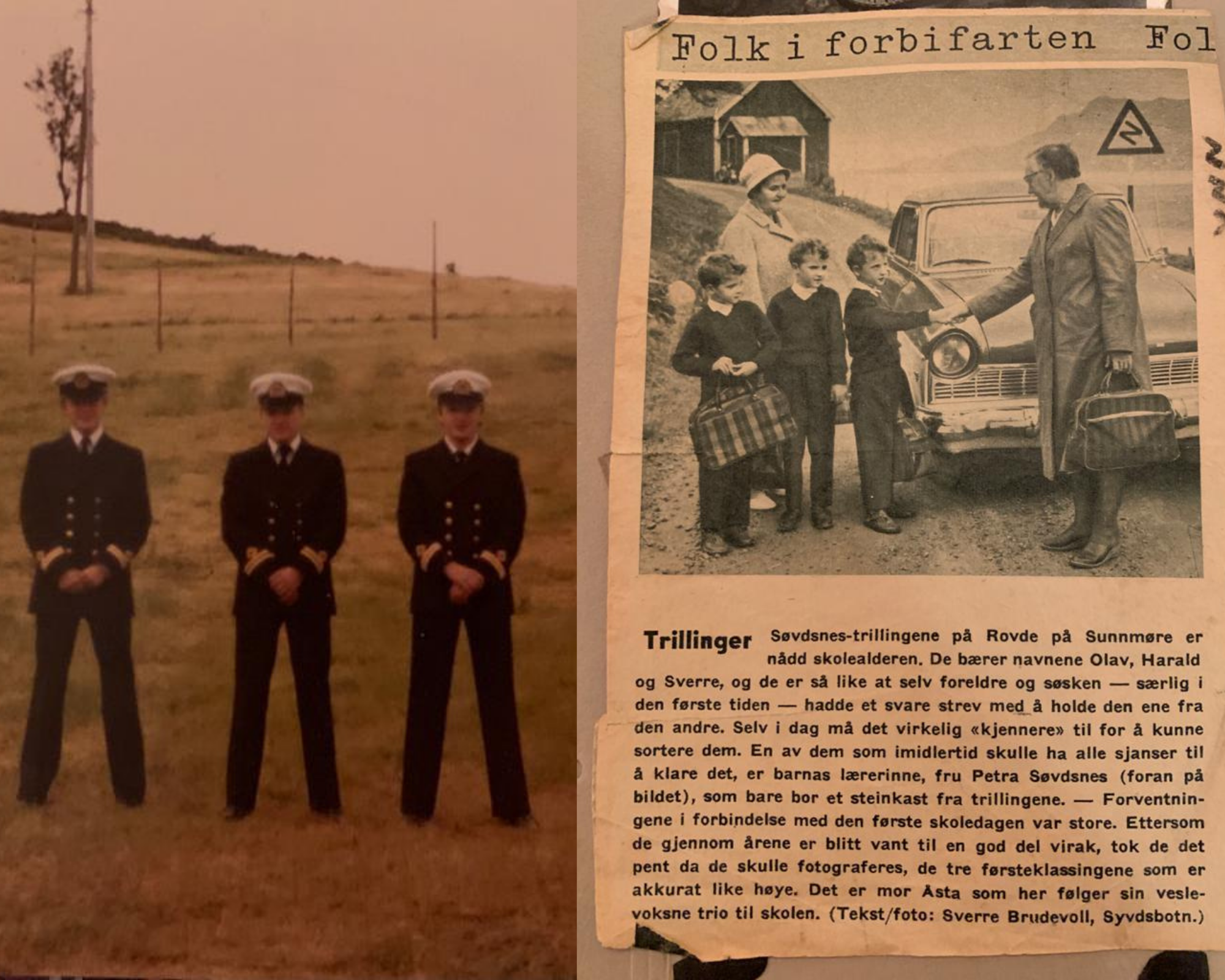 Left: The only picture of the brothers together in uniform taken way back in 1981
Right: The talk of the town as they started their first day of school!
Harald Sövdsnes
Harald Sövdsnes started his seafaring career at the tender age of 16 years old. Norway was considered a big seafaring nation and it was an obvious choice. He has not looked back since and had the opportunity to see the world through his work as a seafarer.
Recounting his tales of sailing the high seas, Harald once sailed in a Wilhelmsen owned container vessel, Toyama, where he recollects fond memories as being part of the crew. Harald has two sons who also worked in this industry and how much he loved Singapore's orderly manner and cleanliness.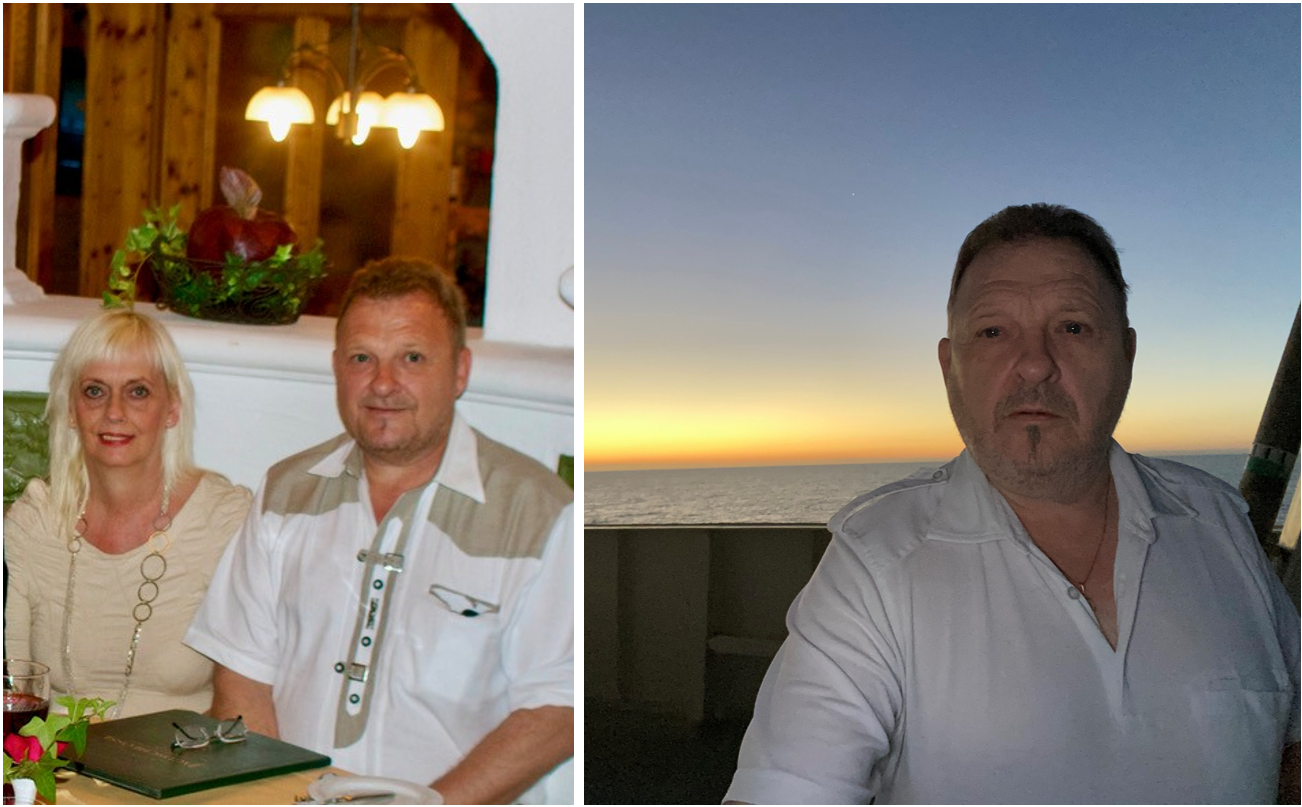 Left: Harald and his lovely wife.
Right: A rare selfie taken on board with the sunrise on the horizon.
At the time of the interview Harald was preparing for his next adventure, this time closer to home, on the basin of the Norwegian waters.
Olav Sövdsnes
Like his older brother, Olav Sövdsnes found the lure of seas too exciting to ignore. He eventually joined the cruise industry upon completing his navy service of 22 months. One day as he was visiting Oslo, he decided to walk into the Kloster Cruise's HQ, and submitted his resume. Six months later, he was on his way to Miami.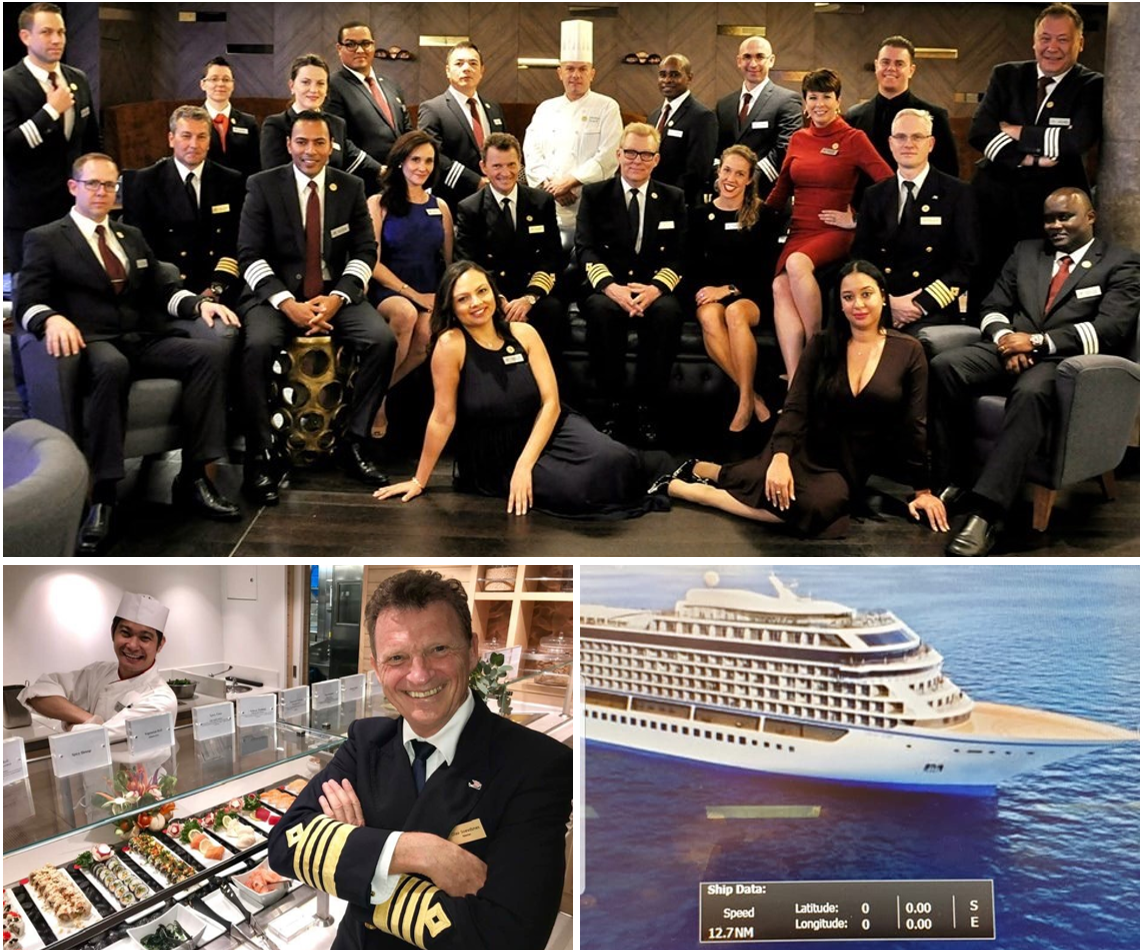 Captain Olav with his team and sailing to interesting places including Null Island located at 0°N 0°E.
Olav resides in Austria with his wife and two daughters, and is very active when he is not sailing. As he lives in the heart of the alps there are plenty of outdoor activities that he can enjoy including cross country skiing, biking, and mountain hiking.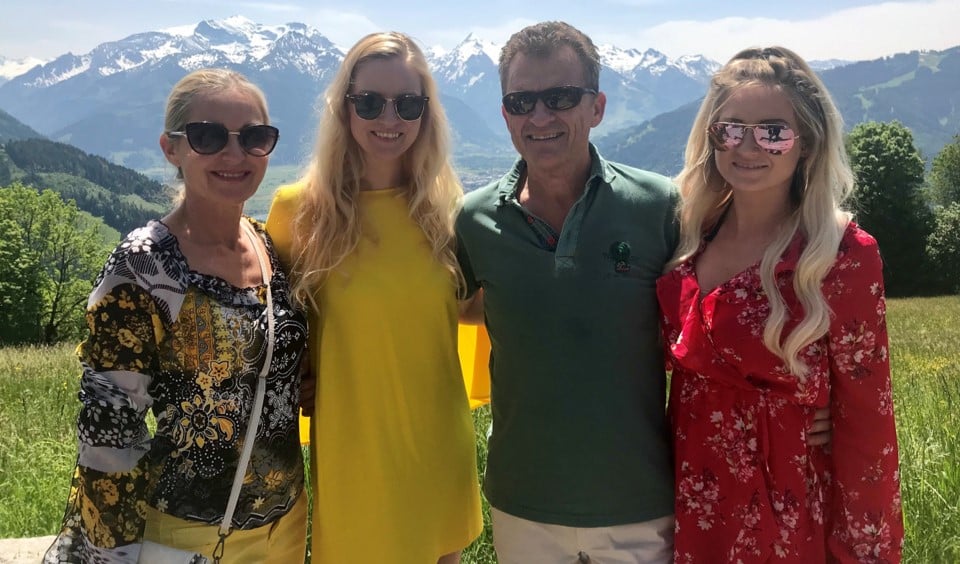 Captain Olav with his beautiful family.
Sverre Sövdsnes
Sverre Sövdsnes aka Captain Smashing is certainly the playful of the bunch. We quizzed him about how he came to be known as Captain Smashing and how it just stuck.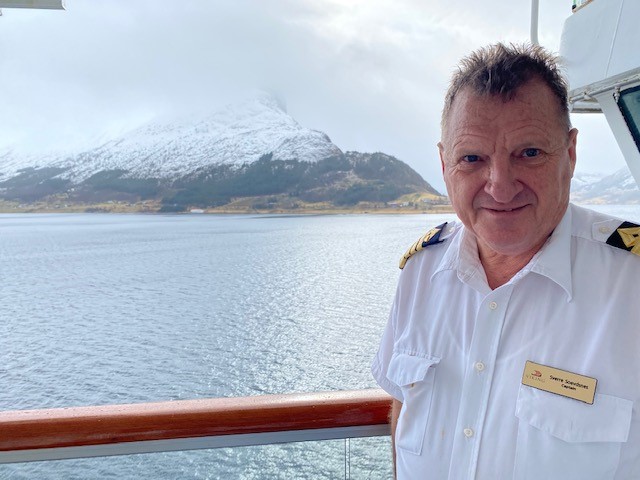 Captain Sverre proudly sailing near his hometown in Norway.
Have a 'smashing day' was an expression Sverre picked up throughout this journey, and he would use this to greet guests. Not long after, people started calling him Captain Smashing and the rest is history.
Though he may be known as Captain Smashing, his original name, Sverre has a much deeper meaning. He was named after a king and it actually means "always going", which perfectly describes Sverre who is constantly on the move as he travels the world.
Captain Sverre has met interesting people throughout his travels including Commander William or Bill Roy (group at table; third from right), a photographer during WWII.
Sverre lives in Cincinnati, Ohio, and has one daughter.
Miles apart but joined by heart
Though the brothers do not meet as much, they are certainly grateful for technology that has allowed them to stay in touch with one another.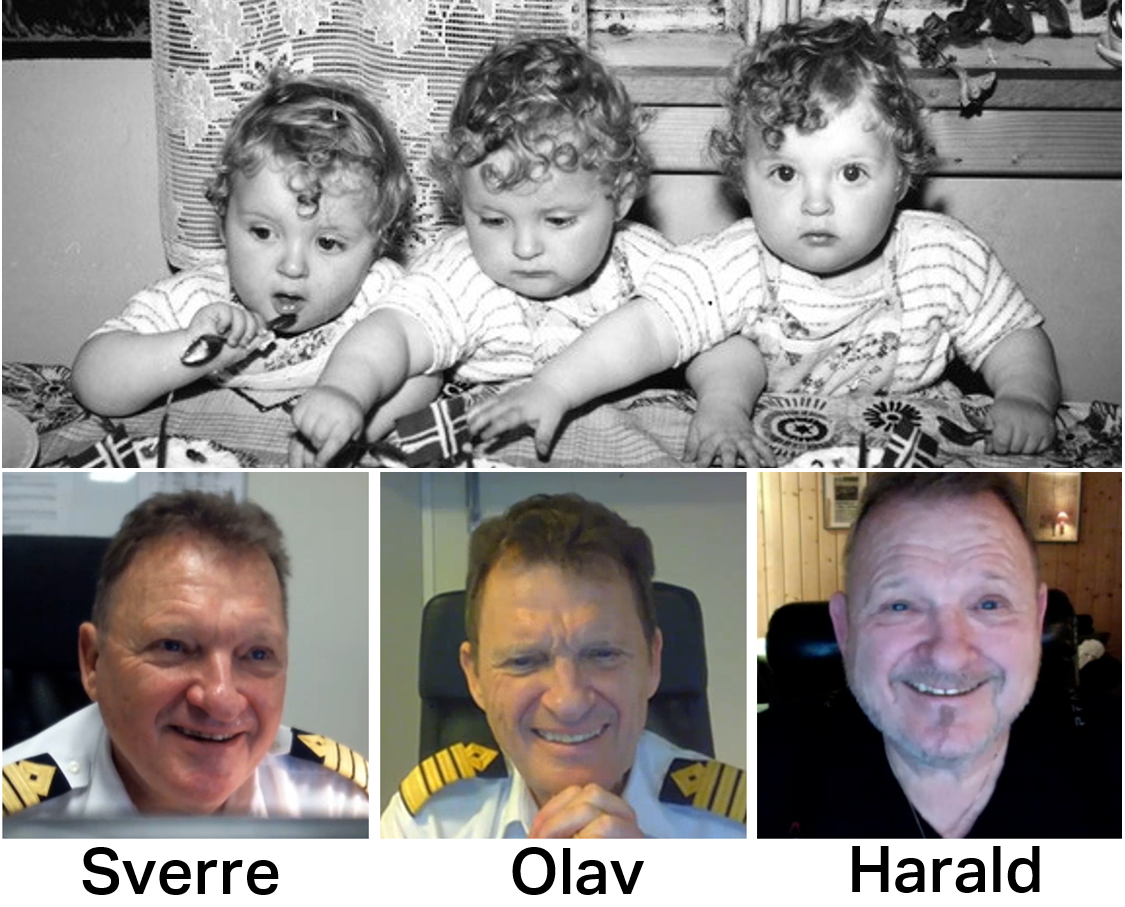 Spending many years apart, the brothers have developed their own unique personality. However, it is still obvious from our brief encounter that their love for the sea remains.
We know they look identical but how about their personality? We decided to ask them a series of questions to get to know them a little better.