Wilhelmsen insights
Being prepared for increased threats at sea
Maritime security will continue to remain in focus in 2020 in consideration of the increasing threat of West Africa Piracy, concerns to shipping in the Straits of Hormuz and Arabian Gulf due to tensions between US-Iran, and random piracy activity spikes in the Straits of Malacca and Singapore.

Wilhelmsen insights |
Rakesh Kumar , Company Security Officer, Wilhelmsen Ship Management
Piracy and geopolitical tensions will be the typical security concerns this year for shipmanagers. It is an industry threat that calls for more shouldering of responsibility by maritime players and governments.
Recent piracy activities off West Africa, including two attempts in the Singapore Strait, are indication that we should never let our guard down even in "safer" waters and continue with firm diligence to deny any opportunities to pirate gangs.
Countries engaging in warfare and political unrest are danger-zones for seafarers.
As appointed shipmanagers, Wilhelmsen Ship Management (WSM) plays a proactive role helping to ensure our managed vessels and crew arrive at their destinations safely when transiting risky waters.
We have a setup dedicated solely for security. This has been very fruitful for keeping assets under our care safe and secure. We play an active advisory role to management, who in turn keep owners and other stakeholders informed on maritime security issues and concerns.
A well-prepared transit
Risk preparation begins from the vessels' HRA transits reporting compliance, internal audits, sensitive ports' feedback calls and intelligence reports for monitoring.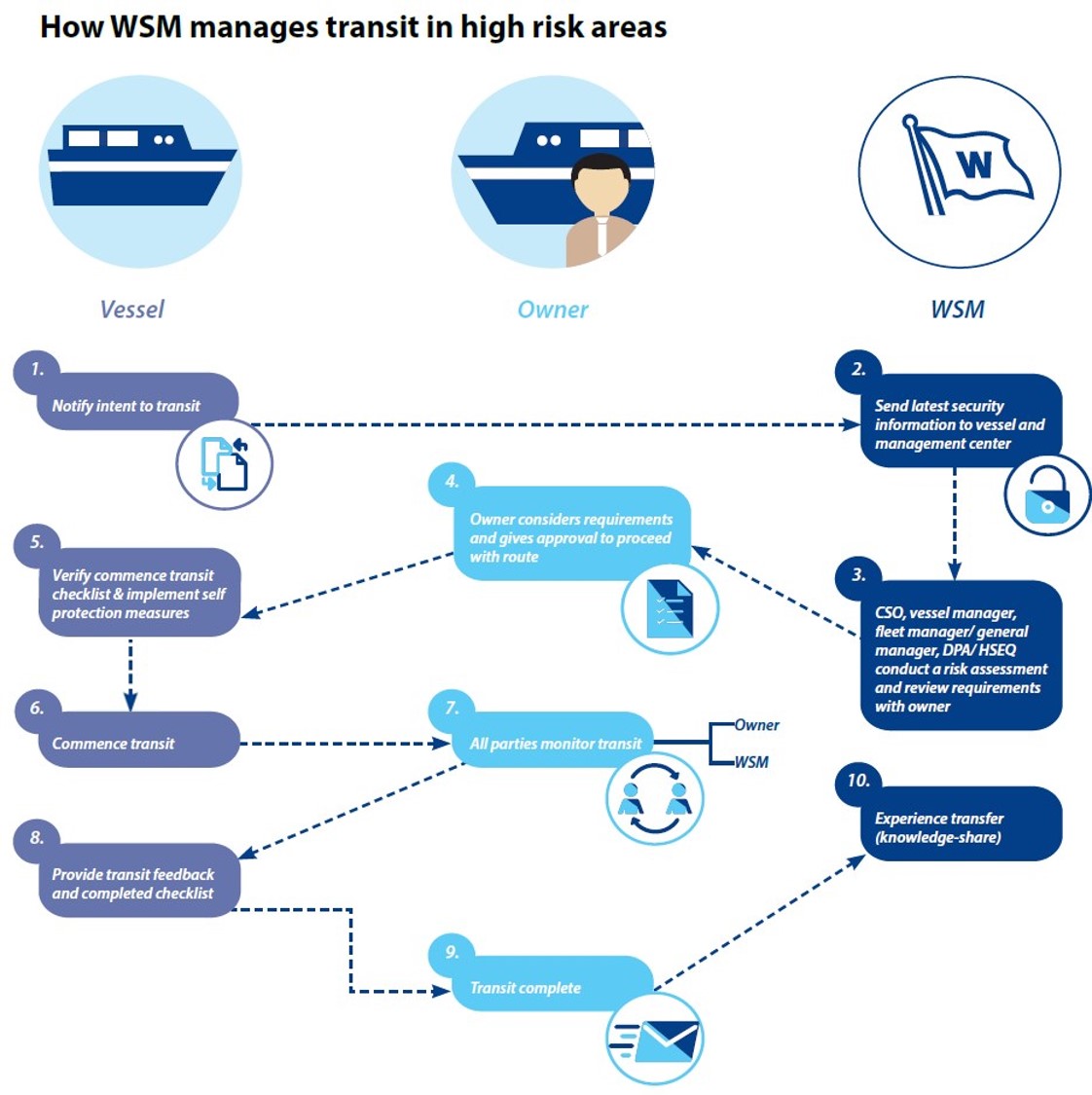 At WSM, we assess high risk areas based on relevant industry guidelines such as BMP-5, EUNAVFOR Assessments, UKMTO Briefings, IMB, ReCAAP, BIMCO and Flag State Advisories/ Circulars and findings from Private Security Companies & Consultants.
During risk assessments, the following are some of the key considerations:
| | |
| --- | --- |
| Vessel design and capabilities | Physical attributes of a vessel can determine if they are at higher risk to attacks. Vessels with higher agility at speeding and manoeuvering capabilities can better thwart pirate attemps. If the vessel has machinery constraints, or is deeply loaded, making a quick escape may not be an option. The overall design of a vessel can make or break forceful entry attempts by pirates. Higher freeboard (in axcess of 6 metres) are comparatively more difficult to board. |
| Trading area | Certain geographical areas may be more risky than others. However, "safe" zones are known to have surprise risks. Better to remain vigilant at all times. |
| Crew readiness | The crew are kept in check through internal reporting and during internal audits and inspections. This determines if they require more training and preparation for coming voyages. |
Transiting dangerous waters is always unpredictable. While we can learn from reports, studies and experts, we believe that a well-prepared crew is the best defense a vessel can have.
A prepared crew
Our crew undergoes training that encourages and builds a postive attitude towards surveillance.
Ship Security Training is required at Officer's level and Security Awareness Training at Crew level. Trainings are focused mainly on establishing awareness. Officers and crew participating in security drills onboard can also increase awareness and preparedness.
We encourage Masters to call their Company Security Officers for information and advice. Our shore-based staff support vessels by actively providing relevant updates, performance tools and constant monitoring of vessel status as part of on-shore vigilance for the security of our vessels.
Rakesh Kumar, Company Security Officer for WSM
The key to avoid attacks is to be on constant watch of surroundings. Our crew is after all, the first line of defense.
For more information on trading in risky waters, read Keeping a watchful eye when trading through Strait of Hormuz