Wilhelmsen insights
Preserving your asset in the most optimal way
Wilhelmsen Ship Management (WSM) shares our best practices in vessel preservation and maintenance during lay-up. Doing it right is essential for restoring your vessel's optimal performance when reactivated.

Wilhelmsen insights |
Wilhelmsen Ship Management
Owners are concerned that lay-ups would affect vessel performance in long run. However, if it is done right, your vessel can be reactivated to reach optimal performance when proper preservation and maintenance are followed.
Here are a few best practices and guidelines that you should look out for:
Location
Your asset will need more than a roof over its length. We recommend you to access the location based on the following criteria:
Be secure and sheltered from typhoon
Have good holding ground for ships to anchor safely
Have a depth at least 10 – 25 metres
Have water current condition of 1 knot and below
Be an authorized and regulated area
As a class certified lay-up service provider and based on our proven experience in lay-up management since 2009. We recommend the following preservation and maintenance routine:
1. ESTABLISH SAFE WORKING PRACTICES AND PROCEDURES

Bilge alarm - Sensors are installed in the aft and forward of the engine room and near the forecastle area to detect any water ingress. When water level increases the bilge floater will trigger the alarm in watchmen hut.

Fire alarm - Fire / Smoke detectors are strategically placed in the accommodation, engine room and forward compartment to detect any fire-related hazards. WSM has an efficient emergency response plan and well-trained emergency response team in place.

Security and safety patrol - On-board watchmen carry out round checks every four hours and report back to the Base Radio room. The data is collected and consolidated into the monthly lay-up report.

Vessel movement - All vessels are equipped with GPS monitoring system to ensure vessel movement is within safe margin. Any abnormal movement is reported to the Base Radio room and emergency response team for further action.

Wind conditions - The anemometer is installed to monitor wind speed. A safety advisory is sent to watchmen and crew to be on guard during strong wind conditions. The Radio room operator gathers information from watchmen reports and updates the emergency response team on adverse weather conditions. The same information is also transmitted to other vessels under care in the lay-up area for safety precautions.

Security seal - As an added security measure, WSM introduced safety seals to guarantee peace-of-mind when all valuable and important items are secured in a sealed compartment at owner's choice.
2. SEALING AND HUMIDITY CONTROL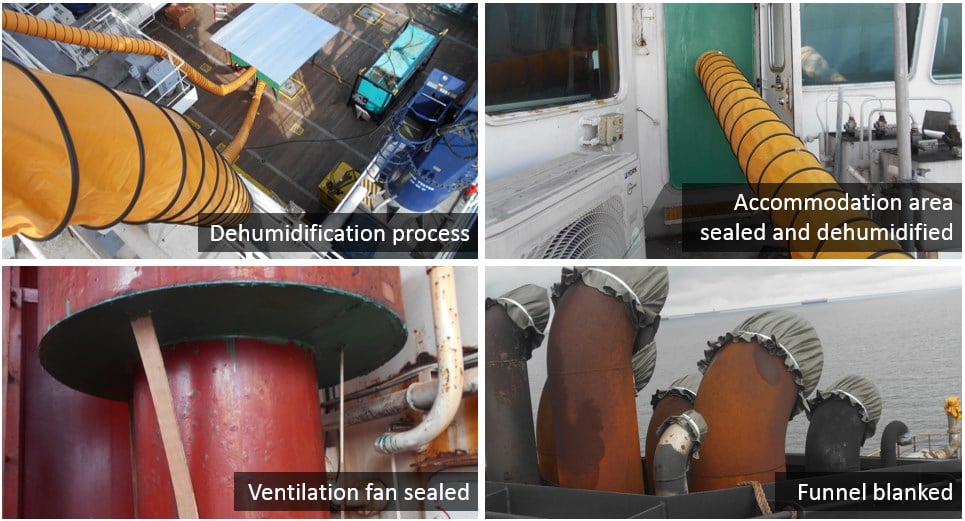 As part of preservation, various compartments are sealed for dehumidification process. Dehumidification minimizes corrosion and protects electrical equipment. This is a vital requirement for any vessel preservation as it maintains the original state of vessel equipment.
In preparation for dehumidification, the following areas/compartments must be sealed to ensure the desired relative humidity (RH) level is achieved:
Accommodation
Machinery spaces
Forecastle / Stores area
Chain lockers
BT spaces
Pump-room & compressor room
Cargo tanks / Cofferdams / Water
Ballast tanks

When the RH level is reached, running hours of dehumidification machines can be reduced to save cost as less fuel is consumed to power up the machines. A proper sealing will contribute to the stability of RH levels for longer periods. Constant monitoring is conducted to maintain an RH between the readings of:
30 - 50% RH - Machinery space
45 - 60% RH - Accommodation
45 - 55% RH - Forecastle / bow thruster
30 - 50% RH - Pump room (tanker)
3. MAINTENANCE ROUTINE

Anodes are installed on wires to protect the hull. Corrosion is one of the greatest enemies of any vessel and its machinery. Continuous contact with water and moisture-laden winds will make vessels (especially its hull) vulnerable to corrosion. For this reason, sacrificial anodes are used to protect the material. Constant inspections on the anodes's condition are carried out on monthly basis to check its performance. Defective units will be replaced immediately.

To prevent grooving/seizure of bearings and component distortion, continuous turning/moving of respective equipment/ machinery are incorporated into the maintenance program.



Application of preservative lubricant / additive are recommended for machinery that will be taken out from operation for a considerable period.

Anchor chain management is carried out every 3 months to prevent foul anchor or anchor chain being submerged in the seabed. WSM recommends the installation of swivel in between the hawse pipe and waterline to prevent kinking of the anchor chain and reduce the risk of damage.
Clear reporting
You can access your asset's condition through monthly reports complete with pictures and maintenance activities details including:
General information of the vessel
RH readings in spaces
Maintenance routines (Weekly, Bi-weekly and Monthly breakdowns)
Tank sounding
Lay-up generator / Diesel oil consumption
Miscellaneous findings

Dedicated and experienced team
It is important to establish a team led by an experienced maintenance engineer. WSM recommends a ratio of 1 maintenance engineer to 4 fully maintained vessels. Our maintenance team consists of experienced crew with seagoing background. We also provide regular safety trainings for the staff and watchmen.
Choosing a class certified service provider like WSM may aid in lowering your insurance premium while the vessel is in lay-up. Having class certification also helps with the reactivation process as the Safety Management System of the vessel needs to be audited depending on the duration of lay-up.
Please contact us to discuss your lay-up options:
Region Europe & Americas
Jens Ellingsen
E-mail: jens.ellingsen@wilhelmsen.com
Tel: +47 93 20 81 37
Region Asia
Srinath Medepalli
E-mail: medepalli.srinath@wilhelmsen.com
Tel: +65 6513 4687