Wilhelmsen insights
Ocean Breakfast: Innovation and entrepreneurship in the maritime industry
Sharing on the importance of innovation and growth in today's society, Marius Johansen – VP Commercial Wilhelmsen Ships Agency, provided some insights into using entrepreneurship and technology into resolving great challenges in the ocean. Here are some key highlights of the session.
Wilhelmsen insights |
Danielle Hrin Kuek, Head of Marketing - Ships Agency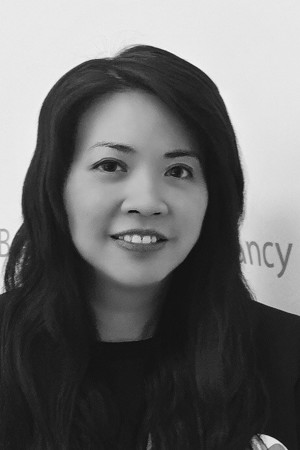 Key highlights:
There is a strong importance for key players to invest in corporate social responsibility in protecting the oceans today
Finding good talent and partners helps to drive innovation and impact the world
Building good relationships with regulatory authorities is vital for driving change and to innovate safely
Industry leaders need to steer the industry towards technological transformation
Corporate social responsibility and making an impact is vital
Marius shared that Wilhelmsen started off this project in hopes of reducing the pollution that shore-to-ship delivery creates. By replacing the launch boat delivery service, we will be able to reduce carbon footprint and make a change within the maritime industry.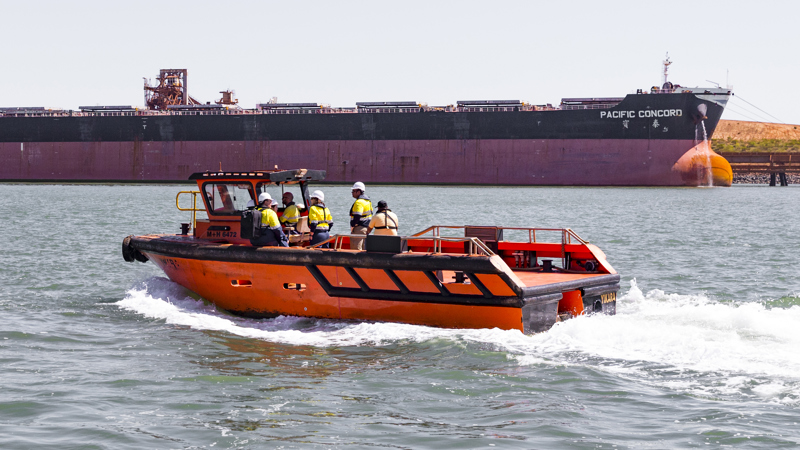 Deliveries are typically carried out via launch boats
Good talent and partners is important for driving innovation
Wilhelmsen's Ships Agency first put together a team in January to look at the possible use cases on where and when aerial vehicles can be used in ports, along with some of the obstacles and challenges we could potentially face. One of the issues faced was where to get this drone technology from. These drones could be bought off the shelf from DJI, but these drones have a limited shelf life.
When we found our current partner, Airbus, it was a match made in heaven as we have the same emphasis on safety. They build their drones from scratch, sourcing for parts from different countries and build their drones with the same certification they build their helicopters with.
This project is dependent on finding good partners, especially for later phases of development, and hence reliable partners is the key for driving innovation.
Building strong relationships with regulatory authorities is essential to innovate safely
Agency by Air was first tested during Nor-Shipping 2017. This demonstration needed regulatory approval from the Norwegian government. In Norway, the climate is quite favourable, which meant a short approval process of around 3-6 months. It is the same in Singapore whereby both the aviation and the maritime authorities are concerned about innovation thus smoothening the process.
Agency by Air flight demo during Nor-Shipping 2017
Singapore's climate is conducive for innovation, with their drive for shaping the future and their enthusiasm for new ideas. The focus on innovation in Singapore is on a different level than what you see elsewhere.
There has also been significant support from the Civil Aviation Association of Singapore through their CFP grant, whereby Wilhelmsen Ships Service will be working alongside with, to develop some key technological solutions which is required for the service to work anywhere in the world.
As the vessels will be floating at anchorage, localisation and position landing solutions are to be further developed to ensure drones land safely on the vessel. In addition, a payload release system will be investigated whereby the drones can discharge parcels on its own. Lastly, developing reliable 4G communication systems which are private and will not be interrupted when flying, is an essential element which will be further examined in the project.
Industry leaders need to steer the industry towards technological transformation
As a key player in the maritime sector, Wilhelmsen is using its position to resolve problems through its analysis of data. Utilising the data that only a company of that size could gather, it is able to spot problems and opportunities before they emerge.
After facing scepticism on the drone delivery payload, we had a closer look at our statistics, which is something a business in our unique position can do. We have around 500 vessels per month and we have pretty good statistics on what goes out to the vessels and what comes back. It turns out that more than 80% of our parcels that go out are less than 4kg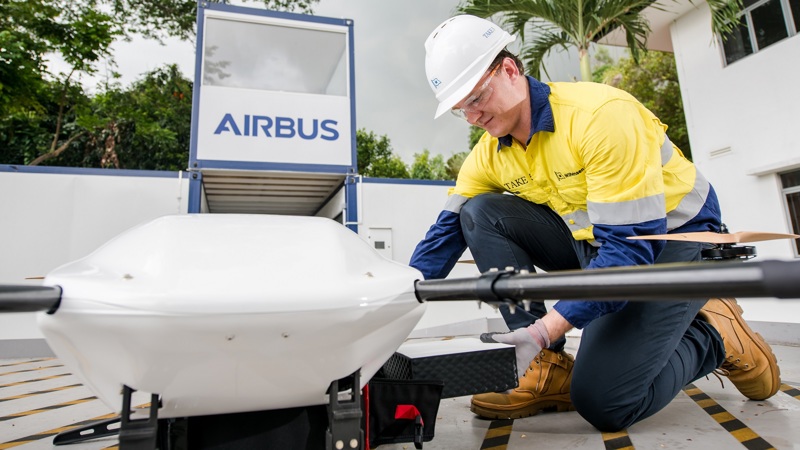 In addition, regulatory approval and investments, require a huge amount of resources, things that only a key player is able to afford and industry leaders need to step up and shape the industry.
Agency by Air is scheduled to begin pilot trials in Singapore soon.