2019 - Grete Sofie Borud Nybakken
Grete Sofie Borud Nybakken was the eleventh recipient of the Tom Wilhelmsen Foundation Opera and Ballet Prize.
Grete Sofie Borud Nybakken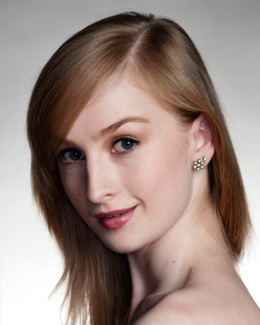 Grete Sofie Borud Nybakkens exceptional talent for dance and movement was noticed at an early age. She was a student at the Opera's Ballet School in Norway from 2000, and in 2008 enrolled at the Royal National Ballet School in London. After completing her education in London, she returned to the Norwegian National Ballet in 2011. Right from the start she was given roles that developed her and laid a path for her future career in dance.
Grete sofie Borud Nybakken was born with a winner instinct. She is dedicated, strong willed and fearless, and has always been hard working. She has a clear focus and every role she plays, big or small, is thought through to the smallest detail.
Grete Sofie Borud Nybakken is a dancer in time. She is good in all disciplines. She moves easily between classical ballet and modern dance and is blessed with great creativity, which she uses when needed. This was clear when she danced her first main role, Hedda, in the autumn of 2017 where she also took contributed to the creation of this demanding role, and where she also was able to show her dramatic talent.
In January this year, the reached the pinnacle of her carrier when she debuted in the double role of Odette/Odile in Swan Lake, one of the most demanding roles in the classical repertoire and is considered one of the greatest triumphs a ballerina can achieve.
Grete sofie Borud Nybakken has won several awards, including Anders Jahre's award for young artists in 2014. In 2010 she received the Dame Ruth Railton Award and the Chorographic Development Award from the Royal Ballet School. In 2008, she was in the final of the Allett competition in Prix de Lausanne in Switzerlan,d and in the same year she won Stora Daldansen in Sweden.