The ultimate lay-up provider
All you need to know about Lay-up Management
WSM's lay-up management was established in 2009, at the height of the shipping industry downturn. Over the years, WSM has been entrusted to provide lay-up services for any types of asset from traditional to the more advance vessels and offshore installations.
What you need to know
Touching on the topic of lay-up, we note that many owners are hesitant to consider lay-up management as a cost saving alternative because they are unfamiliar with it. Owners are also concerned that lay-ups would affect the vessel performance in long run.
Lay-up is a proven cost saving alternative in situations where charter rates are below vessel operating cost. Owners can seek short or long-term refuge by laying up their idling vessels. Other reasons why owners choose to lay up their vessels includes waiting for the right timing to convert, scrap or sell their assets.
Rakesh Bhargava, General Manager – Lay-up, IHM & Green Recycling
The anchorage location
Ensure anchorage locations are secure and sheltered from typhoon
Has good holding ground that ensures ship can lie safely
Depth 10–25 metres
Water current condition of 1 knot and below
Authorized and regulated lay-up area
Maintenance procedures - are these key areas included?
Deck
Hull
Anchor
Engine
Motor and compressor rooms
Cargo areas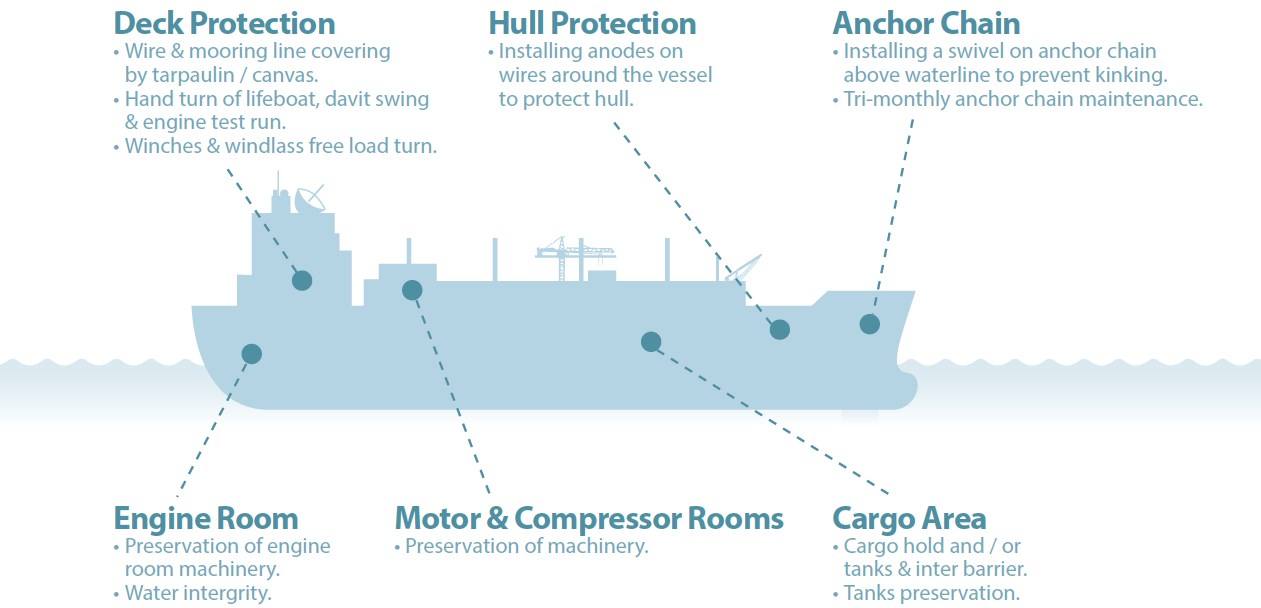 TIP!
Check the preservation procedures of the service provider especially on the sealing and dehumification procedures to minimize corrosion and protection of the electrical equipment
Make sure your provider is insured!
Check if your service provider has liability insurance and ensure the realistic limits of liability
Choosing a class certified service provider may aid in lowering your insurance premium while the vessel is in lay-up