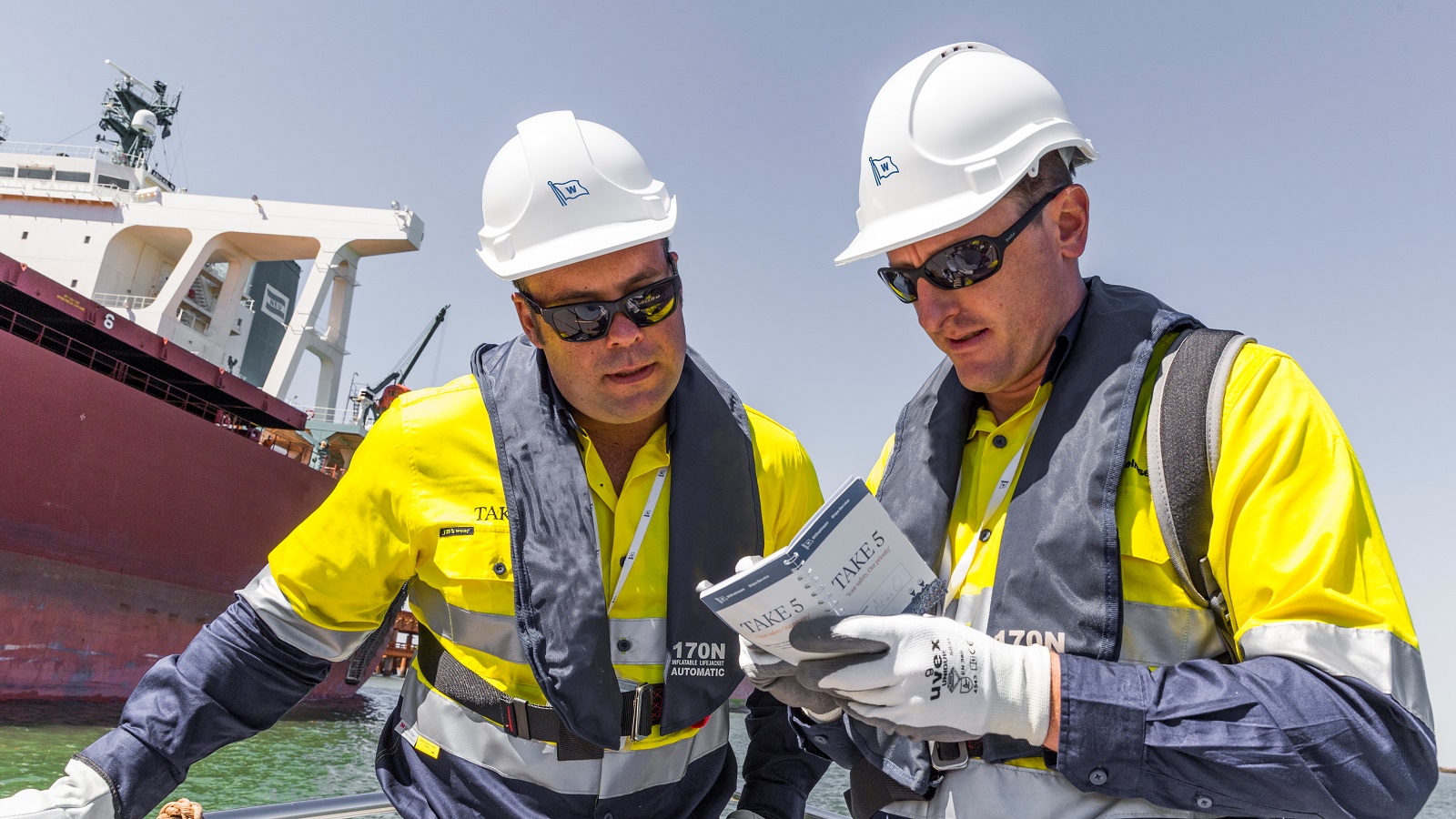 QHSSE, Ethics & Integrity: Our Approach
Ships Agency is committed to protecting the health and safety of our employees, contractors and the communities in which we operate. Beyond a purely business perspective, our commitment to compliance will make a difference in the world we live in.
Driven by dedication and passion, our mission is to deliver high and consistent service quality through standardized processes and well-trained employees, in order to provide you with consistency and service quality in all ports globally.
Wilhelmsen insights
It's now Safety Month for all of us working in Ships Agency. As part of our series of safety talks, QHSSE Director, Jodie Reibel, discusses safety and the agency business and why building a safety culture is now a business essential.

Wilhelmsen insights |
Jodie Reibel , QHSSE Director, Ships Agency

Boarding vessels at sea is part and parcel of a Ships Agent's life, which means safety checks at every step is crucial. Watch our Ships Agent, Jodie Morgan, in action through the lens of a camera attached to her safety helmet as she goes about her day, to safely board and disembark from a vessel at sea.

Wilhelmsen insights |
Danielle Hrin Kuek , Head of Marketing - Ships Agency

Hearing Quality, Health, Safety, Security, and Environment (QHSSE) standards mentioned in the same breath as ships agency will probably be a first for many people. However, QHSSE has rapidly become a must-have for any serious global agency operator. Tailoring the TAKE 5 QHSSE initiative currently in use within the mining, aviation and marine industries, to the agency business, Jodie Reibel, QHSSE Director, Ships Agency, talks us through the new global initiative.

Wilhelmsen insights |
Danielle Hrin Kuek , Head of Marketing - Ships Agency
Your safety, Our priority
Our flagship risk assessment safety program, TAKE 5, ensures that all of our employees, from port agent to top management are able to identify potential hazards when performing the associated work activities and establish preventive action controls before starting any job.

With over 40,000 launch and road transport trips per year, all our transport providers MUST meet or exceed our standards of operation. All our transport vehicles are equipped with safety instruction procedure cards, passenger sign off log books and pre-departure checklists to ensure vehicles are well-maintained and comply to our safety standards.

Employee training

We firmly believe all incidents and injuries are preventable, working continuously to improve safety performance by raising awareness and enhancing safety skills through employee training programs focused on risk management. This is particularly evident in our high risk activities, such as boarding of vessels, launch transportation and movement around ships.

ISO 45001

Certification to ISO 45001 demonstrates our commitment to improvements in OH&S performance by ensuring we have a standard approach to safety regardless of the location in which our employees operate. Our rigorous auditing program assures compliance with our safety standards and provides opportunity for continuous improvements in a safety standards throughout the global network.
Compliance and governance in all operations
Wilhelmsen's Code of Conduct

Our extensive Code of Conduct explains how our values guide our decisions our supported through out WW Business Standards.

Wil-Inspect

A stand alone team which focuses on enforcing the safety and compliance of our internal operations, our suppliers and the maritime industry as a whole.

TRACE Certified

We are very proud to be TRACE certified in 25 countries.

Maritime Anti Corruption Network (MACN)

As a member of MACN, our commitment is the elimination of all forms of maritime corruption. This is further strengthened by Wilhelmsen's whistle-blowing program.
Quality commitment to continuous improvement
Our operational standards

Our Blue Pennant program ensures high standards of operations across our ports – we aim to exceed your expectations. Blue Pennant enables our ports to benchmark themselves against a set of seven criteria relating to our overall operating performance, health, safety and compliance.

Masters port call report

The Masters Port Call Report is an online survey that allows our customers to give an easy summary of their Port Call. This enables us to continually improve our operational performance and respond to any issues as soon as the Master completes the report. The Global Operations teams will be notified immediately should there be any compliance concerns from a customer.

GIMS: Improvement potential reporting

Our in-house system 'GIMS' captures incidents and improvement suggestions to prevent undesired recurrences - allowing us to identify opportunities to improve safety and process efficiency.

ISO 9001

Standardization and process improvements are core to our management system, ensuring our ability to meet your requirements. We have held a global certificate in the ISO 9001 standard for over 15 years which has allowed us to implement a robust continual improvement process focusing on increasing our efficiencies to deliver value-added products and services to our customers.