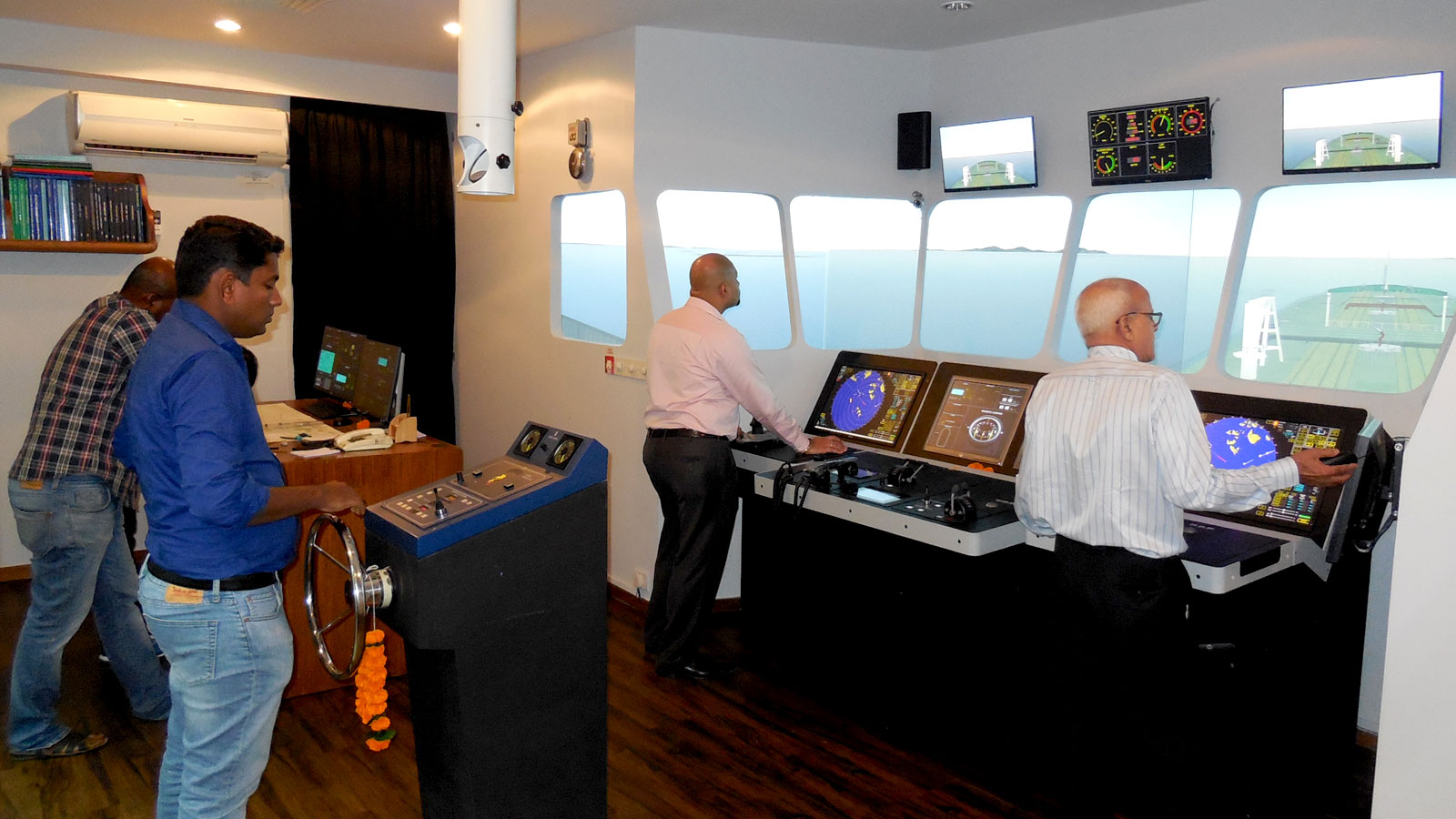 Ship Manoeuvring Simulator and Bridge Teamwork
Manoeuvring a ship is an art which when coupled with scientific principles leads to a complete mastery of the subject. Traditional education does not address the practical aspects of ship handling.
As a result an officer is forced to learn on the job. Sometimes this can lead into serious situations. At other times it can lead to false notions of knowledge and safety. At IMTC, we intend to build up on the core concepts of ship handling, which were dealt with only superficially and at a theoretical level when studying for various certificates of competency.
IMTC uses a state-of-art full mission Norcontrol Polaris Ship Manoeuvring Simulator to achieve its objectives. The Simulator is equipped with 32 different ship models, which replicate the manoeuvring characteristics of the ships. The simulator also has the following equipment : ARPA, Manoeuvring console, VHFs, Intercom, General Emergency Alarm, ECDIS, Steering, Gyro, Magnetic Compass, DGPS, Echo sounder, Navigation lights, Sound signals and Watch panels.
Shipping companies will find that this course helps give invaluable knowledge and confidence to their staff. In addition, the course addresses the Bridge Team Management aspect, which is so crucial to safe navigation, covering the topics listed in STCW B-VIII/2.
The course fulfills the requirement of a Ship Manoeuvring and Bridge Teamwork course that is required by all candidates appearing for Master (F.G.) examination.
Course Objective: Participants will use a full-mission ship manoeuvring simulator so that they will:
enhance their understanding of the effects on the behaviour of the ship, of wind, current, shallow waters, banks, narrow channel, condition of loading and apply the knowledge gained, for correct use of engines, helm and other available resources during ship manoeuvring
be able to proactively participate as members of an efficient Bridge Team using correct Bridge Procedures and respond effectively to changing circumstances and contingencies
gain a better understanding of the Bridge Resource Management principles stated in STCW section B-VIII/2
Duration : 5 days
Target Group : All Navigating Officers who have at least 6 months watch-keeping experience as officer in charge of a navigational watch.
Course Contents:
Review of basic principles
Bank, Channel and Interaction effects
Familiarization with bridge
Anchoring and Single-buoy mooring
Standard Manoeuvres
Planning and carrying out a voyage
Wind and Current Effects
Shallow Water Effects