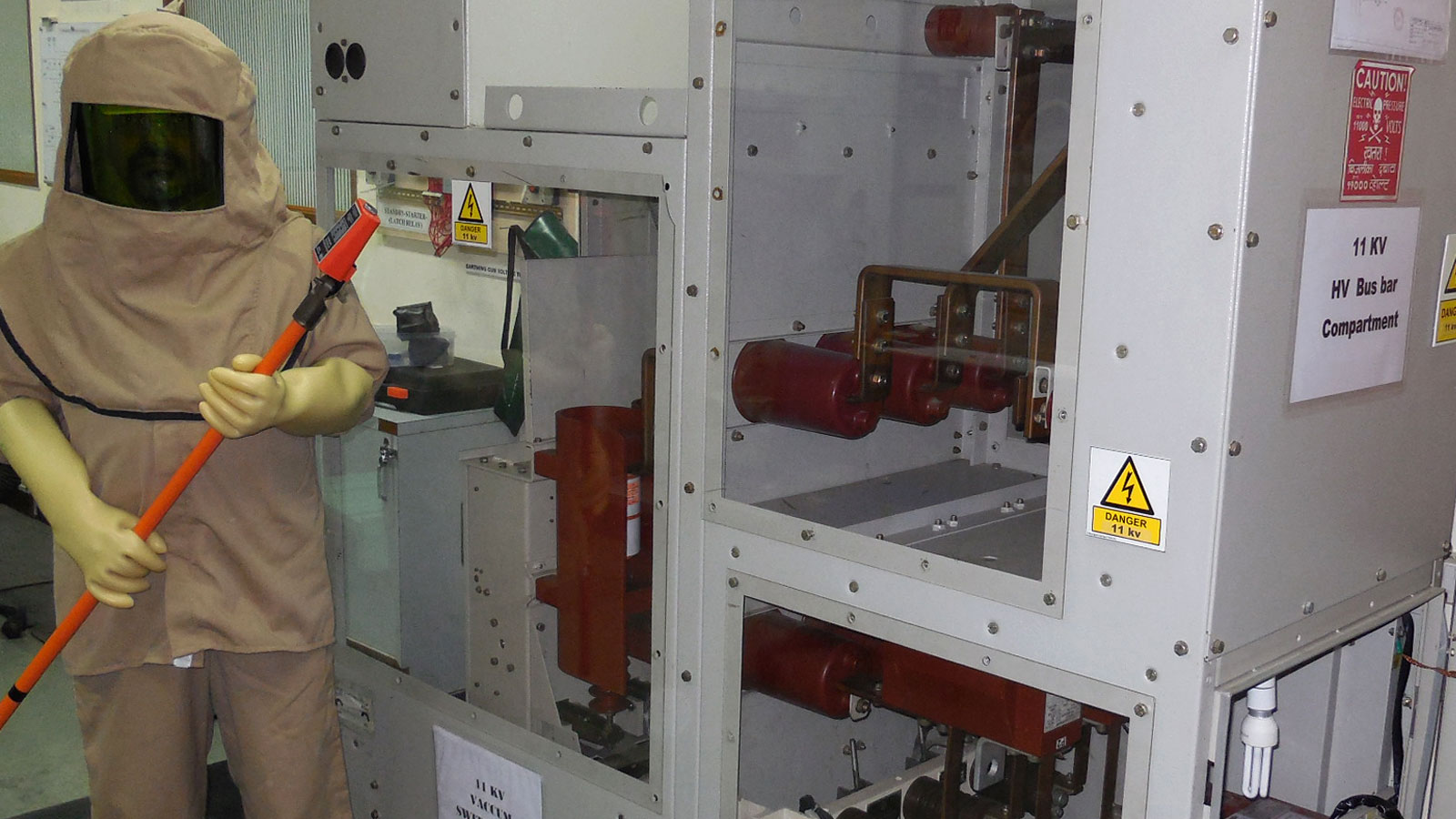 High Voltage Safety and Switch Gear Course (D. G. S. Approved)
Modern Technology has enabled the construction of bigger ships and installations, and their designers have installed High Voltage equipment to handle the massive power requirements.
Operators of such equipment require to be well trained in all aspects of High Voltage Safety.

Modern ships, particularly Container, LNG, Passenger and specialized off shore ships are built with high voltage generating plants of 3.3 KV, 6.6 KV and 11 KV.

The Course includes practical hands-on exercises on an actual High Voltage Panel comprising of Vacuum Circuit Breaker, Earthing switch along with the associated interlocks, Potential and Current transformers, Bus Bar chamber and Low Voltage Safety Relay panel, thus familiarizing the participants with High-Voltage switchgear and the various safety procedures for handling the same.

The training provided meets the provisions(for high voltage training) as mentioned in Section A/lll-l, A/lll-2, A/lll- 6 & Blll/2 of the STCW Code 2010 (Manila Amendments).
Course Objectives:
To enable the Participants to:
To satisfy the requirements of STCW 2010 (Manila Amendments) and attain higher competence level in safety awareness and technical competence in handling HV installations.
Understand the working of the various specialized components equipment and switchgears used in High Voltage installations.
Operate, maintain & troubleshoot High Voltage installations safely & efficiently.
Learn through sharing of experience amongst participants.
Duration: 5 days (40 hours)
Eligibility Criteria:
Marine Engineering officers holding as a minimum:
MEO Class lV (FG / NCV) certificate of competency and has completed a minimum of 12 months sea going service as a certificated Engineer Officer of watch
MEO Class l/ll (FG / NCV) certificate of competency
Dredge Grade l/ll certificate of competency
Electro-technical officers holding as a minimum:
Certificate of Competency as "Electro-Technical Office" issued by the Govt. of India;
Certificate of course completion, having successfully completed an approved ETO Pre-sea training course and has completed approved seagoing service to be eligible for appearing for ETO Certificate of competency examination;
Record of sea going service of not less than 12 months in the capacity of ETO / Electrical Officer / trainee E/O to be eligible for appearing ETO Certification of Competency Examination.

Course Contents:
Legislative background and Code of Safe Working Practices and PPE.
Risks & hazards associated with High Voltage.
The functional, operational and safety requirements for a marine high voltage system.
Familiarization lay out and safety features of high voltage power plant on board.
Producing a switching strategy for isolating components of high voltage system.
Selecting suitable apparatus for isolation and testing of high voltage apparatus.
Assignment of suitably qualified personnel to carry out maintenance and repair of high voltage switch gear of various types.
Carrying out a switching and isolation procedure on a marine high voltage system complete with safety documentation.
Earthing and key interlocks for isolation of high voltage equipment
High voltage alternator's safety features.
Fault levels at different locations and protection system topology. PT's, CT's and an overview of protection relays for Generator, Motor and Transformer protection
An introduction to High Voltage Variable Frequency Drive (PWM), soft starters and electrical propulsion.
110 Volt DC for control of High Voltage Switchgear.
Cable and cable fault, Testing & Diagnosis.
Electrical Propulsion for oceangoing/offshore Vessels.
Practical exercises on High Voltage Panel in disconnecting, isolating and earthing the circuit breaker and "Prove Dead" the place of work.
Table top exercises on High Voltage Switchboard circuits and case studies