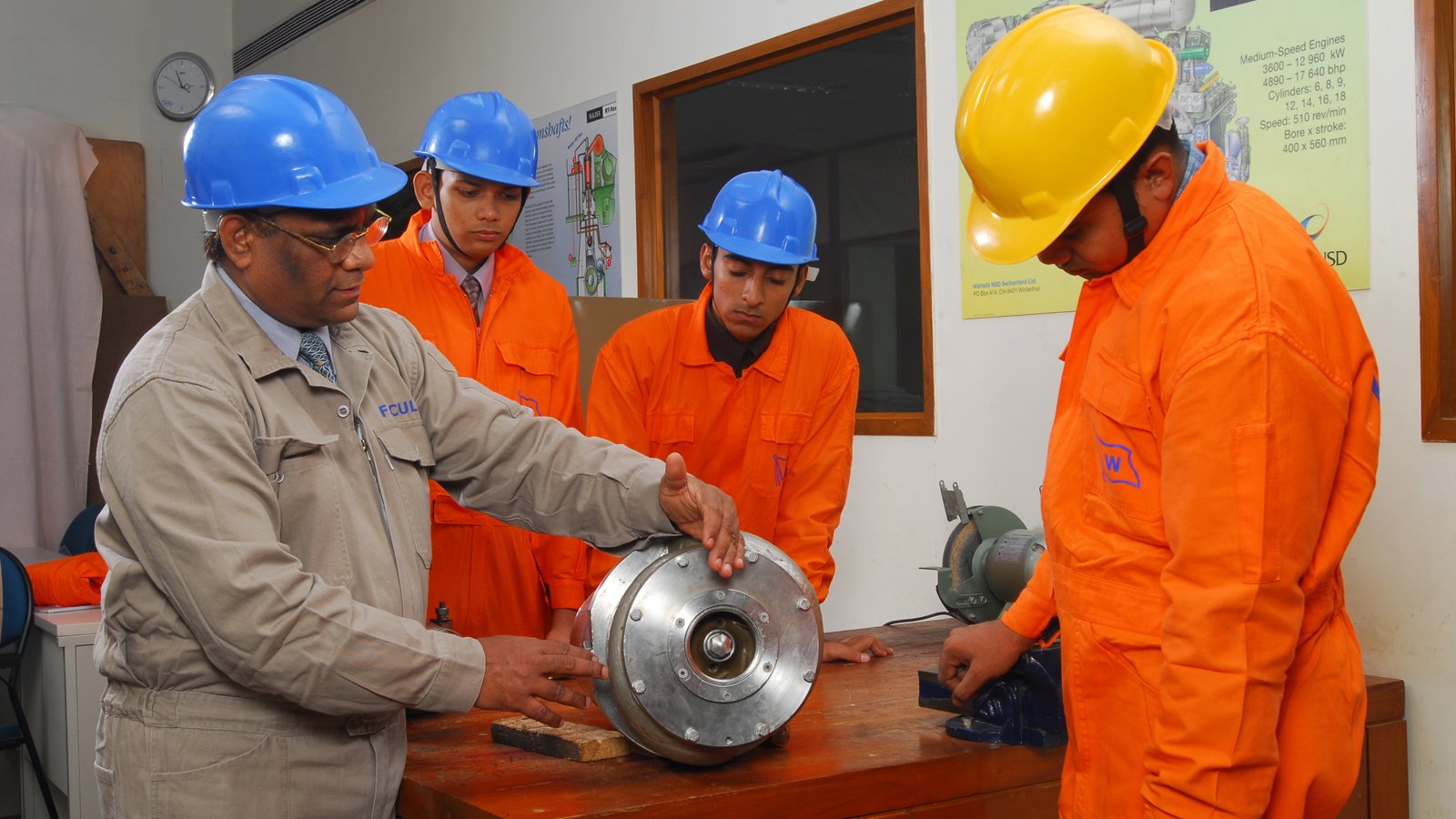 'FRAMO' Hydraulic Cargo Pumping System Course
The FRAMO cargo pumping system is increasingly being fitted on chemical carriers and product tankers.
In order to ensure efficient and safe operation of this type of hydraulic cargo pumping system, a sound knowledge regarding its functioning is imperative. This course familiarizes the participant with all aspects of the system and enables them to operate it safely and efficiently. The participants are exposed to the layout of the hydraulic circuit; explanation of the working of the power packs; oil cleanliness aspects and its importance; troubleshooting aspects - dealt with logically, systematically and in detail; the various safety features of the circuit - various alarms / trips and the emergency overrides. The working of centrifugal pumps, both in parallel and in series, are also covered along with the capacity curves for the pumps and their interpretation and use for optimal cargo discharge. Stripping operation, cargo pump evaluation curves, analysis of purging results and use of the emergency portable pumping equipment also form part of this course.
The construction of the cargo pump is also covered in detail and various basic maintenance procedures (renewal of wear rings or cargo seals) explained. Two videos, one detailing cargo pump maintenance and the other dealing with operational aspects (loading / discharging / stripping / tank cleaning etc). are also shown. Finally, the participants are provided hands-on practice on the dismantling of the FRAMO cargo pump, replacing wear rings, cargo seals, mechanical oil seal and also the hydraulic motor bearings. They are also exposed to hands-on dismantling and troubleshooting the Flow Control Valve FCV-800 which functions as a 'governor' for the cargo pump. In summary, this course provides a forum for theory lecture delivery, exercises, hands-on dismantling / reassembly training and group discussions leading to improvement in competency and confidence in handling the FRAMO hydraulic and cargo equipment.
Course Objective: To enable the participants to
Understand the fundamental concepts of hydraulics.
Understand the working of the FRAMO hydraulic circuit and the components therein, the various safety devices and emergency overrides.
Operate the FRAMO cargo pumping system and pumps efficiently and safely.
Carry out normal overhaul / repair on the Cargo pumps and Flow control valves.
Learn through sharing of experiences amongst participants.
Duration: 3 days
Suggested Target Group: All Engineer and Navigating Officers and Electrical Officers
Course Contents:
Introduction to the advantages and fundamental concepts of hydraulics
Components of hydraulic systems and their representative symbols (ISO 1219) in circuit drawings
Open and Closed circuits
Axial Piston hydraulic pumps — types and working principle and Pressure compensation feature
Detailed operational description of the FRAMO circuit and pumping system
Hydraulic oil, contamination and filters
Speed Control Valves — operation and troubleshooting
Cargo pump construction, operation, stripping and performance evaluation
Purging routines and analysis of results
Cargo pump performance curves
Use of portable pump in emergency and precautions
Planned maintenance
Hands on dismantling / reassembly of FRAMO Cargo pump and Flow control valve