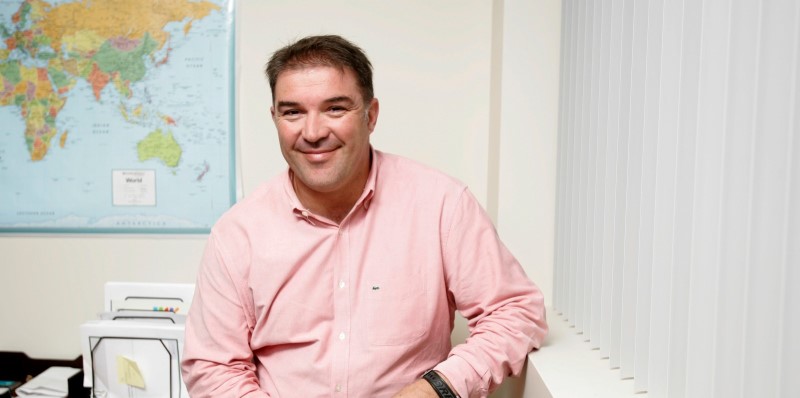 WSS aims to build Ships Agency offering by getting 'up close and personal'
Wilhelmsen Ships Service (WSS) is aiming to consolidate its position within the Ships Agency segment by building stronger agent-customer relationships. By doing so, Frederic Fontarosa believes the firm can offer enhanced efficiency, understanding and value - something that the 'moms and pops' of the world simply can't compete with.
Press release
|
(Updated )
Frederic Fontarosa is a people person. Mixing an easy going, laid back French-American drawl with suddenly energetic outbursts on subjects close to his heart, he's engaging to talk to and easy to like.
Sat in his Houston office, although rarely sat still, the WSS Director Ships Agency Americas is discussing his ambitions for a division of the global business that serves 581 regional ports and an average of 2000 vessel calls every single month.
"It's about the people," he states with a smile. "Our people getting closer to the customer, and the customers' customers, to understand their trading patterns, requirements and how our service solutions can help them meet their individual objectives.
"We're a big company, but that doesn't mean we can't have close customer relationships – in fact our size actually makes it easier."
Size matters
Fontarosa isn't wrong about being big. Ships Agency is one of the oldest divisions of the worldwide Wilh. Wilhelmsen Group, and over its 40 year history has grown into a giant; boasting 1250 employees, 182 dedicated offices (alongside 438 sub agency offices), with the capacity to service ports in some 132 different countries.
This size, as Fontarosa points out, brings obvious benefits for customers: "With a trading environment of low earnings, tight credit and high costs, a ships agency with our global network can offer international shipowners compelling advantages. These include the standardization of services, global reach, compliance, certified employees, quality assured processes, E&O insurance coverage, data availability, and modern, integrated IT systems. The efficiencies associated with this breadth of offer are immense.
"Small agencies, which are normally represented in only one port, simply don't have the financial capability, geographical spread, or the desire to ensure those standards are embraced. That gives us, and our customers, a clear advantage."
But for all those benefits, some would argue that, in the world of ships agency, small is beautiful.
Being small means these 'mom and pop' businesses can be personality focused, allowing them to forge close relationships with repeat customers. Isn't this something an agency the size of WSS struggles with?
The return of Fontarosa's smile suggests not.
Local knowledge, global reach
Fontarosa describes WSS' relationship with its customers as 'peer-to-peer', implying that they view each other as partners, rather than service provider and client. To build the bonds within that partnership the firm has created something called the Global Agent Desk.
"This means we appoint one person that is globally responsible for that shipping company," he explains. "In essence this gives them the chance to build that mom and pop style relationship, but in a global sense rather than just at one port. That person becomes the customer' single point of contact worldwide and, as a consequence, this drives huge efficiencies as the firm no longer needs to deal with a myriad of mom and pops."
And such through-the-line efficiency, Fontarosa remarks, is key to "the new breed" of international ship operator.
"If you look at the evolution of the industry over the past decade there's been a shift from traditional maritime to more business orientated values," he states. "Customers today expect ships agents to understand their entire business, not just the vessel. That means they want us to have an overview of their entire point-to-point trade, but also the needs of their customers – the person who they're shipping the products or commodities for. WSS' global reach and resources allow us to achieve this."
Intelligence to the fore
When outlining the benefits of his firm there's a coterie of keywords that continually spring from Fontarosa: The 'efficiency' that comes with global reach and scale, the 'standards' that one unified international operation can deliver for shipowners, and, the final one, 'intelligence'.
"Translating the vast amount of information from our ports across the world into relevant intelligence yields real competitive advantages for our customers," he says.
When asked what he means by this he responds with an explanation of WSS' Trade Talk Desk.
"That encapsulates our added value/intelligence proposition," Fontarosa imparts. "In 2013 WSS created the Trade Talk Desk in four strategic locations around the world – here in Houston, Singapore, Geneva and Dubai. The desks, which work across their time zones to give our customers 24-hour coverage, deliver relevant, timely and accurate information to our customers. They structure this data and package it in a way that is easy to understand and access."
This information is broad-based and comprehensive, covering everything from port news and port facilities developments, through to cargo statistics, vessel line-ups and breaking news, such as a port closure due to bad weather.
"By presenting this vital information in one package, from one source, customers get the intelligence they need, when they need it," Fontarosa stresses, "rather than being swamped by a million different emails from a range of different companies all round the world.
"It's streamlined, intuitive and intelligent, setting a new standard for adding value to ships agency deliverables."
On the right road
Despite his passion and obvious enthusiasm for his cause, Fontarosa is candid enough to admit that "seen against the totality of the shipping industry, ships agency is somewhere near the bottom of the food chain."
He likens the segment to road building and the wider industry to car owners. "And when people are buying a new car," he comments, "they're not thinking about the road. But you take away that road, or give them one that's full of potholes, and then they notice. So we're working behind the scenes in a way, ensuring the smoothest, most efficient turn around in port. That's a fundamentally important role within the industry."
As the interview draws to an end, WSS' Ships Agency Director Americas reveals that he is as almost as global as his employer.
"I was born in France, to an Italian mother and Spanish father, moved to the US to study, liked it and stayed. After graduating I've lived and worked in the Caribbean, Scandinavia, the Middle East, Southern Europe and now I'm back in the US."
He laughs: "That international perspective gives me a foundation to understand and adapt to different business cultures and the opportunities and challenges they represent. WSS is the same. Its global understanding and local knowledge helps it provide the best services to all its customers.
"And, when it comes down to it, that's what is most important in this industry, and any other, the people."
Fact boxes
Frederic Fontarosa
Joined Wilhelmsen Ships Service within the Operations department in France in 1994.
Since then has held roles as Development Manager in the Africa, Middle East & Black Sea region (2001–2005), Vice President International Sales (2005-2009) and, in 2009, was made Business Director, Ships Agency and Bunkers. In 2013 took on his current role as WSS Director Ships Agency Americas.
Fontarosa on Fontarosa: "Every day is different, with a different challenge, I love it."
"From behind my desk in Houston, thanks to WSS' global reach, the world is my playground!"