A safe and healthy working environment
We believe that an engaging and safe working environment at sea and on shore is integral to an efficient, sustainable and profitable business. Our governing documents clearly articulate principles for health and safety.
Zero injuries goal
We continuously work towards an overall goal of zero injuries. To achieve this, we maintain high standards of health and safety to prevent hazards and incidents for all our employees and other parties working on behalf of the company. The overall responsibility for health and safety resides with senior management and the board of respective entities in Wilhelmsen.
Relevant departments, including HSEQ, HR and operational teams manage and monitor the day-to-day implementation. All employees in Wilhelmsen are responsible for reporting incidents, near-incidents, safety breaches and hazards. Employees are encouraged to report without fear of retribution i.e. a no-blame culture. Employees also have the opportunity to use our global whistleblowing system.
Incidents are evaluated and analysed by the HSEQ departments, and important lessons learned are communicated amongst the functions and relevant business units through safety bulletins and meetings.
To further strengthen our safety culture, we have increased our focus on group level reporting of health and safety metrics.
Health and safety metrics
From 2016, Wilhelmsen reports on five metrics in quarterly reports:
• Sickness absence rate
• Occupational disease rate
• Lost time injury frequency rate
• Total recordable case frequency rate
• Total safety observations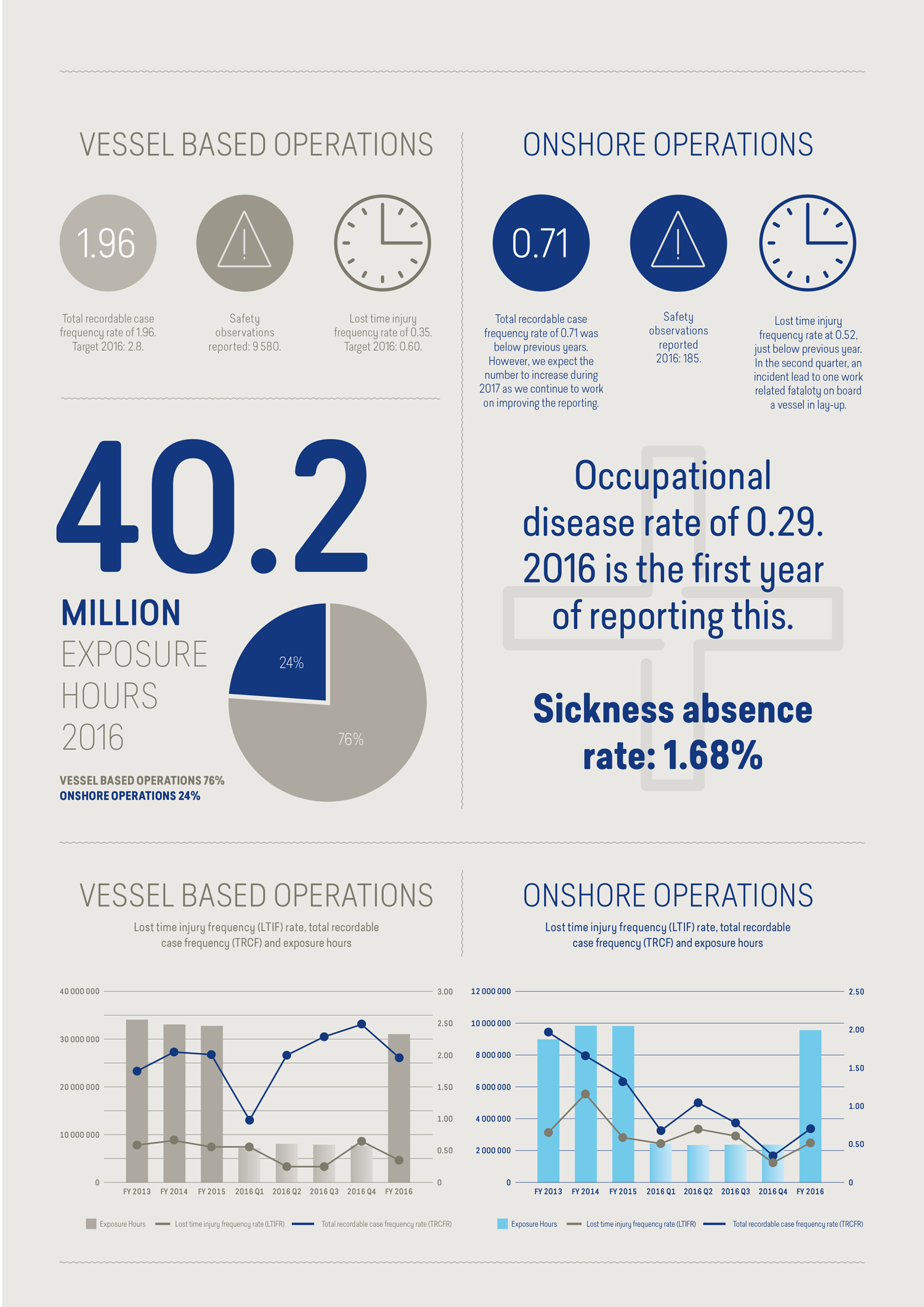 These metrics are reported using industry standard methods for two types of operations within Wilhelmsen:
• vessel based operations, where health and safety (H&S) exposure is 24 hours per day
• onshore operations, where H&S exposure typically is 8 hours per day
In 2016, there were 40.2 million exposure hours (work hours) in Wilhelmsen with vessel based operations accounting for 76% of total exposure hours and onshore operations accounting for 24%. Regrettably, there was an incident in 2016 that lead to one work related fatality on board a third party vessel in lay-up.
This further emphasises the need to continuously improve measures that secure a safe work environment and a robust safety culture in the group. Working environment and occupational health. By living the company values (empowerment, stewardship, customer centred, teaming and collaboration, learning and innovation), Wilhelmsen focuses on developing a good and inspiring working environment at sea and on shore.

Today, shipping is considered one of the most regulated industries worldwide. There is a comprehensive framework of global maritime safety regulations such as Standards of Training, Certification and Watchkeeping (STCW 95), and Safety Of Life At Sea (SOLAS). We conduct our business with respect for human rights and labour standards, including conventions and guidelines related to the prevention of child or forced labour, minimum wage and salary, working conditions and freedom of association.

Wilhelmsen has implemented a variety of initiatives to maintain a healthy work environment, for example focusing on the monitoring and reporting of absence cases, health & wellness awareness events, annual health checks, employee assistance program, adapted working hours, social activities, employee engagement surveys and opportunities for personal development.

Our work onboard vessels
All seafarers employed in Wilhelmsen are covered by collective bargaining agreements ensuring proper working conditions, health care and rest hours. Health and safety briefings are carried out for the seafarers at the management office and manning office prior to joining a vessel.

Wilhelmsen Ship Management's (WSM) hazard hunt campaign is an ongoing initiative with WSM analysing results and measuring the effectiveness of the action taken. The lost time injury frequency for vessels managed by WSM was 0.35 in 2016, down from the previous year and below the target of 0.60. The new target set for 2017 is 0.55.
The improvement is considered to be a reflection of dedicated focus to improve the health and safety standards on-board. The hazard hunt campaigns and awareness efforts will continue into 2017 to ensure the positive trends are sustained.
Our work onshore
We continue to build a robust health and safety culture onshore. The identification, monitoring and reporting of cases in all locations will continue to be a key focus area. During 2016, Wilhelmsen Ships Service (WSS) has systematically implemented the OHSAS 18001 standard to drive an improved safety culture. These efforts resulted in a positive pre certification assessment in 2016, with an expected certification of WSS operations in 2017.

To maintain safety focus, WSS has implemented the "Blue Pennant" internal global recognition program where the performance of all Ships Agency sites are monitored against eight criteria (three safety related) on a monthly basis. In addition, WSS launched three new e-learnings as part of an improved safety training program that is focused on standardized content, assessment of training effectiveness and systematic follow up.

WSS also integrates safety design in product and service offers. In 2016, a new product was introduced to constantly measure boiler water condition and automatically dose chemicals when required. This is expected to improve crew safety from reduced chemical handling and repair works.

Also, as a result of root cause analysis of rope handling incidents in 2016, new transport/packaging labels have been implemented to provide clear instructions for loading and discharging ropes in a safe manner.