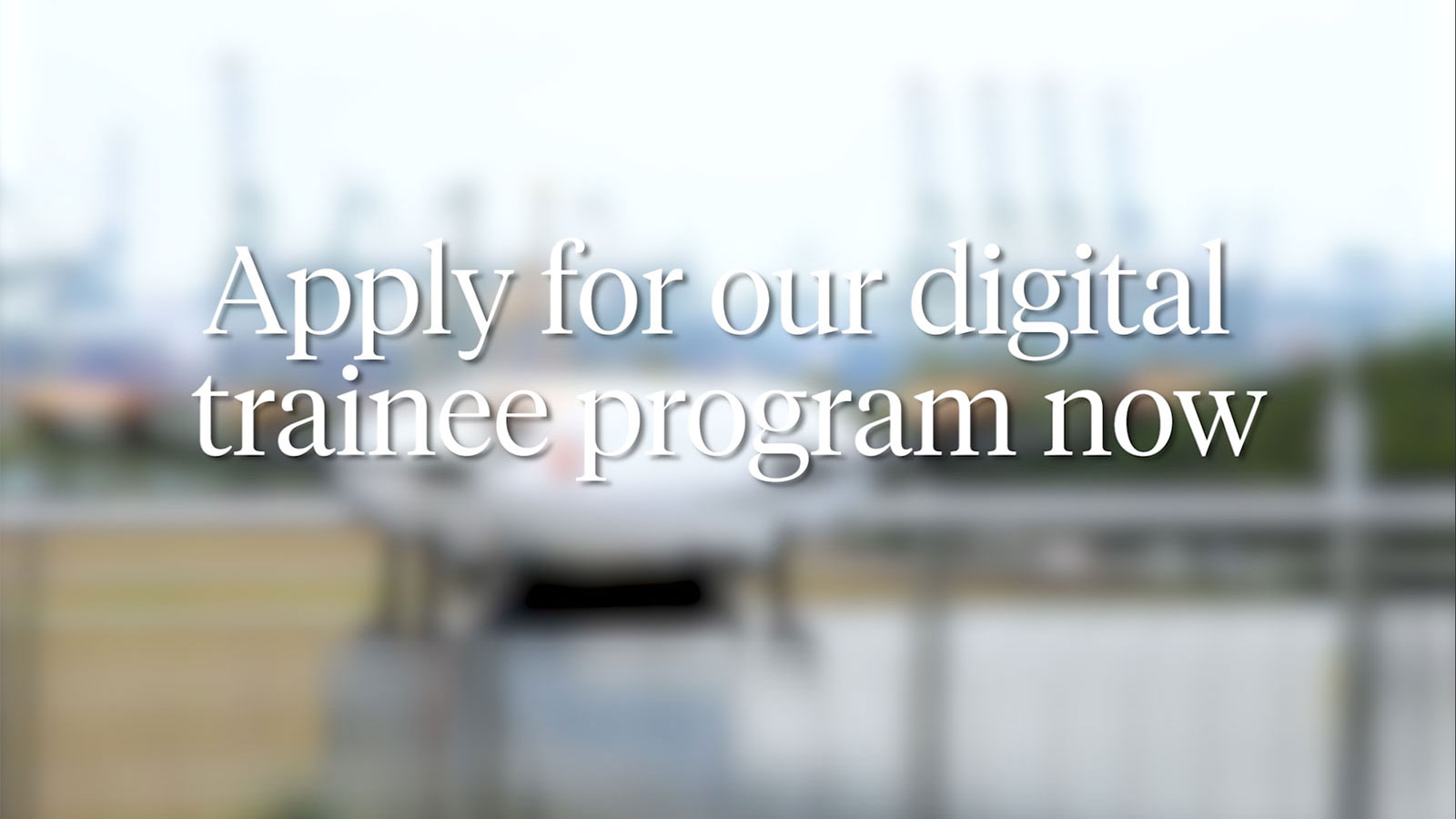 Are you our next digital trainee?
We are looking for graduates with an active interest in technology and the confidence to manoeuvre across the different businesses within our global organisation. During the 18-month program, you will rotate between several of our companies, helping us to continue to revolutionise the maritime industry through digital transformation. You will take ownership of projects, while collaborating with Wilhelmsen employees from various departments around the world. Before you know it, the 18-months will be up, but your journey with us will continue.
Applications for the 2020 program have now closed. Applications for the 2021 program open Autumn 2020.
18

Months

The program duration is 18 months

125

Nationalities

Being a global company, you will get the chance to interact with various nationalities
Ongoing projects by digital trainees
Drones

Wilhelmsen Ships Service has paired up with Airbus to bring shore-to-ship drone delivery to vessels at anchorage.

Spark

Spark is a customized application developed by Wilhelmsen Ship Management for ship owners to monitor their vessels' energy efficiency.

3D printing

Wilhelmsen has partnered with Ivaldi Group to digitalize the maritime supply chain with 3D printing technology.
Digital teams cooperation
As a Digital Trainee, you will work closely with our digital accelerator teams, Raalabs and Massterly, to spearhead Wilhelmsen's global digital initiatives.
In the past year, digital trainees have worked on projects relating to:
• Fuel Efficiency Applications (SPARK)
• Digital twin technology for vessels (RaaLabs)
• The world's first digital mooring system Smart Ropes
• 3D-printing of marine parts, "From Shore to Ship" drone delivery project in the port of Singapore
• Autonomous vessel concept development (Massterly)
Qualities we look for

Want to learn more?
Meet us in-person at our on-campus visits!
-> Norges Handelshøyskole (NHH): Sept 12th
-> Norwegian University of Science and Technology (NTNU): Sept 18th
Step 1: Submit application

Step 2: Online review

Recruitment Process

Step 3: Video assessment

Step 4: Testing

Step 5: Competency based interviews

Step 6: Assessment centre