Tom Wilhelmsen Foundation's opera and ballet prize
The Opera and Ballet award was first established in 2009, and is awarded annually by the Tom Wilhelmsen Foundation.
The prize of 500.000 Norwegian kroner goes to talented performers within opera or ballet in Norway, who have made an outstanding artistic or administrative achievement. The prize money awarded is intended for further professional development.
The first award in 2009, was given to Maiko Nishino and Eli Kristin Hansveen. Since then, the following performers have been awarded; Silas Henriksen, Marita K. Sølberg, Yngve Søberg, Eugenie Skilnard, Audun Iversen, Camilla Spitzøe Cohen, Yolanda Correa, Ingeborg Gillebo, and the Norwegian National Opera Orchestra.
The Opera and Ballet award winner 2017
Mezzosoprano Adrian Angelico and ballet dancer and choreographer Melissa Hough have been awarded ship-owner Tom Wilhelmsen Foundation's Opera and Ballet prize 2017. This year the prize is NOK 600,000 divided between the two winners who receive NOK 300,000 each.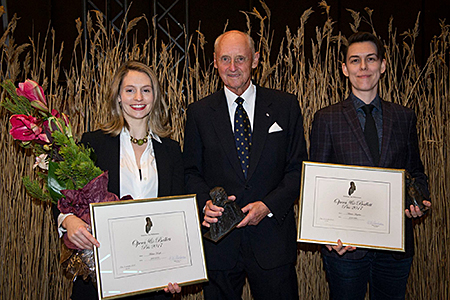 Jury decision
Adrian Angelico received the prize to enable him to continue working on an international career, whilst Melissa Hough received the prize to help her further develop her potential and talent as a choreographer.
- No matter which intricate stage character Adrian Angelico takes on, he distinguishes himself with a remarkably noble and elegant vocality, noted the prize committee in their comments and continued:
- Melissa Hough is one of the National Ballet's foremost and most versatile dancers. The tremendous experience and knowledge she has attained as a performing dancer at the highest level, has given her a particularly good background for when she herself wish to choreograph and create her own works.
The prize was given during the performance of Kylian: Black and white at the Nowegian Opera and Ballet, 8 November 2017.
About Tom Wilhelmsen Foundation
Established in 1965, the foundation is a private and independently run organization. Its purpose is to support the community through the distribution of gifts or contributions to institutions, groups or individuals within science, humanitarian or culture. The foundation's contributions hope to provide for performers and encourage gifted youth or others to continue training, study or research.