Reporting principles
To measure and manage our sustainability performance, we have adopted the Global Reporting Initiative's (GRI) reporting framework GRI G4.
The comprehensive framework enables greater organisational transparency and accountability, and it is widely used around the world.
GRI reporting was first adopted in the Wilhelmsen group in 2013. Since then, we have reported on GRI 4 core values and issued a sustainability report annually. Apart from increased transparency towards external parties, GRI reporting also provides us with an opportunity to better control risks and develop an efficient way of working with sustainability in the group.
Materiality assessment
To ensure we focus on the material aspects for our business, we have conducted a materiality assessment where identified issues are scored both in accordance to the importance for us internally, and according to the importance for external stakeholders.
After the analysis, ten issues were categorised as priority A due to high internal and external importance. These ten issues have been further divided into five groups, which constitute the structure of our sustainability report. The material aspects are relevant for all group companies, throughout the whole value chain and in all geographical areas.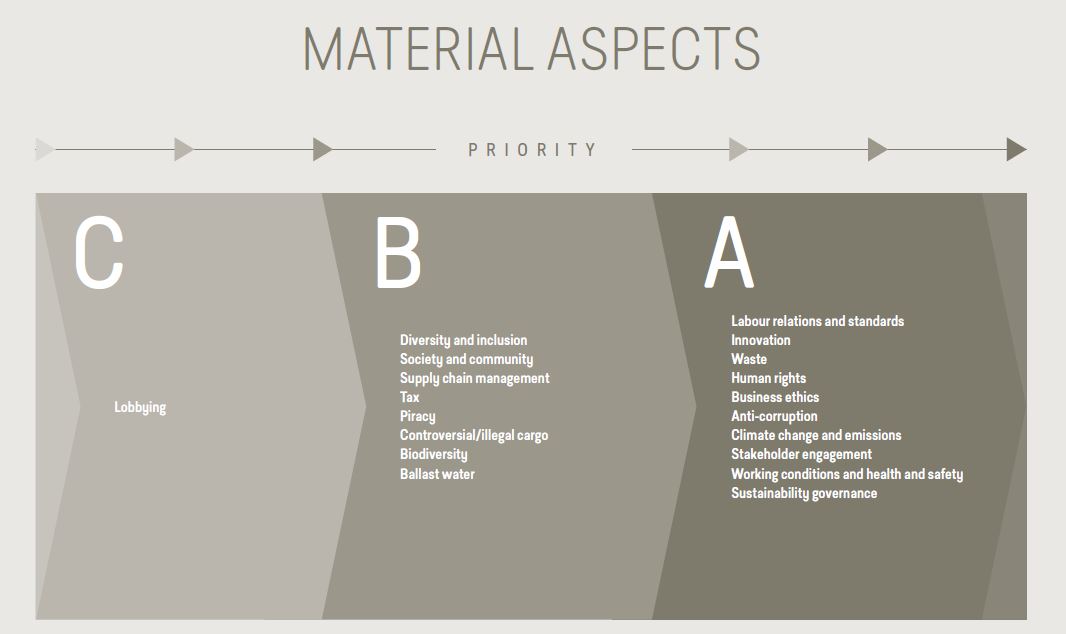 The environment
We aim to be the shaper of the maritime industry within environmental and energy efficient vessel operations. To reach this ambition, we invest in new technology, solutions and ways of working to reduce emissions and fuel consumption. The group also has the possibility to shape a greener industry at large, by providing environmentally sound products and solutions to the world fleet through its maritime services companies. The environment section covers climate change and emissions, elements on innovation, regulations and sustainability governance. The community The Wilhelmsen group supports a large number of organisations and causes. This is our way of showing how we care for the local communities in which we operate. In the cmmunity section, we focuse on society and community, stakeholder involvement and innovation.
Our employees
We believe that empowered employees in an innovative, learning organisation are our main competitive advantage in meeting the needs and wants of our customers. Labour relations and standards, human rights, working conditions and stakeholder engagement are therefore important topics for the group.
Health and safety
No task is so important that we can allow it to compromise health and safety. Our commitment to maintaining high standards and preventing accidents and dangerous situations extends to every aspect of our operation, and encompasses all employees and others working on behalf of the company.
Ethics and anti-corruption
The Wilhelmsen group has clear policies on business standards, ethics and anti-corruption. Our primary goal is to work on creating a culture where making correct decisions and working according to best practise is something our employees are proud to be part of. We acknowledge the importance of a good business culture to stay sustainable and competitive when facing the future. In this section, we focus on what we do to build a culture and awareness characterised by good ethics and without corruption.