Liferaft Exchange
Our Rental and Exchange programme launched in 2008 changed the liferaft market forever: Renting rafts, rather than owning, is now preferred onboard most vessels.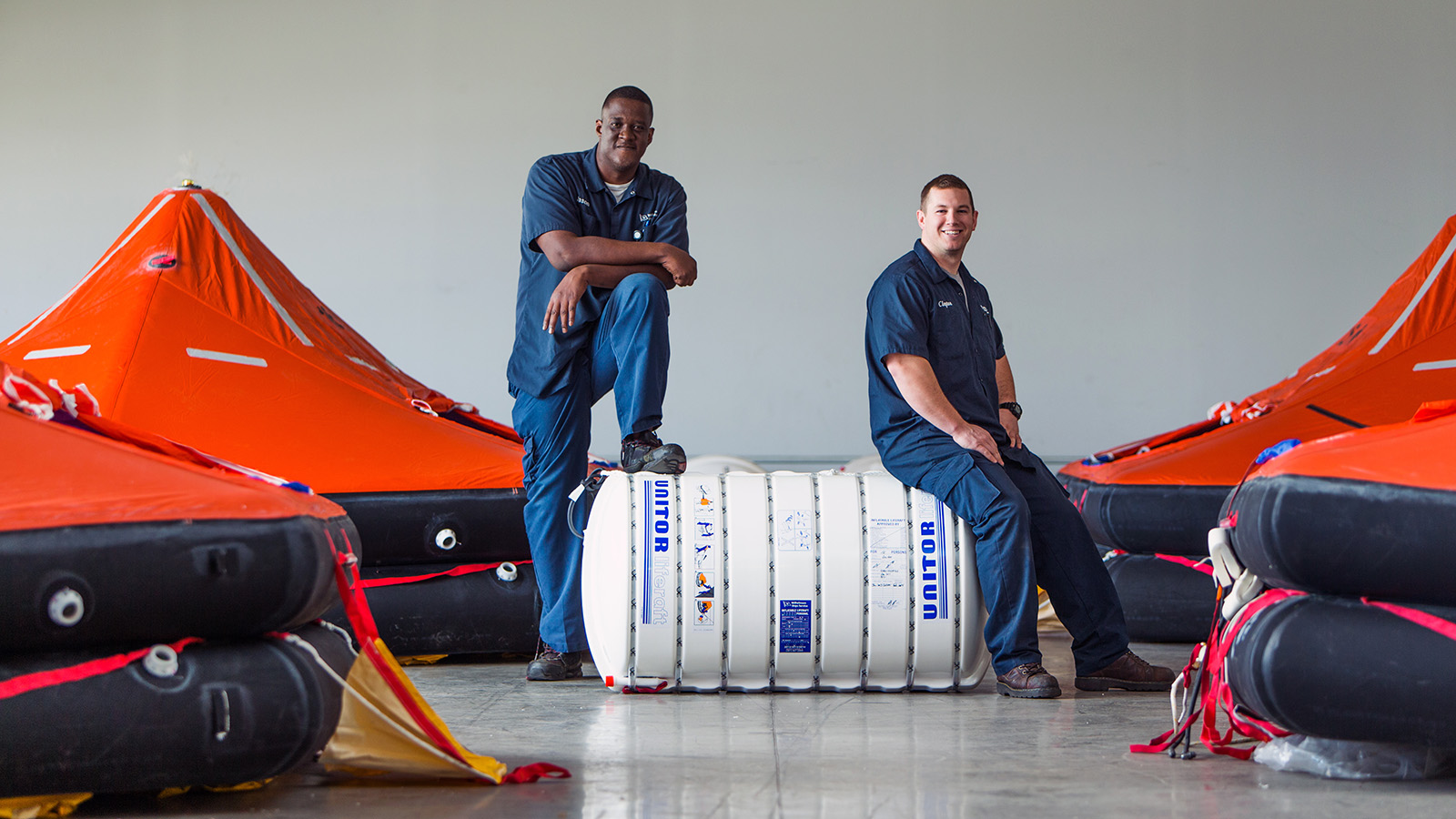 Our global Liferaft Rental and Exchange Programme (LRE) exchanges out of date liferafts for re-serviced operational ones, allowing customers to take better control of costs, increasing operational efficiency by minimising vessels' time during port stay and ensure that their vessels remain fully compliant. Customers are informed when liferafts are due for annual service and they are then exchanged at agreed port around the world.
Always compliant, always on board
Offering a variety of Unitor™ throw overboard and Davit launch, all our rental rafts are type and class approved, certificated and ready to use. Our staff around the world work hard to ensure your rafts are ready and where they need to be, when they need to be.
A simple, seamless changeover
No waiting
No interim loan rafts
No local repairs
No on board assessments
We have been established for decades across regions and in numerous ports. With a single point of contact taking care of the arrangements for exchange of your liferafts, you save both time and reduce costs. We make sure you stay compliant.
Key benefits of our Liferaft Rental Exchange
Simple, seamless changeover
Predictable annual costs - no extra costs
No waiting
Single point of contact
Always compliant liferafts on board
No delays, no surprises
Our liferaft rental concept is a global liferaft exchange program, allowing you to take better control of costs and reducing the chance of getting caught out by unforeseen service dates and weak links in the supply chain which can prove costly. Included in the Liferaft Rental Program are:
Approved Liferaft according to regulations, MSC81(70) Compliant
Due Date monitoring
Annual inspection and certificates
Change of Accessories
Repair and spares
Full range of liferafts including throw overboard and davit-launched
Our liferafts meet the requirement of 82.5kg per person. All new vessels delivered after 1st January 2012 must have IMO Resolution MSC81(70) as amended by Resolution MSC.295 (87), Resolution MSC.274 (85) and Resolution MSC.226 (82) liferafts fitted.
Our Solutions
Liferaft Exchange Programme provides Unitor liferafts which are available in 6, 10, 12, 16, 20 and 25 person throwoverboard (TOB) rafts and available in 12, 16, 20 and 25 person Davit Launch (DL) rafts

Approved to the new MED and SOLAS regulations, DK2010 is designed for trouble free installation and service free lifetime of 4 years. Should the vessel sink, it gets activated by increasing water pressure, automatically releasing its fitted liferafts. Operates independently of liferaft buoyancy and approved for all liferafts up to a buoyancy load of 1500kgs.